There's few places less desirable to live than Sanctuary from the Diablo series. Across its many titles, we've seen that the world of Sanctuary has a serious Demon problem, with pesky Prime Evils that refuse to stay dead for too long, constantly roping in groups of adventurers in long journeys to stop them all the while scoring loot.
This is even moreso with Diablo IV, the newest installment in the Diablo series. As yet another group of new adventurers, you travel through Sanctuary to find the answer to "just exactly how much more gothic can Sanctuary get?". We got a chance to catch up with Joe Shely, Lead Designer on Diablo IV as well as John Mueller, the game's art director. For those who only follow Blizzcon updates, it's been a hot minute since Diablo IV had been in the spotlight- thankfully they were here to walk us through what's new with the game.
Making Infernal Vistas
One thing that's always enraptured the mind with Diablo is its locales. The series has a truly gothic artstyle, and that's really well reflected in its locales. Diablo 3 even threw us a curveball by letting us go to Heaven, which was completely unlike anything else that had existed in Diablo prior thanks to its clean, un-demonized areas (well, at first, anyways). According to the team, while we probably won't be going back to Heaven, they're not quite done showing us all the sights yet.
"Well, Diablo IV  takes a look at a much larger version of Sanctuary than we saw compare to Diablo III, where if you look at Act 2 of Diablo 3 for example you were able to explore the city of Caldeum and the immediate area around it . Caldeum is in Kehjistan which is one of the region that you'll be exploring in Diablo IV. you can return to Caldeum but you will be able to explore all of Kehjistan not just small area of it that we saw in Diablo 3 and Kehjistan is only one of the five region which have a very diverse environment and a mixture of places that you've seen before and entirely new places", Joe says. 
They also commented on Diablo IV's new art direction, which might come as a shock to anyone who started with Diablo III's slightly more cartoony take on Sanctuary.
"There are so many thing we love like one of the thing we said to the team is to embrace the legacy that means all the Diablo games. So, Diablo III has a colourful art style, diablo II has a more darker, grittier art style and with our new engine and technology, we get this opportunity to kind of have the best of both where we can rather thanks and very gritty way but also have it  look more painterly", John says. "So the influences we look at actually a lot of painterly school of painting called the Hudson River School, if you want to look at some reference, you can see the kind of things for the open world that we look at".
He added on that combining the two approaches allowed the team to create contrast between Diablo's bustling overworld and it's more decrepit dungeons:
"The dungeon is very dark and medieval and gothic and that come from a lot of our own references that we come up with as far like that feeling we want the open world to feel like an exciting place to explore and we wanted the dungeon to feel like you're delving into a deep of hell and that were we have a lot of darkness".
With the major regions of Diablo IV, the team is also making sure to give each of them their own categories. While the game will overall have the medieval Gothic appeal of Diablo games, but still give each of its realms their own feel.
"I think Diablo has always been rooted in a dark gothic medieval world. Our goal was to make that feel more believable than ever because of this open world. Because you have locations, like everything has a place. For example you have the town in Dry Steppes which has a culture more like parts of Northern Asia, you have Khejistan which feels like dunes and deserts of Morocco, and you have the Northern region which is Scosglen which is similar to parts of Europe. You have this very diverse range of biomes and people that live in those areas and also monster families that also live in those regions. So that makes the world feel a lot more grounded and that is the reason why we've taken this approach", John says.
Of course, not everyone's going to appreciate these changes if they haven't been following Diablo from the start. The Diablo games have always been fairly beginner friendly, since each game follows a new group of adventurers, its not like they'd suddenly be familiar with the rest of the NPCs in Sanctuary. According to John, Diablo IV's story won't require much prior homework, but it's not like they're ignoring old fans, either.
"We're excited to break diablo 4 to player who enjoy diablo 3 and also to player who grew up with diablo and diablo 2. We want to be inviting for new players, accessible to people who never play diablo game before. We also want there to be lot of depth on customization and options to dive deep and learn about the game system for players who are familiar with ARPGs".
"I think the game does a really good job of easing players into the world. You dont need a lot of prior knowledge of what has happened in the Diablo series to enjoy the campaign or the activities in the open world. There's a lot of content for long time fans in side quests or in other open areas of the game. But the main story is very accessible and the other open activities are very accessible and geared towards new players", John says.
"I should add that in the main story the main character is Lilith, and Lilith is the daughter of Mephisto, and Mephisto is one of the Prime Evils from Diablo 2. So there are characters and demons that have been introduced in previous installments, but when we reveal those characters we explain their backstory keeping new players in mind", John adds.
On the note of Lilith, they also had things to say about returning the iconic character with Diablo IV:
"Lilith is a more complicated character. She is not the same as Diablo, Mephisto or other demons. These demons who want to destroy mankind, but Lilith and the archangel created  Sanctuary, so she understands people's minds and knows what people are thinking. She may have some plans for the future of people. These ideas are good or bad, I don't know, so players have to play until later to know what Lilith is thinking. This is the main reason we want to bring Lilith in", John says.
Gameplay Changes To Diablo IV
It wasn't all just lore talk, however. Both John and Joe took plenty of time to talk about the game's new systems, as well as the big reveal of the day, the new playable Rogue class.
Joe talked to us about how with Diablo IV, they were really planning on making choices matter more. The team had always been open about this concept in their quarterly updates, but Joe managed to sum it up for those who hadn't read up on them:
"In Diablo IV  your choices will matter as your are leveling up. You will gain core state point you can spend on strength, agility and intelligence. You will also get skill points that you can spend to learn skills- that's how you get the addition skill for your skill bar and passive effects that improve your skill.", he says.
"There are interactions between your decision on how to spend your core stat point and some of the nodes in the skill trees which can get additional effect when you meet certain stat requirements. You will be able to change this selection but you won't be able to change that freely the way you could in Diablo III: it will take some effort and cost, so you have to think about it before you change".
While that sounds like a lot of commitment, it's not like you'll need to constantly be re-rolling new characters because you picked a bad skill. Joe explains that even though they're not making it as easy to respec as was in Diablo III, you're not locked into it entirely, either.
"Yes, you will be able to switch your skills very freely. There is some situation where skill might be on cooldown when you switch your skill", he confirms. "Switching your skill and your skill tree however to try a build will require use of respec material which will take some time to acquire, you can do it as many times as you like but it takes some effort, so we don't expect that players will be doing it without any reason".
Of course, you'll need to actually level up to enjoy the skill points system in Diablo IV. With so many games including level-up mechanics to keep players on board, Joe had to explain exactly how Diablo IV would make actually levelling up fun, instead of just a chore.
"One of the great things about our open world is that the campaign story  takes place in the open world, which has a lot of activities to do whether you are max level or you still leveling up", Joe says.
"As you play through the campaign, you have the choices about how you play through it, you can take different path through it but you also can go off the campaign, you can level up without going through the campaign at all, through dungeon or doing camp or world PVP. If you enjoy that kind of reward, that is a lot of opportunity for you", he continues.
Another of the ways the game is working to make levelling fun is to just have good classes that will make you want to level them. According to Joe, the trick to this was making sure classes had unique mechanics that weren't just cut-and-pastes of each other. In our interview, he explained how this would work in Diablo IV.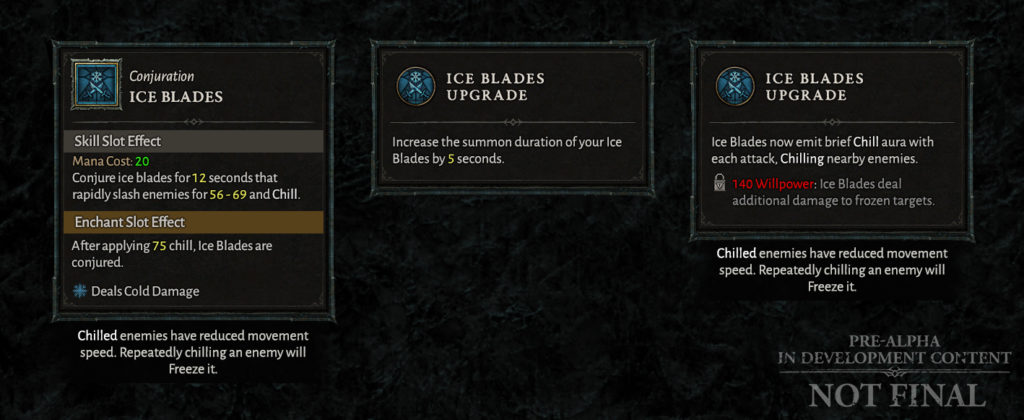 "In addition, each of the classes have their own unique mechanic. We talked about in the past, how the Sorcerer has an Enchantment system which is their unique mechanic and rogue whether you want to choose female or male, have access to specialize system where you can unlock by interacting with character in the world that got quest from them", he says.
"So when you play particular classes, that class has something unique from different classes which means that you have a lot of additional fun by trying a new class because they have in addition to the skills, and there are other things that are different about. If you choose to do PVP that have not reached max level, you will meet the player that are also not max level".
Speaking of classes, Joe also elaborated on the new character class announced at BlizzConline, the Rogue. Rogues are one of the most archetypal fantasy classes, often forming the basis of the main archetypes (along with Fighters and Mages). According to Joe, Diablo IV's Rogue would be no different:
We know that the physical archer and dagger are texture class that can get in amount of combat and is not standing in front of enemy. It is integer part of diablo of franchises and that we have many players who are looking to play that kind of class. So we watch to bring the rogue that why you see though kind of classes and past diablo game and why we want to bring the rogue to diablo 4.
"In Diablo IV, the rogue is both melee and range class depending on how the players play it. Half melee weapon and range weapons, switch at all time and that allow you to choose skill that are all melee or ranged or a mixture of the two and set up situation where you can shooting and rain arrows in huge amounts of enemy, or freeze enemies so that once the enemy is frozen you can dash in and finish them off", he says. 
While Diablo IV has no release date, it's great to see that the team has enough of the game to come out and talk about it so openly. It's also good to know they're not being slaves to the franchise's past, instead trying to hit the middle ground of innovations people loved from both Diablo II and Diablo III.
Thanks to Joe and John for answering our questions, and Blizzard for the opportunity to talk Diablo IV with them.
---
Check This Out Next
---