Bad Actual Cannibal Shia Labeouf spoof aside, Resident Evil 3's remake does start cranking that tension up high from the get go. Enjoy that brief moment of peace after Jill's nightmare. Nemesis is always coming, and he will always be there.
Starting off on the Jill foot
As with the Resident Evil 2 remake, this game plays in the third person perspective. If you're wondering, the game is available in English, Chinese and Japanese languages, with subtitles in Simplified and Traditional Chinese, Japanese, Korean and English. You can choose from three difficulty options: Easy, Standard and Hardcore, something I would say is handy for first-timers to the franchise.
On Easy, there will be automatic aiming, as well as automatic recovery of a percentage of health. If you want to heal to full, you will still need to use consumables. As you might expect, the enemies will be weak, in part due to you also starting off with an assault rifle. You'd also craft more ammunition, while in combat, there is a certain level of assisted aiming. Naturally, on Hardcore, you'd have stronger enemies, less crafted ammunition, and less ammo in general.
Now, the story, mostly for the benefit of those unfamiliar with the title. Jill Valentine is a former S.T.A.R.S. – "Special Tactics and Rescue Service", a special task force under the Raccoon City Police Department – officer, finding herself trapped in Raccoon City. She'll have to contend with the messy aftermath left behind by your beloved Umbrella Corp, in the process encountering a variety of colourful characters, including Carlos Olivera as one of her allies, and of course, Nemesis as the unstoppable wall.
Carlos and Jill will be your dynamic duo in this game, treading the story of the original while also filling in the backstory of the supporting cast, giving them deeper motivations that you gradually find out.
Nemesis surprise
A tl;dr might amount to: some puzzles, sprinkled with jumpscares, and Nemesis is always there. I'm mostly kidding. The game will ease you into the controls, starting off with chump zombies and minimal tension. You'll be encountering the few puzzle locks here and there, as people from the original game series can attest to. The usual zombie attacks are pretty easy to avoid, with nifty sidestepping. To take them out, aim for the noggin for an easier time and save on those bullets. You can get access to more heavy duty weapons for zombie obliteration, but they're few and far between.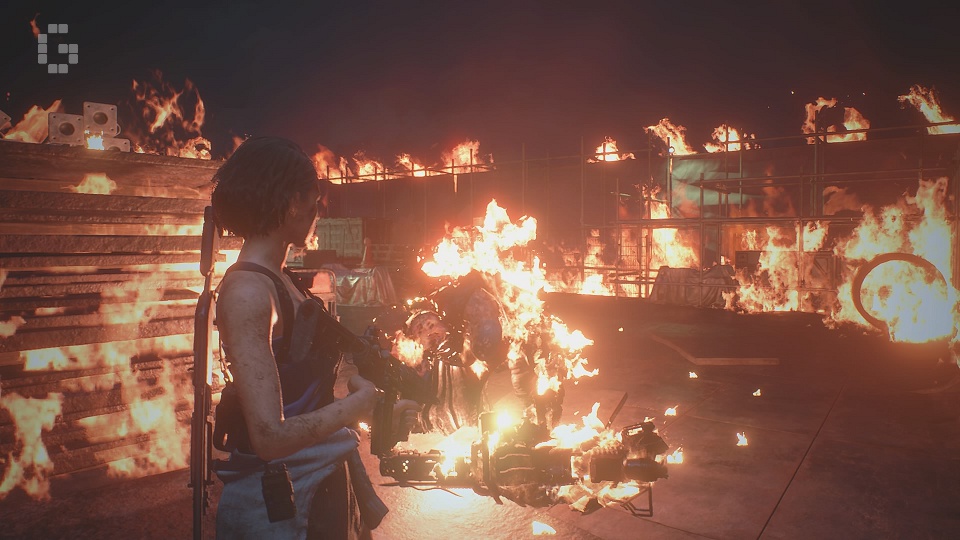 Nemesis will be your best pal, stalking you throughout the game. As with the original game, the burly guy will always be on Jill's, and the player's six. You can also still weaken him enough to take him out, temporarily, but he'll be back like a certain Terminator. He'll grab a Snickers, then he'll be right on his way to chasing you/Jill once more. You can damage him further with environmental hazards like gas tanks, which would be really recommended because using a lot of ammo on this big guy could put you in a pinch for the next stretch!
P.S.: He will be using weapons too, so stay on your toes…
Just keep limping…
The directional arrows are your shortcut keys to switch weapons. Your inventory is represented by grid boxes, as with Resident Evil 2's remake. These slots will eventually get expanded, but Jill won't have bottomless pockets, unfortunately. There are some certain handy colour-coding, where red on the map represents that there's still something to be done there, and it'll turn blue once you've cleared it. Minimizing time spent in backtracking is certainly helpful!
If you do get caught by the zombies, you'll have to button mash to break out, which also takes away some HP, so be careful. You could find supplies – either ammo or herbs – within boxes, which will glow yellow if you can break them with your knife.
Parts to mod weapons are available in the game, so keep an eye out! There'll be plenty of save points scattered around the game, but those accompanied with black boxes are the places where you can store items to pick up for later.
Taking the train out
The remake has freshened up the original title, adding in a variety of things to keep it exciting. The game looks great as we'd come to expect after the quality of 2's remake. Nevertheless, the story isn't that long as with the original, so if you were looking for more meat, you might be disappointed, but the story has been kept tight, rather than be padded out unnecessarily.
The overall experience is still very satisfying, and worth the asking price, especially if you're interested in Resistance, the asymmetrical 4 on 1 game that's packaged together with RE3. If you haven't played the original, then look forward to getting this title!
| | |
| --- | --- |
| Pros | Cons |
| Graphics are fantastic | Story still short |
| More involved mechanics for immersion | Initial scares aside, Nemesis isn't a big challenge |
FINAL SCORE
8 / 10
Resident Evil 3
Microsoft Windows, PlayStation 4, Steam, Xbox One
Jill Valentine is one of the last remaining people in Raccoon City to witness the atrocities Umbrella performed. To stop her, Umbrella unleashes their ultimate secret weapon: Nemesis! Also includes Resident Evil Resistance, a new 1 vs 4 online multiplayer game set in the Resident Evil universe.
Kartrider: Drift has opened for the second beta test! Register at
here
!