Village Vanguard is now accepting pre-orders of the Pokemon Fluffy Ude Makura Lapras and Yamper plushies on their online store.
They are scheduled to release in late January to early February for Lapras and mid to late April for Yamper. They are both priced at 2,420 yen or 89 ringgit.
These wrist plushies can be used to rest your arm when using a mouse on the computer. They're very soft and very cute, creating a soothing effect while using them.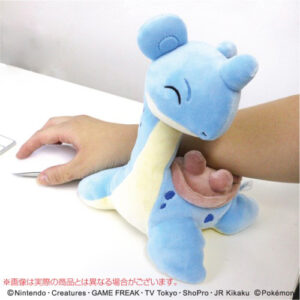 Lapras is the Transport pokemon, duel water, and ice type that first appeared in gen 1. It's well known for being a popular pokemon to surf on across the water. Ash even had a Lapras in the Pokemon anime for a while.
Yamper is the puppy pokemon. It is an electric type of pokemon introduced in the eighth generation of pokemon. It is based on a welsh corgi, the type of dog famously kept as a pet by Queen Elizabeth II, fitting as the main region of Gen 8, Galar, is based on the UK. It evolves at level 25 into the pokemon Boltund.
The size of the Lapras plushie is 210 x 170 x 185mm, while the Yamper plushie is 160 x 250 x 135mm. They should fit perfectly around your wrist for maximum comfort.
Would you like Lapras or Yamper plushies to rest your wrist on as you work?
The latest game in the Pokemon series, Pokemon Legends: Arceus will be released for the Nintendo Switch on the 28th of January 2022. Neither Lapras nor Yamper has been confirmed to be appearing in the game.
---
Check This Out Next
---