Hoku Warriors is a game published by APPS1010 Ltd. The game combines pet breeding and online simulation battles. There are a variety of Hoku pets which the game also offers advanced breeding and evolution system. The game also comes with VR mode which switches your perspective and an AR mode that utilizes your real-time map. Players will be able to bring your grown Hoku to wars with a guild-styled community which enables you to interact with other players.
[one_half]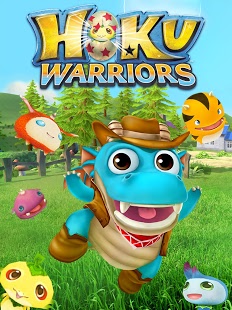 [/one_half] [one_half_last]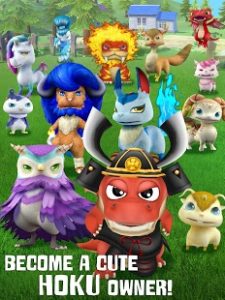 [/one_half_last]
The story revolves around you, as a farmer who accidentally picked up a Hoku egg that has fallen upon your land. You hatched your first Hoku pet and you will have to manage its daily diet and keep it happy with entertainments like tennis, playing the piano and other mini games. Since you own a farm, there are a variety of food which you can grow to feed your Hoku. However you will have to pay attention to your Hoku's BMI to keep it fit! There is a gym available for your Hoku to exercise and burn it's fat. The game is also connected to your phone's step counter (if your phone has) that simulates real-time walking or running with Hoku, embracing a healthy lifestyle together.
[one_half]
[/one_half] [one_half_last]
[/one_half_last]
While you have to manage your Hoku, you will also need to manage your farm. Since you grow your own crops of food for your Hoku, you will need to manage your time watering them and even decorating the farm. Some other activities you can do with your Hoku is to fish in a lake. Since this is a pet simulator game, you will have the opportunity to hatch more Hoku eggs and raise many other Hokus.
When your Hoku is all grown up, it will return to its rightful place. However  you will need to bring your Hoku to the mysterious giant island by crossing a rainbow crystal bridge. The bridge will be sealed and you will need to collect crystal fragments through the VR mode or even from your city as you traverse around with your GPS enabled to unlock the bridge.
Currently the game is only available on the Google Play Store. Unfortunately there is no official date on the iOS release.
Source: gnn.gamer.tw
---
This game may look like it has some great potential as the next AR-VR mobile game. However the technology for a mobile VR game is going to cost and I don't think players are ready to spend on a mobile VR just for a game like this. Hoku Warriors, if taken away the battle system, it will be just a pet simulator where you need to nurture it and play mini games with it. It may not suit many people, but this is still a unique mobile game that offers both VR and AR mode.