Platinum Games co-founders, director Hideki Kamiya and producer Atsushi Inaba spoke live at the Asia Pacific Game Summit (APGS) about their latest game Sol Cresta before speaking more about their plans for Platinum Games for the future going forward.
Their part of the conference was only 15 minutes however they revealed a lot about their latest game and the objectives for the Studio.
Sol Cresta
They first gave us a more in-depth look at their new game Sol Cresta. The game is a throwback arcade shooter with some new innovative ideas, most notably the idea that the ship you control will dock with other ships and become stronger. Combining with different ships can give you different power-ups to help you survive the bullet hell.
Despite being a throwback, Inaba states that they aren't simply making the game out of nostalgia.
"We want to build on new kinds of gameplay and put out properly innovative and fresh content".
This will be the first game in what they call their Neo-Classic Arcade series, which will see them revive classic arcade genres with modern game design.
The Future of Platinum Games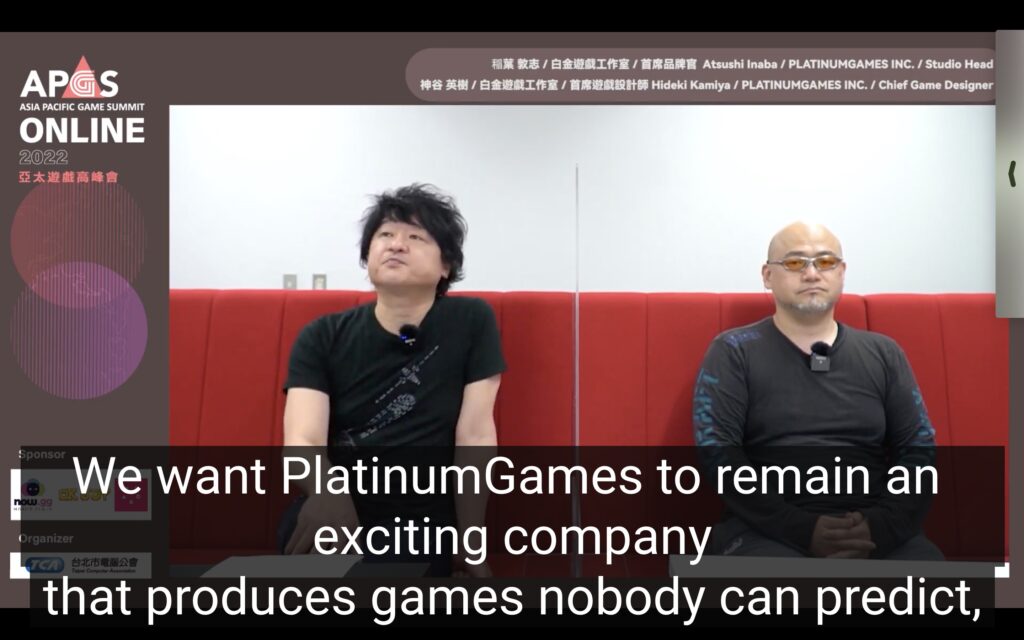 Kamiya and Inaba then talked about their aspirations for the future of Platinum games. They explained that Platinum has done a lot of contract work for other game companies however they would like the branch out to not only publish their own games but become a publisher.
"Platinum Games has valued the creation of new gameplay since its founding days. Moving forward, we hope to create and publish our own games by becoming publishers ourselves."
They then presented a montage of games that they have already self-published. These included the Switch and PS4 ports of Wonderful 101, Sol Cresta, and a brand new game called 'Project G.G.' which seems to take heavy inspiration from tokusatsu media.
Kamiya and Inaba ended the conference by asking players to look forward to their games in the future and telling game developers or those that aspire to be game developers that they look forward to seeing what they'll make.
Platinum Games' next major project is Bayonetta 3 for the Nintendo Switch, which will be released later this year.