Gundam UC Engage came out like a blur- suddenly announced, and then suddenly released unsuspectingly. Honestly? It feels like a logical conclusion for the Gundam IP, but not in a great way.
Edit: Check out a list of mobile suits in the game here.
It's not the first Gundam gacha game- Gundam Battle Operation 2 and Gundam Breaker Mobile both beat it to the punch. But it is the most blatantly and mold-fitting gacha game.In a sense it's great to finally have a default gacha game, but on the other you're just so spoiled for choice in gundam games right now that you don't really have a reason to try this one out.
This Gundam is Just For Show
Gundam UC Engage is an auto-battler that sees you building squads of iconic mobile suits from across the UC timeline, piloted by the same iconic pilots from that timeline.
The way it works is that imagine mobile suits as your basic character in any FGO-type game. They are what's needed to be deployed in a mission. You can then pull for pilots, which are like the equivalent of Craft Essences to further enhance a mobile suit. Mobile suits without assigned pilots will just be deployed with a generic pilot on them, who cannot level up nor give any bonuses.
I quite like this, but it runs into a problem: MS and pilots are pulled in separate banners, so it's entirely possible to go all-in on trying to get that shiny new Nightingale, and then have no gems left to scout for a good pilot.
The reason other games that use this system have it work out is that Craft Essences are treated like subpar rewards. Sure there are good ones, but if you were desperate you never have to go into battle with empty slots. Here, Gundam UC Engage wants to tell you they're equally important rewards, which just feels an awful lot like double-dipping your audience.
Soldiers of Sorrow
Once you get into the battle, it's pretty milquetoast at best. There's a cool concept starting it off- you position your units on the board, making sure that the 3 range classes are being used at their most effective- and then you deploy them, where they'll wage battle on cool terrain that goes from battlefields straight out of Battle Operation to even the sky above a Space Colony.
The game is even kind enough to give you a DPS breakdown for your squad, telling you who on the team is doing the most damage at any given point in time, and mini feeds every time one of them gets a kill.
Here's the problem- the camera placement is so weird it's near impossible to tell what's going on at any point in time. The main thing you're watching for is each mech's EX meter, since once it fills up you'll get to do the flashy EX moves for big damage.
I almost feel like they should have just gone the tower defense route a la Arknights or the RPG route like other mobile games- what we got just feels too weird to be enjoyable.
That being said, once you get your EX moves out, they're plenty cool. More expensive units have more elaborate animations, and they're sure to tickle the fancy of any fan of the Gundam series with enough luck or crystals to pull for their favorite units.
The problem is, like any kind of animated super move, it only lasts so long before it just becomes yet another thing to skip to grind through the game.
Your Soul Is Weighed Down By Gacha
Like I mentioned earlier, the gacha in Gundam UC Engage is not particularly great. Pilots and Mobile suits are split up, and UR mobile suits only have a 0.545% chance individually of dropping.
Limited banner units like the Nightingale do have a pity system, built around the concept of wracking up points. Every 10 pull gives you 10 points, and at 300 points (300 pulls) you'll get the featured banner unit.
The unfun gameplay just kinda sours even the gacha experience, since it's tedious no matter if you're playing for your Gundam husbando or to get any kind of meta going with your team.
Over The Rainbow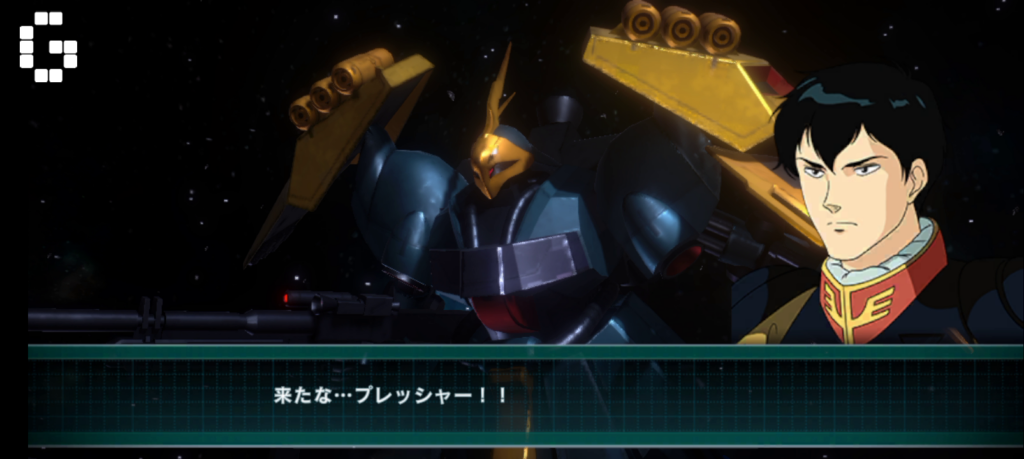 Gundam games have always historically been anti-mass appeal. From the laughably complex Battle Operation to niche spinoffs like Dynasty Warriors, they've always found a way to make your Gundam fandom be rewarded in a game, often at the cost of some legible gameplay design.
With Gundam UC Engage, that's not present. Worse yet, the actual gameplay we got is just dull, making you wonder why you'd pick up the game at all other than the fact it had Gundam branding over it.
The game's available from today with two free UR units if you log in, so you can try this out for yourself if you think I'm just being a wet blanket. It's Japan-only for now though, and only time will tell if it becomes popular enough to get a worldwide release.
Gundam UC ENGAGE
Android, iOS
Mobile Suit Gundam U.C. ENGAGE is a space century war simulation application that brings together Gundam's space century works. You can enjoy digests with animation of past Space Age works that were developed in TV animation, theatrical version, OVA, etc., as well as new Space Age stories that combine animation and battle/adventure. In addition, in the simulation battle, you can experience the battlefield of the Space Age firsthand by fighting powerful 6v6 battles with realistic 3D mobile suits with easy controls and auto-play. With Mobile Suit Gundam U.C. ENGAGE, a Gundam app that expands and deepens the space century, you can experience the history of battles in the space century.