You might've heard the hype around Horizon Forbidden West – and deservedly so – but before you jump in, here are what we consider the most essential tips to serve as your Beginners Guide to the great wild world before you.
---
PLAYING THE FIRST GAME IS HIGHLY RECOMMENDED
When it comes to narratives like this continued in a sequel, Forbidden West has many callbacks to the first game, like that of important plot points and past conflicts, including the expansion. You can get the cliff notes through the in-game bestiary or a Youtube plot summary, though of course, experiencing first hand is something else. It'll arguably help you get quickly acquainted with the Forbidden West controls as the core of the games is the same.
LOOT EVERYTHING AND REMEMBER TO HUNT
Due to Forbidden West's similarities to Zero Dawn, tips from the first game still apply here. You should definitely loot whatever you can, and nothing is truly ever "junk". Sell stuff for Scraps, use the mechanical parts to craft more ammo, traps or upgrade materials, animal skins for your pouch to carry even more things, and plants and meat for food from Cooks in settlements.
Your resources will be sorted into groups depending on your usage, so you already know what they are for. Take advantage of the unlimited storage box at the settlements to continue your looting spree.
UNLOCK ALL THE CAMPFIRES
Besides saving your progress, these serve as your fast travel points in Forbidden West. You can stumble upon many of them in the wilderness, that you definitely shouldn't ignore so that you can savour that convenience at a later point in the game. Likewise, remember to stock up on your Travel Packs as fast travel is not free.
OVERRIDE MACHINES WHERE YOU CAN
Override is an ability that lets you take control of the various machine enemies. You can then use them as a mount, or bring along as fighting buddies when you fight another pack of machines. As a mount, you can use their abilities to blast hostile machines, and they automatically fight your opponents when you dismount. Very convenient.
APPLY STATUS EFFECTS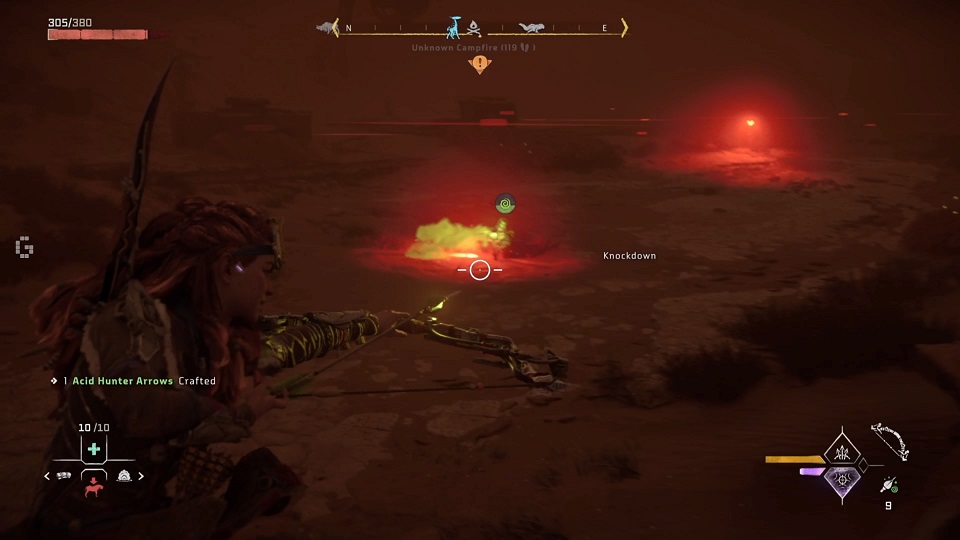 Take advantage of the statuses you can apply. Each machine has its own weakness and you'd definitely want to exploit that especially when it comes to those with strong defenses. There are new ones in Forbidden West, too. Statuses include:
Fire: Deals damage over time

Shock: Causes temporary paralysis and immobilize your enemies

Freeze: Slows enemies movement

Acid: Deal more armor damage for the duration

Plasma: Explodes at end of duration effect, and deal AOE damage around the target.

Sticky: Immobilize and prevent the machine from executing certain movement moves

Purgewater: Makes target more susceptible to Frost and Shock, removes other elemental damage
Acid is arguably one of the most useful ones, since you can really shred its defenses to deal triple or quadruple damage.
DON'T LIMIT YOURSELF TO A SINGLE SET OF WEAPONRY
If you find yourself struggling against a particular set of enemies, it might be time to change things up. Aloy is much stronger than you might think, with a large, varied arsenal available to you. Certainly, preparation never hurts for any kind of battle, and you wouldn't want to run out of materials to craft specific ammunition types to exploit weaknesses. The Skill Tree is extensive with six categories – Warrior, Trapper, Hunter, Survivor, Infiltrator, Machine Master – so keep your options open.
STEALTH IT
The lands of Forbidden West are not forgiving ones, with plenty of things able to kill you with ease. Stealth and traps are your best friends, and when the more aggressive and stronger APEX enemies start becoming more common, you'd best avoid getting cornered by these creatures when you can.
TAKE ADVANTAGE OF YOUR TRAVERSAL TOOLS
Exploration is an incredibly integral part of this game, and this is only further assisted with the addition of the glider and grappling hook to get you to new areas. You can also use these as escape or hunting tools to get you out of fights, or closer to your target as needed. Regular running is simply less efficient.
DO THE SIDE QUESTS
Be sure to enjoy the journey along the way with these side missions. They unlock new areas and stronger gear too. Of course, this can result in being overlevelled by the end-game.
HUNTER SKILL TREE IS A GOOD PLACE TO START
The Hunter skill tree offers 2 skills with multiple arrows, which can greatly help in sniping a machine's weakness. Machine Master might be better left for the later game, as you'll need to unlock cauldrons and occasionally craft corrupted override items to override machines to begin with, which can sap your starting resources. Look for skills to let you craft more arrows or harvest more berries so that you can make good bank when you start as early as possible.
HAVE A HIGH TEAR DAMAGE WEAPON
Almost every machine has a key resource upgrade part, which often times requires you to tear it down. Most of these tend to be destroyed on machine death, requiring you to grab it before then. There are some larger parts which don't want you to destroy the relevant part (e.g. Bellowbacks) giving rewards should the machine die with the piece intact. Key resource upgrades are especially important as you'll want them for armour / weapon upgrades, and the override crafting.
---
That's pretty much it for the essential tips and guide for beginners to Horizon Forbidden West, and a refresher for you veterans out there too. With the launch of the game, one thing's for sure: in between all your plot, take a breather and enjoy the sights of this wonderfully realized world.
Horizon Forbidden West
PlayStation 4, PlayStation 5
Join Aloy as she braves the Forbidden West – a majestic but dangerous frontier that conceals mysterious new threats.
Explore distant lands, fight bigger and more awe-inspiring machines, and encounter astonishing new tribes as you return to the far-future, post-apocalyptic world of Horizon.
---
Check This Out Next
---