The highly anticipated continuation to Aloy's quest in Horizon Forbidden West will soon enough be in the hands of the rest of the world, coming 18 February 2022. It's quite the meaty one, so let's not have too much preamble and start diving into the game's various aspects.
OPTIONS
Ah yes, my favourite part of a review, scrutinizing accessibility options, where relevant. Since this is an open world game, being immersed in it is part of the fun. However, you can have more guided options by turning on pathfinding for quests and waypoints, great for those with no sense of direction.
If you've put down the game for a while, or just need more time to get used to the controls, you can opt for contextual reminders for the controls. There's options for the slowdown when you have the weapon wheel open, or automatically heal, concentrate or use the exploration tools (specifically the shieldwing, in this case), Quick Time Event controls, and even for mounts to follow the roads. Interestingly, there's a co-pilot option which requires a second user profile and second controller, which uses mirrored controls.
Additional things of note to me where the on/off toggle for tinnitus sounds, sliders for camera and vibration sensitivity, dead zones and the still relatively uncommon, complete controller button customization. The subtitles don't have too many settings besides adding backgrounds or text size presets.
PREVIOUSLY, ON HORIZON ZERO DAWN
For the sake of the narrative, you should most definitely play the previous game before the sequel, which you might consider, goes without saying. After all, there's where you get to learn how Aloy first started before this grand adventure of hers: an outcast who had to prove herself at every turn, while wondering the truth of her origins. It's hard not to feel proud of Aloy's growth throughout the hours you'd have put in to get to this point – including the Frozen Wilds expansion – with how much she's matured, and seeing her tenacity in the face of overwhelming odds.
Truly, hats off to the writers. While Aloy is the star of her own game, it'll be remiss not to mention the supporting cast as well. Each tribe in the Tenakth region actually feels distinctive, with side quests allowing you to experience their various cultures and customs. An immersive story is often banded about for these large scale games, and Horizon Forbidden West can truly claim so in how fully realized the world feels.
All this with absolutely gorgeous graphics, more so on the PS5.
NOW, ON FORBIDDEN WEST
THE BEAUTIFUL WORLD
Open world means exploration, and all the beauty aside, what's it like wandering about? Enjoy the views you can stumble on with the day / night cycle, offering some incredible photo shoots of say, a sunrise from the top of the mountain. Gliding is new to Forbidden West, making scaling those heights even more worth it as you get to swoop down on some point of interest with ease. Not even the depths of the water is off limits, as you can later get a tool for underwater breathing, for even more stunning environments you can, more or less, freely scrutinize to your heart's content. Exploration genuinely is one of the biggest draws of the game. There's Photo Mode for you to capture those views too.
You get new gadgets to further facilitate maneuvering the verticality offered in the game. The Tallnecks return, roaming around, for your mandated "radio tower" segment. Puzzles are pretty much a given in a game like this. You'd expect them to pose challenges, with some of them possibly feeling more arcane than others. It depends on how you feel about working that grey matter.
THE DEADLY WORLD
The combat system has hardly strayed from its initial run, with new wrinkles to keep it fresh. Acid, Plasma and Sticky are new statuses on top of Fire, Shock and Freeze:
Acid: Deal more armour damage on affected target, and AOE damage over time
Plasma: Explodes when duration ends, dealing AOE damage around affected target
Sticky: Immobilizes and prevents target from executing certain, usually movement, moves
Purgewater: Makes target more susceptible to Frost and Shock, removes other elemental damage.
Additionally, new weapon techniques allow you to consume stamina for stronger, or more unique, effects. You'll be learning these from their respective skill trees. On top of that, you have Valor Surge, which is essentially a "super" mode. As you might expect, there are different versions to suit your playstyle, be it granting unlimited ammo, stealth, melee damage, and the like.
You will want to utilize all the tools at your disposal as the enemy's gotten more advanced AI. You'd find them shooting in the direction you're heading to, rather than your current spot, and get better equipped to prevent getting sniped. Melee isn't all that safe either, as they will learn how to counter accordingly. It keeps the combat engaging, and certainly encourages mixing things up.
And why not give variety a go? Aloy gets three new toys besides her arsenal from the previous game:
Warrior Bow: Features the fastest draw and shortest range, this is meant to complement a melee playstyle, especially after learning Resonator Blast through the skill tree. Watch out for the fireworks!
Spike Thrower: For a different flavour of explosion, this weapon can deal lots of damage, being most effective in close to mid range. There's some trade off in that you'd prefer to fully draw it for better damage, but it'll be worth it.
Shredder Gauntlet: The gist of it is that you can fling out a returning projectile that deals more damage when you shoot again, with the damage stacking up to 3 times. For someone like me without much finesse, it can feel awkward to use.
Test out your toys on the new mech enemies, modelled off the good ol' prehistoric animals and dinosaurs. As before, they'll have different parts you can destroy, and some components will be lost on death. Don't go too trigger happy now. Then you have the APEX, their black plating making them stand out from their regular counterparts, having higher stats and randomly spawning anywhere in the region. These can't be overridden, and eventually become more commonly found from the mid to late game.
Overriding machines work better in the sequel, where you can get EXP from machine kills. You can choose to invest in skills to override time, health and damage for your minions, but you will need to clear the cauldrons and craft the modules to do so. It is still quite worth it for the open world, so that you can save your resources. This is quite important as metal shards are both crafting materials and currency, and running out could put you in a pinch. Besides, getting up close and personal to override them lets you see the sheer amount of detail they've put into designing these creatures.
Need some time off from the narrative and the fighting? Partake in some mini games, like Machine Strike, Arena Challenge, Melee Pit and Hunting Ground. Machine Strike is akin to a strategy board game where you control machines to battle, which can become unfun when high difficulty AI stick to defensive plays. Arena Challenge works like the Gladiator Arena from Zero Dawn, duking it out with machines in an arena with a global leaderboard every fourth battle sorted by difficulty. Polish your melee combat in the Pit, where its challenges help teach you to chain your combos. The Hunting Ground returns, where you'll have to take down your prey according to the set conditions.
SETTING HORIZON
After 70 or so hours meandering, maybe even a "mere" 50 hours if you don't sidetrack too much to pursue the vast array of side quests or exploration, the story will finally conclude. Continue walking, or rather, flying, the earth once you're done, to take in the sights.
The early access build saw quite a number of bugs, which should be patched out accordingly. Outside of that, Horizon Forbidden West reminds me just how sublime it is to be able to immerse oneself in this gloriously crafted world. I do find it funny with how the game's quests will patiently wait for you, no matter how critical it might get in story. Seriously though, exploration's the other half of the game.
Admittedly, trying to do it all can feel grindy, so it's best not to push yourself to it. Horizon Forbidden West is a stunning sequel building off an incredibly strong foundation, so if you loved the first game, you should absolutely pick it up. Even if you haven't played the first game, you can still enjoy the ride.
| PROS | CONS |
| --- | --- |
| Consistently strong narrative and worldbuilding | Can get quite grindy at times |
| Incredible graphics | |
| Satisfying and rewarding exploration | |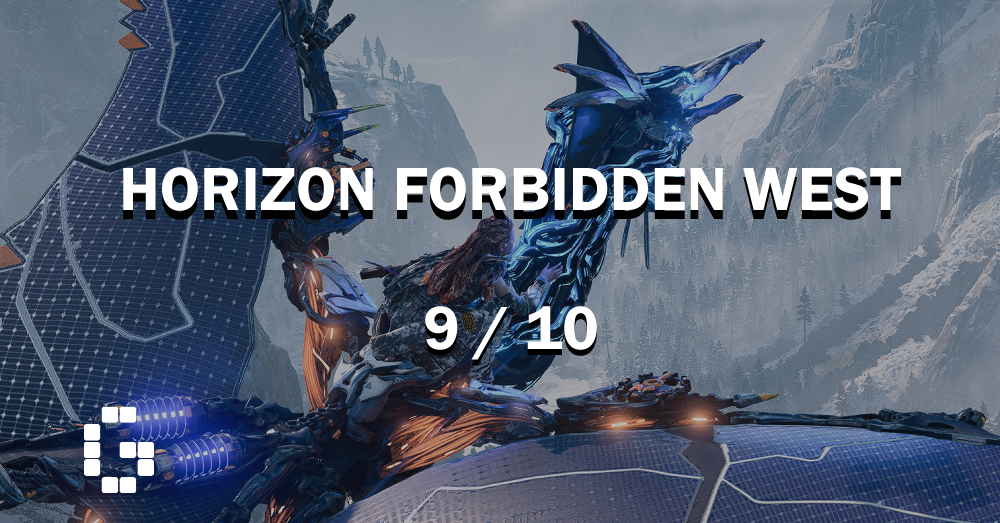 Horizon Forbidden West
PlayStation 4, PlayStation 5
Join Aloy as she braves the Forbidden West – a majestic but dangerous frontier that conceals mysterious new threats.
Explore distant lands, fight bigger and more awe-inspiring machines, and encounter astonishing new tribes as you return to the far-future, post-apocalyptic world of Horizon.
---
Check This Out Next
---