Noir is now live in Goddess of Victory: Nikke and can be recruited from the 25th of May 2023, till 8th of June 2023, 04:59 (UTC+9).
Noir is the second member of 777 squad alongside her twin sister Blanc and represents the only component (so far) to realize Blanc's true potential through her skill kit which requires an additional member of 777 squad in the party.
The new Nikke Noir is a Wind Code, Burst Type III, SSR Attacker class Nikke using a Shotgun.
This will be a first impressions based on the newly released Nikke, and her overall performance and usability may change over time.
Twin Synergy (Values are based on Skill Level 10)
With 2 [PASSIVES] and only one [ACTIVE], Noir is very auto friendly similar to that of her twin sister Blanc which is pretty great for auto-run Commanders such as myself.
Her Skill 1 – Lucky Charm, is a Passive that activates whenever Noir is above 70% HP and boosts the ATK of all her allies by 14.08%.
Her Skill 2 – Rabbit Twins B, is also a Passive that activates when entering Full Burst and increases Max Ammunition Capacity for up to 5 Rounds for 10 seconds and increases reload speed by up to 39.88%.
Lastly, her Burst Skill – Finale is a 40 second cooldown Active that has a few effects:
For all allies (with a shotgun) – Increases Hit Rate by 13.93% and Damage to interruption part by 23.23% for 10 seconds.
For all enemies – Deals 351.84% of ATK as damage.
For all allies when Full Burst ends (if someone from the 777 squad is present) Hit Rate increases by 11.61% for 30 seconds and Damage to interruption part increases by 19.36% for 30 seconds.
From here we can see finally see how the bunny twins Blanc and Noir synergize well with each other, Noir's passive in her Skill 1 is easily maintained thanks to Blanc who consistently puts out supportive buffs such as shields and heals that benefits a lot from Noir's passive in her Skill 2. Through the increase in Max Ammunition and Reload Speed, Blanc can easily trigger her Skill 1 Passive much quicker ensuring that the team remains fighting fit.
Not only that, both twins have an additional effect when a member of 777 squad is present with Blanc reducing her Burst Skill cooldown by 40.76% and Noir providing buffs great for boss fights.
Primarily, Noir sounds great for teams that just want to blitz through content through sheer overwhelming damage more so against bosses that tend to hover around medium to close range like the Gravedigger in Interception level S which lets you bring a full team of Shotgun users.
I would advise those to roll for Noir should you have Blanc in your roster already, with her weapon being a shotgun its difficult to slot her in most content with only the Gravedigger in Interception level S coming to mind where she will truly shine. In any case, you may try your luck with one 10x pull and see if luck is on your side or wait for the supposed collaboration with Nier.
You may find further details regarding Goddess of Victory: Nikke and Noir at the official website.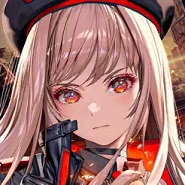 GODDESS OF VICTORY: NIKKE
Android, iOS
GODDESS OF VICTORY: NIKKE is an immersive sci-fi RPG shooter game, where you recruit and command various maidens to form a beautiful anime girl squad that specializes in wielding guns and other unique sci-fi weapons. Command and collect girls that have unique combat specialties to create your ultimate team! Experience next-level shooting action with simple yet intuitive controls while enjoying dynamic battle effects.
---
Check This Out Next
---