It's Granblue Fantasy's seventh anniversary, so naturally, that means lots of goodies! Here is the rough outline of what everyone will be getting:
New characters

Isaac (Water), Beatrix (Earth)
Summer Andira, Summer Khumbira
Eustace (Dark) will be getting his fifth star

Eustace will also be playable in Granblue Versus late April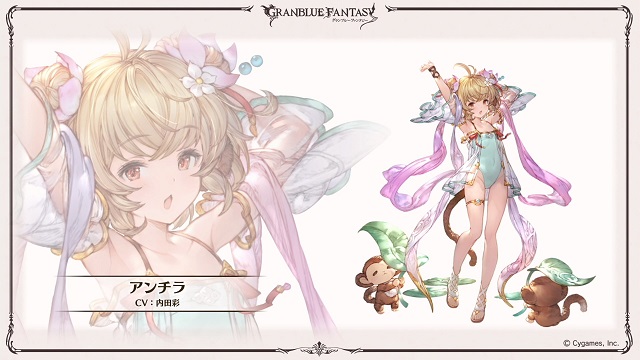 Scratch cards

Runs from 10 to 31 March
Match 3 squares to get an item. An item is guaranteed even if no matching happens
"Some cards" will supposedly make it easier to obtain rarer items
Anniversary weapon ticket

All weapons will be at lv. 150, regardless of whether they can also be uncapped to lv. 200

New skins

On sale on 19:00, 10 March
Yurius and Yuisis are the latest additions
Anniversary Special Pick ticket

2019 Limited Characters
Holiday 2020 Characters

Star Premium Draw

Set 1 for 2019 / 2020 seasonals
Set 2 for Zodiacs / Grands (Vikala excluded)

Updated Log In bonus

Points for new skins, certain weapons

Special missions become permanent
SkyLeap special

Bonus 200 crystals per day

Gachapin Roulette

Starts 10 March
Double Mukku Frenzy is now possible
Guaranteed 100 draws on 20 March and 30 March

Flash Gala runs from 16 – 19 March for new character rate up
Flash Gala part 2 from 19 – 21 March for 0.748% for Limited character (usual rate is 0.6%)
30 March draws will happen during Premium Gala, with all Zodiacs (except Vikala)
Last but not least, the game's April Fool's collab this year features a collab with Bobobo–bo Bo–bobo.
The total rewards obtained from the stream were:
3x Regalia omega anima
3000x Arcapoints
5x Silver Centrum
2x Intricacy Ring
1x Damascus Ingot
50x Rainbow Prism
15x Blue Sky Crystal
5x Gold Spellbook
5x Gold Moon
1x SSR Ticket
300,000x Rupie
20x Full Elixir
200x Half Elixir
300x Soul Berry
14,000x Crystal
Happy seventh anniversary, Granblue Fantasy. For an unofficial resource, you can check out Granblue_EN on Twitter.
Granblue Fantasy
Android, iOS, Microsoft Windows
Granblue Fantasy (GBF) is a full-fledged fantasy RPG game with quality that will blow you away. It's time to embark on an adventure in the world of the sky. Play it on your browser in English or Japanese!
---
Check This Out Next
---