Genshin Impact will be having a concert titled, Melodies of an Endless Journey, in celebration of their second Anniversary on October 2nd, 12:00 (UTC +8).
Check out the preview for the concert down below.
Everyone can enjoy the concert on Genshin Impact's official YouTube channel and Twitch channel on October 2nd.
Participate in their campaign from their official website and share your online concert pass featuring the poster characters for the concert like Kazuha, Barbara, Shenhe, Yunjin, Xinyan and Yae to stand a chance in winning concert exclusive merchandise.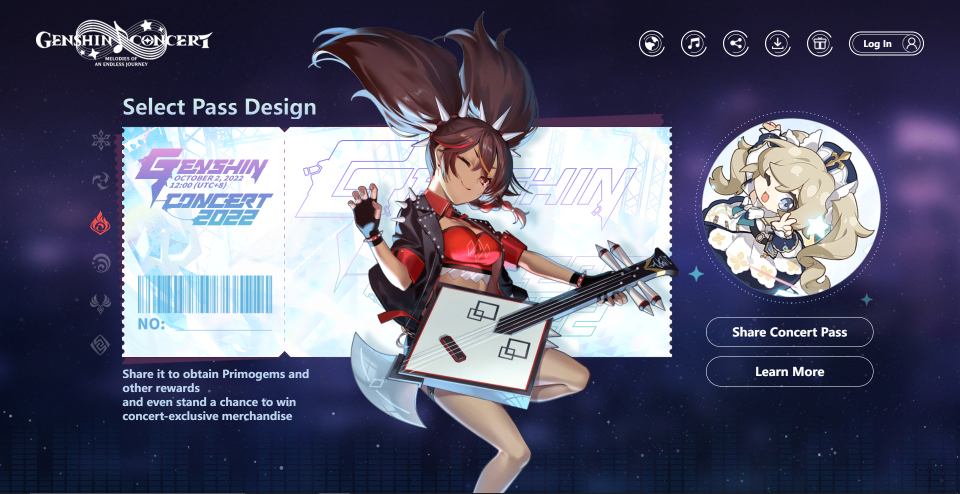 You can even win Primogems and Mora by simply linking your account to the website as you share your concert pass.
Genshin Impact and HOYO-Mix are going to collaborate with various amazing musicians to perform wondrous melodies of Teyvat for everyone to enjoy throughout the entire concert.
Here are various guests that will be performing in the event:
     

Shiro Sagisu

     

Eimear Noone

     

Angel Vivaldi

     

Arch Echo

     

BAND-MAID

     

Emi Meyer

     

FLOW

     

Takayoshi Ohmura

     

Testuji Hayashi

     

TRI4TH

     

Yukie Nishimura

     

ZAON
The event also comes with merchandises featuring the poster characters of the concert for everyone to purchase on their official website such as:
     

Genshin Concert 2022 Series Tinplate Badge

     

Genshin Concert 2022 Series Arcylic Ornament

     

Genshin Concert 2022 Series Commemorative Hologram Ticket

     

Genshin Concert 2022 Series Arcyclic Hangable

     

Genshin Concert 2022 Series Postcard Set

     

Genshin Concert 2022 Series Mood Gift Box

     

Genshin Concert 2022 Series Mini Harmonica Necklace
Unfortunately though, the merchandise has already sold out as of present.
Genshin Impact is a free to play RPG game by HoyoVerse and will be celebrating its second Anniversary this September 28th. The 3.1 update for the game also coincides with the second anniversary and features the desert update and new characters Cyno, Candace and Nilou.
---
Check This Out Next
---