For the times you want to throw down against your friends, or test your teamwork, surely there's no better way to do so than through games? Whether you're up for quicker, more casual fun or more potentially intense fights, there's much you can find through the GameCenter app.
弹弹世界 is a side-scrolling shooter, with the added mechanics through use of physics. The tutorial takes you through the steps for you to grasp the crucial basics.
Buffs are relatively simple, offering boosts such as extra attacks, extra hits, increased damage, and repositioning via Paper Plane. These can also be used in combination for devastating attacks! However, utilizing them requires Stamina, so timing is still essential. Using the Paper Plane doesn't let you attack after use, which could be a double-edged sword. You could leverage the Support skills at your disposal, which could either heal or freeze enemies, provided you hit them first.
Stats come from your weapon, attachment and pet, while your overall combat power is derived from your armour. As you might expect, weapons and attachments can be further upgraded in both Star and Tier ranks, for stats and combat power respectively. The game's cutesy style really gets taken advantage of here, allowing for incredibly wacky weapons to be used at your discretion. Don't be fooled by the comical weaponry though; they can blast through the environment which could lead to the enemy's – or your own – doom.
You'll be taking turns to either move left or right, or adjust your shooting angle. Hold down on the screen to fill up a power bar; the longer you do, the more charged up your shot is, and the further it will fly. Environment aside, you also have to consider the wind direction and speed. Luckily, you have a better chance of tweaking your shots, thanks to the system saving the power level of your previous shot. The goal is simply to get your opponent down to 0 HP.
Duke it out 1v1 or team up for the more competitive PVP side, and find a guild and / or clan to join for even larger scale fights. PVE isn't cakewalk either, taking you through increasingly challenging dungeons to make you earn your upgrade materials.
The ever popular Mobile Legends: Bang Bang probably doesn't need much introduction. Chances are, you're already playing it, either alone or with friends (preferably with friends). However, if you're not already familiar, it's a multiplayer online battle arena, or MOBA for short. The primary gameplay loop features 5 versus 5 fights across a three-lane map, vying to destroy the enemy's base. Players control one primary 'hero' unit as AI-controlled minions march to the opposite side of the map, clashing where they meet, with ambient creatures scattered in the spaces between.
It's a pretty simple concept but as usual, can vary in ease of execution. Your hero unit could make or break your game due to a variety of factors; your familiarity with them, how your team's heroes synergize with yours, and what the enemy team does to counter you in turn. Even though the core gameplay doesn't change, it's the human factor that makes an incredible amount of difference. Here's where you can get your friends to join you, to ride or die together!
There'll always be opportunities for you to try out a new hero thanks to the weekly rotating free roster. Who knows, you might be finding your own main, and try to get some shiny new skin to show how much you love them too. Should you want a break from the Classic game mode, there's always the Arcade with its seasonal fun game modes to keep things fresh, or the highly strategic Magic Chess mode; Mobile Legends: Bang Bang's take on the auto-battler genre.
POKÉMON UNITE
You know it, you love it. If you want a stepping stone into the MOBA genre, Pokémon Unite can pretty much be your go-to to learn the ropes. It's much more streamlined compared to the rest of the titles of its kind, basically distilling it to its purest form. It's still 5 versus 5 on a more compact map, with the enemy "base" being more akin to goal posts in which to score.
The MOBA genre's fundamentals are still there: Pokémon level up and learn more skills as they do, with the option to branch into something else if you so wish. You have the "Unite" skill which works as an "ultimate" skill, and there are Pokémon you find in the in-between "jungle" area. Some Pokémon will be able to evolve at certain levels, some hitting the threshold faster than others. If you so wish, you have a swathe of styles to dress both your trainer and Pokémon up!
Alongside your friends, you could pick to play your favourite Pokémon. You could match up against another group of friends or just practice against the computer, with the possibility of custom matches. Due to the overall shorter match times, you could try and get people to play just some rapid fire games anywhere, anytime.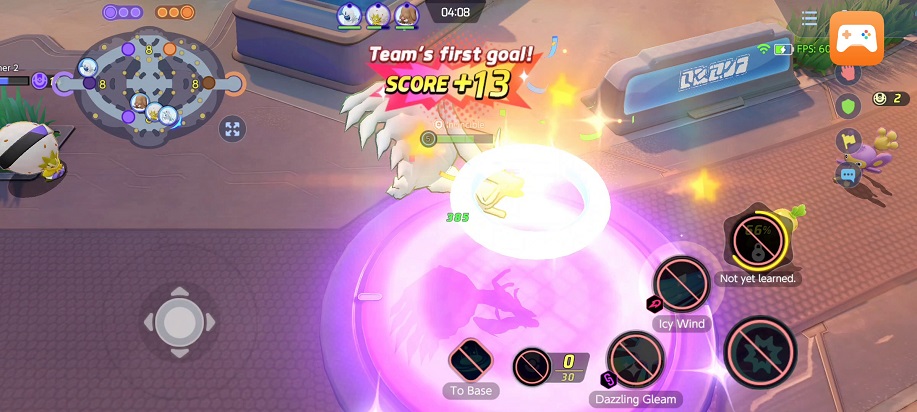 While Pokémon Unite is not yet available on the GameCenter, you can always look forward to finding it on the platform in the future for even more potential friends you can connect with!
---
These games are well known, and for good reason. They can look casual enough at first glance, being easier to get into by on mobile devices. However, that doesn't mean they have no depth, and that's what you can say is one of the core appeals of these games: easy to pick up, hard to master, and incredibly convenient to practice.
Find 弹弹世界 and Mobile Legends: Bang Bang through the GameCenter, and let's lobby for Pokémon Unite to be on the platform too!