What happens if one day you've been transported into a fantasy world filled with savage beasts and mystical magic? In our review of Forspoken, it tells the tale of one lonely New Yorker whose life turned upside down, destined to be the saviour of a foreign land.
Forspoken is Luminous Productions' latest action role-playing game set in Athia, a fabled land of both beauty and twisted brutality. Step into the shoes or cuffs of Frey Holland, the aforementioned New Yorker who one days discovers Cuff, a talking vambrace that magically teleports her to the world of Athia. Yup, that just happened.
In Another World
The world and lore of Athia itself is fascinating, but it doesn't spoon feed you the whole story. To uncover the lore of Athian history, you'll need to rummage through text-based collectibles like in The Last of Us. Personally, I like how the game doesn't forcefully lore-dumps everything onto the players, making exploration fun.
As a fan of isekai genre in anime, Forspoken should be my cup of tea since it's essentially just that. But my main gripe with the Worldbuilding in the game is how its presented to the players. The storytelling is shown through awkward cutscenes and dialogue delivery, which are accompanied by frequent fade to blacks. Even after getting into the main plot, everything still feels so awkward.
A majority of the voice actors (aside from Frey, Cuff and some supporting cast members) deliver lines in a flat and emotionless way. Which is made more apparent by the editing, where the game has weird loading scenes just for character conversations.
I often find my immersion of the game being ruined by having to wait for a clunky NPC conversations. And while some performances are significantly better than others, it's still not enough to fix this problem.
Although, if you can look past the game's awkward deliveries and storytelling, the game shines the most in its combat.
I Can Use Freakin' Magic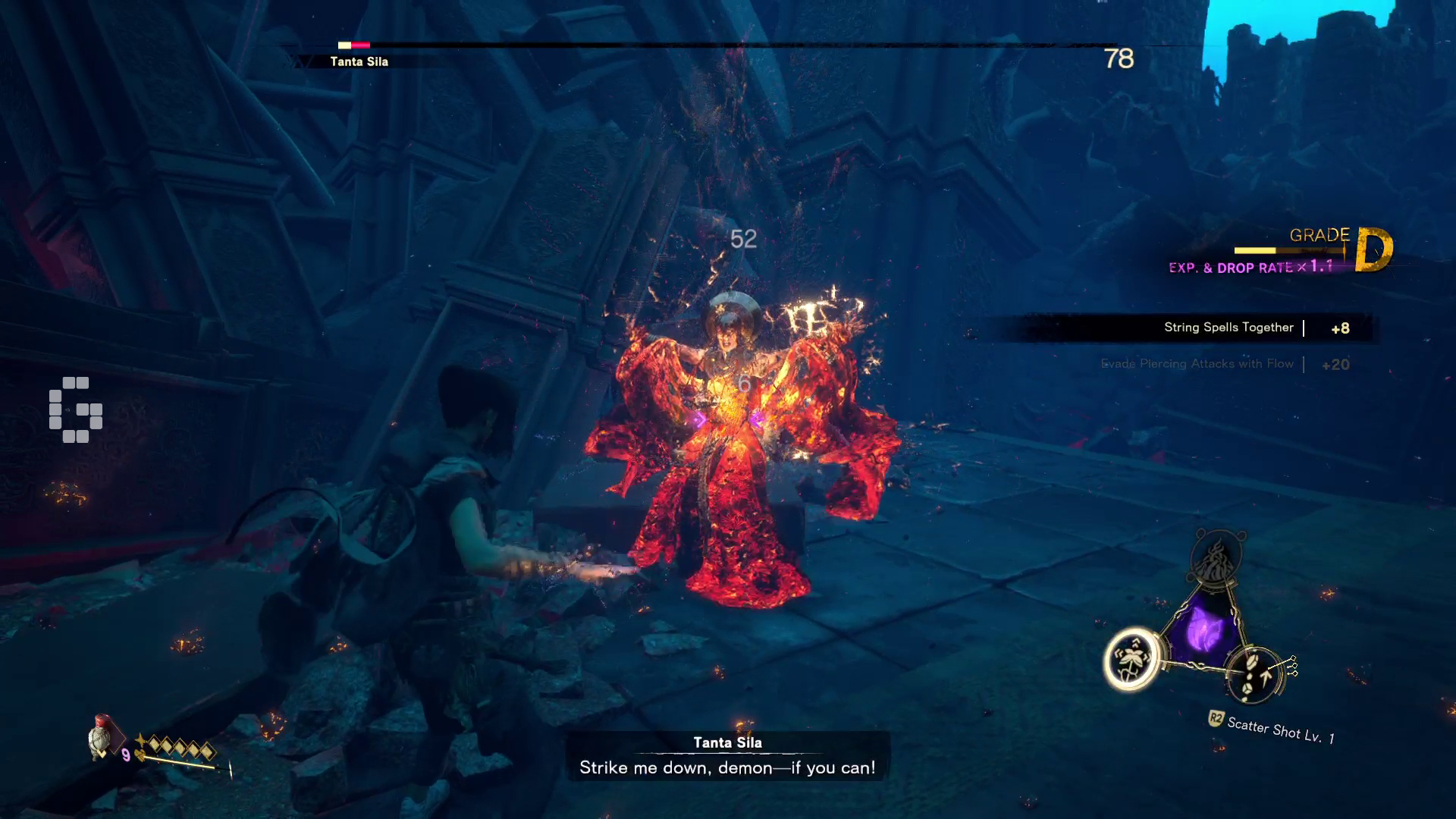 Frey has access to an arsenal of magic skills for both combat and navigation. While the system is extremely complex, the various layers are introduced gradually to prevent players from being too overwhelmed.
Each magic skill is set into two types, Support and Attack. The main gist is to attack while weaving in support magic to either control large groups or debuff stronger targets. Every spell has different cooldowns and a particular casting method; be it via tapping, holding or charging. Holding a trigger allows Frey to charge up the power of another spell, target an area of effect before releasing it, or cast a series of chosen spells continuously.
While there can only be one of each type active spell at once, I was able to pause the action at any given time by holding down the "L1" or "R1" buttons to switch to a different active spell. The combat experience is also enhanced with the haptic feedback of the PS5 DualSense, which gives each spell a distinct feel to them.
The amount of spells is gated in the early game where you're only limited to Frey's default Purple Magic. Although, you'll be given access to a new arsenal of spells once unlocking the Red, Blue and Green Magic trees.
The game also allows you complete freedom to switch between all of the spell sets and variety of support spells, and lets you adjust your approach depending on the enemies. Which I find to be extremely satisfying since the gameplay loop won't feel stale.
Each combat spell functions differently and can be useful in various situations. Purple magic works well when dealing with enemies from a distance, and Red magic is perfect for cut ranged combat, so on and so forth. Since each spell is designed to deal with a specific enemy number or type, switching between spells will be your bread and butter.
Most enemies have their weakness against one of Frey's spell sets, and using Cuff's scan feature you're able to determine which attacks are most successful. Players are able to unlock more support spells and enhance attack magic as they gain Mana, which acts as upgrade points.
Additionally, players can also boost the power of Frey's attacks by successfully completing challenges that are associated with each spell, which can act as a nice breather from the main storyline.
Combat in Forspoken is quick, entertaining and all about using the right spells at the right time. And while it can occasionally get chaotic, I find that the combat is at its best when I'm surrounded and need to fight off hordes of enemies.
Into Athia
Frey can sprint across fields and scale cliffs with ease thanks to her magic-enhanced parkour, named in-game as Flow. The best part about traversing the lands and performing all these acrobatic feats, is that you can do with a single intuitive button press. And as the plot progresses, more traversal-focused options become available, opening up increasingly harder locations and rewards.
Athia's open world is divided into various regions, filled with tons of side quests and landmarks. These include forts with enemies, safe houses for crafting, mini-dungeons with a special boss at the end, monuments and photo spots that will test Frey's abilities.
Unfortunately, once you've seen those events once, you've pretty much seen it all. There's a lack of variety and it feels like Forspoken is just filling the world with the same types of open-world events that also lacks depth. The only thing that encourages me to deal with these events are the chances to get more magic spells and rewards that strengthens Frey.
And while this might make the world of Forspoken sound uninteresting, traveling across the map feels enjoyable and the combat is interesting. It's also convenient that the game tells you the list of rewards even before reaching a destination. Which saves me a lot of time since I can just decide which places are worth visiting and which isn't.
A Repertoire of Customisation
Aside from Cuff and the spellbook, Frey also has access to other methods of strengthening her abilities. She has access to three different types of equipment that can be used to boost her power with a variety of bonuses.
The first two equipment comes in the form of necklaces and cloaks. Players can spend materials to unlock crafting skills in Frey's skill tree. The skill tree is where we can add stat boosts, passive abilities, and much more. Some are more useful than others, like making Frey be immune to poison when her health drops to critical range. So it's best to choose your passives wisely.
Frey can also use arcane nail art to increase the strength of her powers. Unlike necklaces and cloaks, nails have their own menu tab. Each time we paint a new pattern on her nails, resources are used, where different materials are needed. Nails require a little more thought than simply putting or removing a cloak, but once you got your strong nail designs, it'll give you a huge difference during combat.
Credit where credit's due, Forspoken's equipment options really deserve praise. It offers a lot of options to outfit Frey precisely as we need her, which is really everything I would want from an action RPG.
Verdict
Forspoken is honestly a mixed bag for me. While I absolutely adore the combat system, the acting and sequences in the game dampens the mood for me. If you can stomach a generic fantasy isekai story, Forspoken would be enjoyable. Even if it's not necessarily noteworthy, I still think the world-building and characters are endearing enough for me to finish the game.
I don't mean to bring up the same thing over again, but the gameplay and open world is where the game shines. While the open world itself is fairly standard because of the lack of variation in its side quests, it's how you interact and navigate yourself across the map makes it fun.
| | |
| --- | --- |
| Pros | Cons |
| Athia is worth exploring | World activities is repetitive |
| Traversal and exploration is fantastic | Weird loading scenes and less than desirable acting |
| Combat system is magic at its finest | |
Forspoken was reviewed on the Playstation 5
---
Check This Out Next
---