The previously announced FFVII: The First Soldier livestream #0, as promised, revealed new details regarding the upcoming mobile battle royale. They want to make it different from the typical battle royales, of course. Some defining features are given as follows:
Hunt monsters that can drop loot

Get EXP from them and level up
Levelling up unlocks / improves skills, increase stats

EXP from monsters scale according to the damage you deal
Monsters with a crown symbol are stronger

You still need a level of equipment gathering and monster farming
Equipment can vary, including accessories like a Reraise Ring
Monsters can also call for backup

Also has aggro meter that decreases over time

Day / night cycle
Explore Midgar

There are vending machines with stuff in it

Switch between range / melee combat

Gunshot sounds can alert other players, so if you want to be more stealthy, then use melee

Find Materia to use

Has varying rarities (white, blue, purple seen so far)
Fire is an explosive spell
Blizzard can summon a turret-like unit that fires at enemies and disappears over time
Aero can boost you vertically upwards onto structures, or trap others
Collect duplicates to level them up, has MP costs
Apparently friendly fire capable

Various combat styles

Warrior, Sorcerer, Monk, Ranger
"Styles" have their unique skills
75 players will be in a helicopter they control as they choose where to drop down. The provisionary map can be seen below:
There's quite a lot of Materia seen in the game, with a provisionary list including:
Elemental skills
Bio
Comet
Raise
Cura
There are vehicles in the map as well, or use a Chocobo Stop to find one to ride on. The chocobo can also jump and kick, besides having its own HP buff and its own stamina bar. The chocobo's kick isn't very strong, but there is an achievement to get that asks you to kill someone with the kick.
You can modify the UI according to your tastes if you wish. Controller support for mobile devices is in the works. Check the image carousel for some single player gameplay:
Meanwhile, they also showcased some team play, in trios: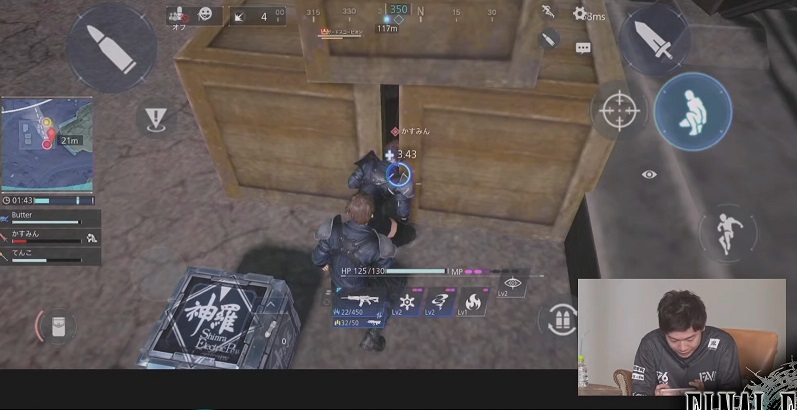 Beta signups are now open until 27 May, 20:00 PT, Android and in US / Canada only. You can sign up through the website here.