It's always a little hard to do sports game reviews. If you're a casual fan, you should probably just be happy that a brand like F1 is continuing to make racing games, letting you pretend to be your favorite drivers of the season (admittedly, at a slightly lower skill level). If you're a hardcore fan, you'll demand every ounce of information as to why a cluster of pixels has a non-canon amount of handling, or acceleration, upset that maybe it's more fun if the cars are just a little cartoony.
EA Sports F1 23 is a perfectly acceptable entry in the F1 series of racers. Just like the FIFA games, it provides a pretty comprehensive package of every possible way you might enjoy your race cars.
But it's the details that make F1 23 such an enticing entry in the series- while many seasonal releases are often incremental in their changes, F1 23 has them where they count- creating a truly welcoming experience for anyone looking for the thrill of expensive machinery breaking speed limits.
Handle Like A Dream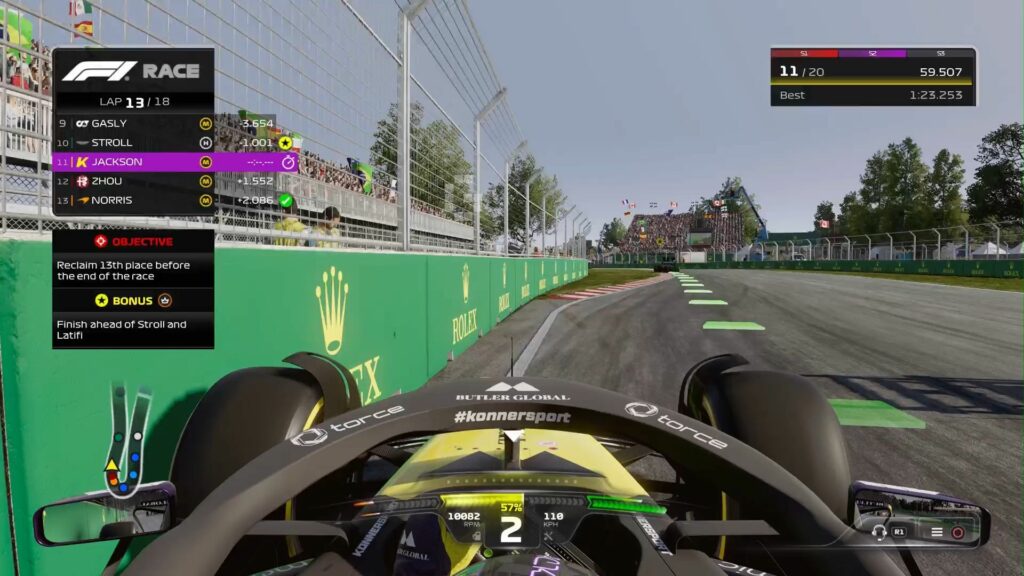 The most important thing in any racing game is the handling, and F1 23 thankfully gets that. Your machines handle really well, allowing you to make tight terms simply not possible if you were grounded by things like a fear for your own life.
I especially like how they've applied inertia to the game- making too sharp a turn is absolutely a threat, and your car is absolutely prone to spinning out just like some of the best teams in F1. It's cartoony in much the same way that F1 cars themselves feel cartoony, in that there's way more power going through this machines than your standard street-legal vehicles.
It's a lot of really nerdy details, and I think that's probably its strongest recommendation point as a result- if you're an F1 fan, there's no reason for you to not want tiny things having an effect on your handling experience. There's things like Tyre Grip and Aerodynamic Grip, as well as track conditions to worry about,  making it pretty close to a genuine experience.
That being said, it's not like you can only enjoy this experience with an expensive steering rig. F1 23 also debuts the new Precision Drive technology, which really goes a long way to not having you feel like playing on pad is a lesser experience. As someone without a rig at home, it's surprising how responsive the game feels on controller- you're no longer stuck in the land of muddy stick inputs, and you actually feel like doing cool, technical maneuvers is possible.
True To TV Experience
There's also quite a bit to commend on the presentation of the game as well. F1 23 has quite a bit of UI changes made to more closely resemble the F1 you'd see on Race Day. I especially like seeing the drivers' tiny hands go from the cockpit view- it's such a nice little touch that speaks to the realism of the visuals.
Of course, the most realistic thing they added isn't visual at all. Red Flags make their return to the EA Sports F1 series, allowing you to ruin entire races by driving too dangerously. It's interesting because it basically forces you to play this game like a real F1 race. Vehicular combat isn't tolerated, and making the race too unsafe will have you receive multiple warnings, running the risk of having the race invalidated.
Personally, I'm a pretty big fan of red flags. One of the most fun things of being reckless is watching squares react to it, so getting told off by the game for cutting too many corners in bad weather is a good way to live that fantasy. On a more critical level, it's also a good way to enforce the game's ruleset- you're meant to play like you're a millionaire strapped to a ground rocket, and that means having some degree of self-preservation.
Welcome To F1 World
F1 23 also has a consolidated hub for its main modes now, titled F1 World. It's the live-service center not unlike Gran Turismo 7, for better or worse. On one hand, this is where you can upgrade your main car for single and multiplayer modes, being able to improve its handling and acceleration to your heart's content.
On the other, it's also where the less savory part of the game lies. Upgrades can be earned for free, but you can have that grind negated with a little bit of that almighty dollar. In a sense it's a little too realistic for F1- people willing to spend money can instantly get advantages over racers who don't- but competitive yet frugal players are sure to dislike yet another racing game essentially paywalling early success.
More Ways To Play
If you're into the drama of F1, you'll naturally want to check out Braking Point. Just like the career modes of the FIFA games, Braking Point is good for players who want that feeling of living their own racing legend. Interestingly, it takes place after the previous game's story mode- seeing you now teamed up with your rival from the previous Braking Point.
It's fun enough to be its own mode, but definitely only for people who enjoy the decision-making process. As someone who just likes hitting the track, Braking Point can be a bit of a bore, but it really comes down to personal taste.
There's also of course the MyTeam mode, letting you play as your favorite drivers. Like any sports game their stats are based on their most recent performances, so anyone hoping for that Verstappen nerf would probably be better off waiting for another year.
Closing Thoughts
If you like fast cars and good driving, it's probably in your best interest to check out F1 23. It's like a television experience that you can control, and really brings out the thrill of driving fast cars.
That being said, if you're gonna commit to the game's live service ask, it's going to be a little frustrating. Considering how much this game pushes upgrading your car, it's easy to burn yourself out knowing you're never going to outperform someone with a generous credit card limit.
Still, if you ignore the online circuit, there's plenty of fun to be had. F1 23 is still incredibly skill-based, relying on prep work, execution, and, unfortunately, budget. Which might make it the most realistic F1 game to date.
---
Game reviewed on PS5. Review code provided by EA.
---
Check This Out Next
---
The Review
PROS
An amazing recreation of the TV experience
Plenty of fun modes
Driving the car is a blast
CONS
The people don't always look as good as the cars
If anything, the multiplayer can be a bit too realistic