It's finally here: pre-registrations are open globally for Netmarble's and Marvel Entertainment's upcoming mobile title, Marvel Future Revolution! Boasting world-renowned characters, an original storyline and AAA-quality 3D graphics, you'll soon be diving right into a gorgeous open world with high-stakes action as the first line of defense to save the universe!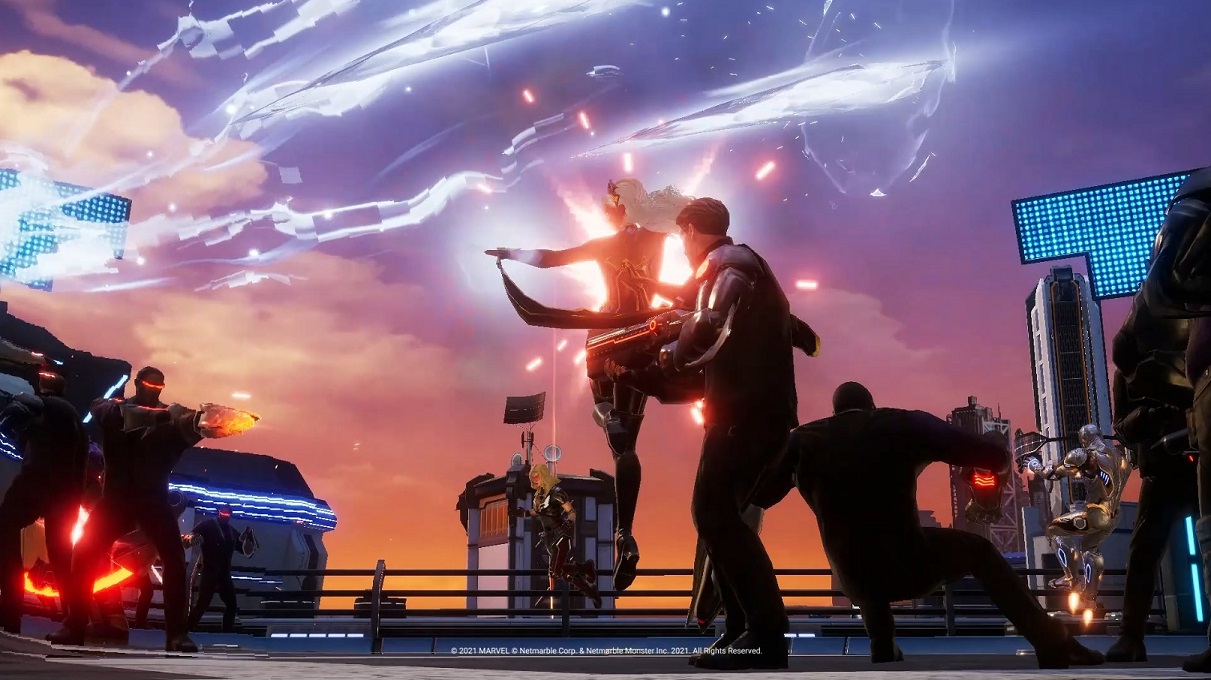 Numerous Earths have converged in the multiverse to form 'Primary Earth'. You will need to complete missions and explore various unique zones, from the high tech New Stark City, dangerous Hydra Empire, wild and rugged Sakaar and many more. You are agents of the newly formed Omega Flight team, working together to defeat Super Villains and protect Primary Earth. Eight playable heroes – Captain America, Captain Marvel, Spider-Man, Black Widow, Iron Man, Doctor Strange, Star-Lord, and Storm – will be outfitted in an extensive collection of costumes throughout the Marvel Universe, with a staggering over 400 million costume combinations to choose from.
"Working with a world-class IP like Marvel has enabled us to roll out unparalleled mobile gaming experiences over the years, and MARVEL Future Revolution will catapult franchise fans to an entirely new level. The game promises a fun and engaging experience for Marvel diehards and casual mobile gamers alike, offering unique action RPG gameplay on a massive scale."

Simon Sim, President of Netmarble US
The Squad System will let you level and play as new characters, flexing their Super Hero skills in PVP – 1 v 1 to 10 v 10 – and multiplayer content, including Blitz, Special Operation, Raids, and more.
"From the gleaming spires of New Stark City to the shadowed alleyways of Hydra Empire, players around the globe will be thrilled with the vast vistas waiting for them to explore in the wild open world crafted by our friends at Netmarble. Whether you're soaring through the skies as Storm or barreling through enemies as Captain America, players can live out their Super Hero dreams on an unprecedented scale filled with all the action, drama, humor, and fun that fans expect from Marvel."

Bill Rosemann, VP of Creative, Marvel Games

"Our ongoing collaboration with Netmarble has allowed us to bring the expansive worlds, exciting characters, and fan-favorite stories from the Marvel Universe to mobile gamers seamlessly. We are ecstatic to bring this revolutionary mobile game to fans around the world and can't wait for everyone to experience it!"

Danny Koo, Director of Product Development, Marvel Games
Naturally, when you join in the pre-registrations for Marvel Future Revolution, you'll be getting plenty of rewards at launch! The game is slated to launch in the second half of 2021. Catch the world premiere of live gameplay at 8:00 AM GMT+8 through Marvel's Youtube, Twitter, Facebook and Twitch!
Now, don't go anywhere, and read on for some sweet condensed Q&A with Danny Koo, Director of Product Development at Marvel, and Joe Lee, Executive Producer at Netmarble, edited for clarity:
Revolution is probably one of their biggest projects to date, with plenty of innovation in what they dub as an AAA title on mobile in both graphics and scale
Lee assures they are planning a welcoming, newbie friendly experience to cater to all stripes of fans
The evil Groot is just one of the Groots you will see, and you'll find out why he's evil
The 10 v 10 – Omega War – is MOBA-like, but you haven't seen everything yet
Dark Zone is PVE and PVP combined, catered to elite players
Progression systems will include levelling but won't be too complicated to keep it user friendly
Traversal will be "super hero-like". Map will be big enough to allow you to meet many other players
Characters will be unlockable, with a free choice from the first 8 when you start
Inspiration has been taken from all sorts of material for a new yet familiar experience
You can choose the server you play on – with Asia likely having the most options – with the game recommending the best servers to you
There will be a lot of attention on optimization
In-app purchases will exist, but stuff will require a effort to attain anyway
At least 12 languages supported
Playable villains? Stay tuned, as it will depend on the story
Danny Koo talks about how he encouraged Joe Lee's team to just go as crazy as they can with minimal directives from Marvel. They've both been working together for at least 6 years now, with Lee describing the fun of developing Marvel games as a fanboy's dream come true. They hope that you will never feel alone as you play this game and have been touched by you, the fans', passion in building your own communities around the title, thanking you for your support.
If all that sounds good to you, then don't forget to join in the pre-registrations for Marvel Future Revolution, and get your friends in too!
Marvel Future Revolution
Android, iOS
MARVEL Future Revolution is Marvel's first Open World Action RPG mobile game, featuring an original storyline with fan-favorite Marvel Super Heroes and Super Villains. Written by Marvel writer Marc Sumerak, MARVEL Future Revolution begins with numerous Earths converging across multi-dimensions to form an entirely new 'Primary Earth.' As agents of the newly formed 'Omega Flight' Super Hero team, players will work together to battle an onslaught of Super Villains, confront their nefarious behaviors and defend the universe.