Eversoul is the mobile RPG developed by Nine Arks and published by Kakao Games with the global version released on January 5th, 2023 for both Android and iOS.
The game follows the story of you, the player, in your quest to protect the world of Eden from the evil forces threatening its peace. Powerful maidens called Souls will come to your aid in this quest and together, you'll fight to save mankind.
Without further ado, let's dive into the world of Eversoul.
The Beautiful Souls of Eden
The first thing I have to point out is the game's art design. The game went for a more anime style both in terms of 2D and 3D and you'll mostly be seeing the 3D version of the Souls while the 2D appears during the gacha and character menu. Let me tell you that both of them are simply gorgeous.
The animations are fluid and they did not feel janky at all. I have always been a fan of having your favourite character appear on the lobby much like Arknights and having the feature in this game just fills me with glee. We can also interact with them by tapping and they'll have all sorts of reactions to it.
I especially like Mephistopeles' design and lucky for me, she's the poster character AND is having a rate up right now. Yes, she is part of the login bonus but having her much earlier is all the better for me. Now if only the gacha gods are forgiving.
The game's story plays out like a Visual Novel but rather than having 2D sprites, they have the 3D models play it out and even having a few grand cinematic cutscenes here and there. They don't have a skip button for the cinematics though so that's a bit of a bummer.
To Play with Souls to Save the World
To simplify the gameplay for Eversoul, it's basically an auto battler much like Princess Connect: Re Dive where you can occasionally tap the characters when their MP bar is full to execute their main skill. Each character comes with their unique skills that differs in effect and Epic rarity Souls comes with an Ultimate. One big flashy move that deals immense amount of damage.
This feature unfortunately makes Souls lesser than Epic moot in terms of gameplay but you can still use them as fodder to upgrade your Epic Souls. You'll also still be using them in the early games as you try to get more Epic Souls for your roster.
Battle wise, there's more in-depth to it like Types and Formations. Souls comes in 6 different types and each type counters one another and having certain number of the same type in one team brings varying buffs. As for formation, it will decide how you position your Souls into battle and much like types, also give varying effects depending on what formation you chose.
You don't need to worry much about all these things since they do not affect much early. I just stack the strongest Souls I have and let them go crazy. I did test the waters a bit by mixing a few Types and formation to learn the mechanics and luckily the game does not punish you too heavily for it.
The game also comes with Idle mechanics much like Nikke and Memento Mori that stacks up resources depending on how far you have progressed into the game. It makes the game much less of a grind but as an avid grinder myself, it's a bit frustrating that you are timegated from the resources to max out your Souls.
I Cannot Believe I am Pulling For Souls
Yes, there is gacha in Eversoul. You know the rules and so do I. 4% is pretty much the standard nowadays for the highest rarity and while it might seem a bit low, in the end it all comes down to luck.
If there is one thing about the gacha that I am surprised about though, is that they have a reduced price for when doing a multi. One pull cost 240 Everstones while 10-pull costs 2100 Everstone. 300 Everstones less. What a steal.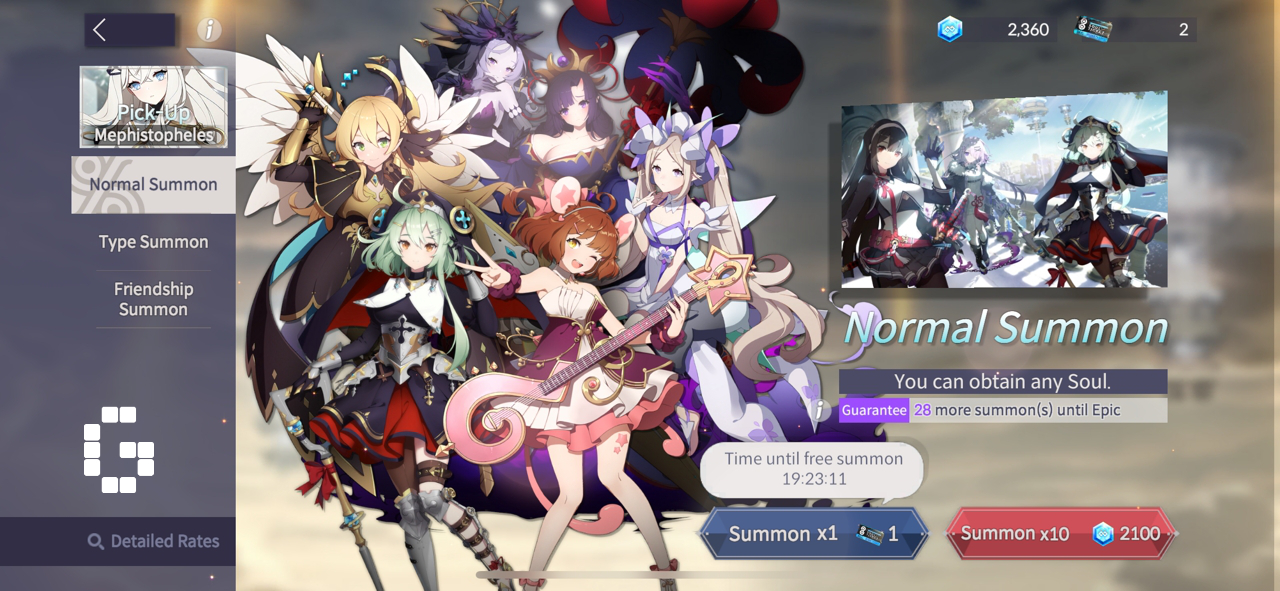 The standard banner also comes with a pity of 30 pulls for a random Epic Souls. Generous, don't you think? We won't have to pull like over 70 times just to hit the soft pity unlike a certain game. There is a catch to it though.
Duplicates. This game heavily relies on duplicates to make your Souls stronger and they need lots of them. You'll need two same Souls at the same rarity to ascend its rarity, let's say from Epic to Epic+ while you need two Souls of the same rarity to transcend its rarity, like from Epic+ to Legendary. There's still like a couple of more tiers above the supposed high rarity of Epic but that's pretty much whale territory with how much duplicates it needs.
Thinking of the Souls
To summarize things up, Eversoul is a good side game to have if you enjoy the auto battling and its idle resource gathering. If you are planning to make it your main game however, I highly advise not to unless you're willing to spend money with how much duplicates you need to TRULY max out your characters.
It's a shame though because I honestly enjoyed the game's art and as a hardcore Princess Connect: Re Dive player, the main gameplay is right up my alley. However, with the number of dupes required, I can already see the huge gap between whales and casuals once the honeymoon period is over and the gacha currencies have gotten scarce.
---
Check This Out Next
---