With the new Elden Ring beta, there's two things that ring true- one, that the Soulsborne formula is great, and that From Software knows what they're doing with the genre they popularized. Two, the genre needs new blood- injections of fresh ideas is necessary and boy does Elden Ring deliver.
After all, you couldn't get a more hotly-anticipated game than Elden Ring– the game has literally multiple "Most anticipated game" awards under its belt. Every drop of news regarding the game is met with extreme fervor, with fans chomping at the bit for more about Hidetaka Miyazaki's next outing.
This week marks the start of the Elden Ring Closed Network Test, where players will get to access a Beta build of the hotly anticipated next chapter of the latest in the Soulsborne genre following the end of Dark Souls in Dark Souls 3.
Gameplay
One great thing about From Software's RPG games is that they're incredibly iterative- even if there's no lore connection between Demon's Souls, Dark Souls and Bloodborne, they tend to take what works from the games before them and bring them forward to mix with their good ideas.
As a result the combat of the Elden Ring Beta feels really good, building on the faster combat of Dark Souls 3 though never fully committing to going all out like in Bloodborne.
I especially like the new Counter Hits- where you can do a heavy attack right after blocking to do big damage. It fixes a problem I never realized previous Souls games had- that two-handed weapons were underpowered sicne they had a terrible block, so you were forced to play evasively. With Counter hits you do way more damage, meaning the chip damage you take off of blocking becomes worth it because you can do massive damage, or even better- get a stagger, leading to a second, more powerful critical hit to just eat chunks off of a boss' health.
Of course, if you don't like being so close to a boss that you'll be fined for breaking social distance protocols, long range options are in the game too. Magic continues to be the game's easy mode, and the spellcaster class, the Enchanted Knight, combines both the efficiency of previous games' sorcerer with the melee effectiveness of the Herald to create a class that's still potent in melee, while also having a great spellcasting array.
Father Gascoigne, The Sequel
One of the biggest appeals of the Soulsborne genre is its bossfights, naturally. These fights are usually incredibly designed experiences, with fights like Ornstein and Smough forming cherished memories for every gamer who's fought them.
Elden Ring's bossfights feel a lot more Bloodborne in their design, with the main story boss Margit, The Fell Omen seriously echoing Father Gascoigne, the same early game boss in that game. I mean this in the best way- Gascoigne was an incredibly steep learning curve that served to check if you'd learned about the game enough- his boss stage was built to make sure you were always in close range of him, so you had to learn to dodge or parry his strikes.
Margit is much of the same- he's extremely aggressive, and employs a lot of tricks not seen in many starting Souls bosses such as delayed attacks and mixups that you'd see at EVO.
Heck, his phase two sees him bust out a massive hammer, where the only way to avoid it and still get to attack is to dodge it on time, since it creates an explosive radius.
It's a lot of fun, and if that's the direction Elden Ring plans to go with its fights then I'm all aboard.
Only Do Cool Things When The Game Lets You
That's not the only combat change though, you can summon your steed to fight on horseback, with all the ferocity of Lu Bu approaching. Your speed increases drastically on a horse, but you lose the ability to do any kind of invincible dodge since your horse can't roll. The wandering boss, Tree Sentinel, is practically mandatory to fight on horseback, since you're dealing with what's essentially a truck with a polearm that turns on a dime.
That being said, the horseback combat is limited by the fact that you're not always allowed on horseback. Obviously it wouldn't do you good to bust out the horse in the middle or Stomrveil castle, so it's best to think of the horse like the bike from Pokemon.
This also applies to the game's Ash Spirit summons, which are non-consumable items that cost FP to use. They're also restricted to areas marked with a little Rebirth icon, and feel more like a corrective measure to make up for the fact that if you don't stealth your way through the camp, you'll eventually get outnumbered by guards.
The Open World Of Elden Ring
One of the biggest departures the Elden Ring Beta makes is its new open world, something not previously seen in Souls games, which had more Metroidvania approaches in their level design. Gone are windy cobblestone roads, instead you have big open fields with camps full of soldiers.
I'm a mixed bag about the Open World- on one hand, the Camp combat is incredibly boring, trading the Soulsborne tradition of meticulously crafted encounters for generic sneaking around and backstabbing enemies if you don't want to fight 10 of them at once. Shrine of Amana lives in infamy for a reason, and it's not because fans enjoyed stealth gameplay.
On the other hand, From Software has added something to the Elden Ring Beta that couldn't exist without the open world- roaming world bosses. The demo features the Tree Sentinel, a giant golden knight reminiscent of Dark Souls 2's Velstadt who's a full-on boss fight, complete with the big health bar.
I really enjoy the idea of a bossfight that can just appear like that, reminding me a lot of the Pursuer in Dark Souls 2. You have the whole huge area to fight, something you don't normally get in more claustrophobic environments of a regular Souls arena.
It kind of reminds me the reason why we love Souls games in the first place- we like seeing what new ways we can be surprised with every iteration. And a golden cavalryman bursting out of the woods swinging is definitely a great extension of this.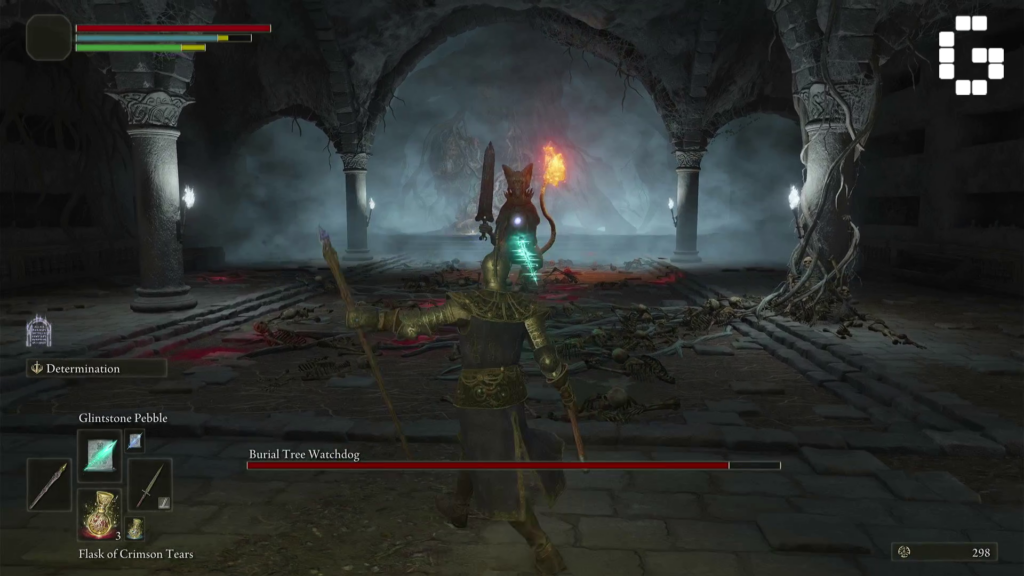 There's also the Catacombs, which are spiritual successors to Bloodborne's Chalice Dungeons. These have the same basic layout of finding a switch to activate a boss door, but ditch the randomly generated approach for a tailored experience.
I like how they're meshed into the open world- they're physical locations that you can travel to, which makes exploring a lot of fun since spelunking in these games is always a lot of fun.
Finally, there's also the crafting- an open world staple. At first I dreaded the thought of crafting in Elden Ring- the idea that I'd have to craft my weapons rather than find them in dank dungeons or from shady merchants laughing to themselves menacingly. Thankfully, crafting only really applies to consumables, such as healing items for your horse or throwing knives.
Again, I like this new system- previously these would be locked to merchants, and it became a mess of tracking which ones had the items you wanted all the time. Now you only need to make sure you have the right cookbook to unlock the recipes, and you can craft them from your menu at any time as long as you have the materials.
Going Open World Has Its Perks
Of course, the bigger map brings some quality of life with it- you can use the map to fast travel to previously unlocked Sites of Grace (the game's bonfires), and golden rays will always point you to the next Site. There's also the Stakes of Marika- checkpoints that you can respawn at if you suddenly find yourself dead in the middle of the open world if your last Grace was a little too far away for your tastes.
Speaking of the sites, you can now level up at any Site of Grace, thanks to your companion, Finger Maiden Melina. She can be summoned at any site of grace, meaning you won't have to make a long trek back if you have a hefty cargo of runes (souls) and feel like leveling up.
One other feature is your flasks- following Dark Souls 3's system, these will now replenish when you kill certain mobs of enemies- it's clear that From Software really wanted you to enjoy exploring the open worlds, because they're trying as hard as they can to make sure you don't fall to the regular Souls problems just because you explored too far in one direction.
Finally, there's the weapon system. The new Ashes of War combine the old ore system with the Weapon Arts from Dark Souls 3- you can equip these at any Site of Grace, altering your weapon's weapon art and potentially also changing its affinity- splitting its damage between physical and elemental, or improving its scaling, for example.
I really like this because it gives you way more tools to experiment. In previous games I avoided any kind of infusion because you couldn't undo it without spending another material. Here, you're free to find what works for you- which is extremely important for if you wanna survive the Lands Between.
Classic Souls Recipe
Of course, the beta for Elden Ring also gives you a taste of the game's Legacy Dungeons- where the game shows just how good the Souls formula is. These dungeons are literally just the classic Souls experience- tight corridors, environmental puzzles, and you have to die a few times before you really learn what you need to look out for.
There's not much to say about these if you've ever played a Soulsborne before- these are literally just more of that. Early on you meet an NPC who tells you there's two ways to infiltrate Castle Stormveil, either storming the gate (sans your horse) or out the spiraling path to the side. Both feel incredibly familiar, naturally, and the fact you never commit to either side means you can always just explore the other route if you want.
Don't Give Up, Skeleton!
Unlike Sekiro which often has tenuous status as a Souls game, Elden Ring is undoubtedly Souls in nature. It combines all the highs of the genre with something new- which is great when you consider how rare it is for big franchises to take chances with their titles. If nothing else, you have to appreciate the fact that they'd be willing to take that jump.
This closed beta is a great first showing for Elden Ring- it's got everything fans love about the Souls series, as well as plenty new that even the crustiest fan might learn to love. There's gripes to be sure- it's not perfect, after all. But Souls games have always been about their highs way outclassing their lows, and Elden Ring looks like more of that for those who love it, which you'll get to try for yourself when the game releases February 25th, 2022.
---
Closed Network Test access provided by Bandai Namco Entertainment
---
Check This Out Next
---