GAMEVIL's popular strategy RPG, Dragon Blaze has received an update with two new awakened allies, Calgar the Master of Spirits and Rollo the Inventor Princess. A new game mode, Guild Adventure, is also available now.
Calgar the Master of Spirits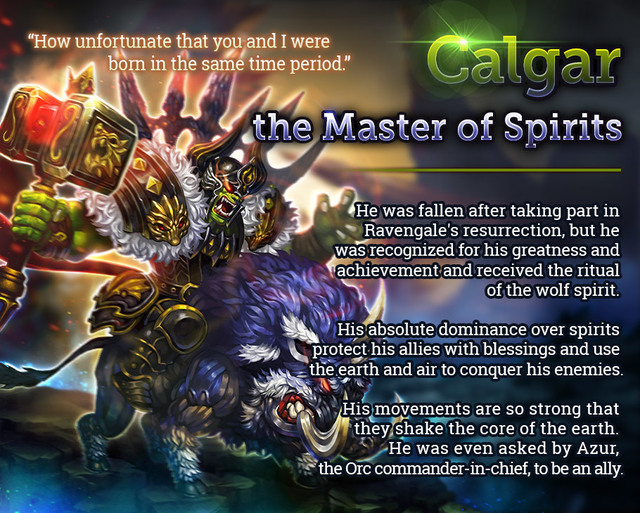 Using the power and knowledge from the souls that he protects, Calgar defeats his opponents with the punishing energy of the earth and sky. Calgar Increases defense penetration during normal attacks.
Calgar inflicts 1306% damage on all enemies and reduces attack speed by 49% for 8 seconds.
For the next eight seconds, Calgar causes an earthquake to inflict 528% damage every 1.5 seconds for 8 seconds to all enemies. Enemies have a 70% chance to be stunned for 8 seconds.
Summons 2 spirit wolves for 20 seconds. Each wolf will recover party members by 60% of the damage inflicted by the summoned allies.
Rollo the Inventor Princess
Daughter to the mighty King Lagner, Princess Rollo was sent on a mighty journey that helped her to build experience in the real world. Rollo's normal attacks affect all enemies.
Inflicts 895% damage on all enemies and has a 70% to stun for 10 seconds.
Vacuum Annihilation Bullet
Launch a powerful warhead at enemies which deals 689% damage and dispels invulnerability. The warhead then erupts dealing 883% additional damage.
Increases Rollo's skill cooldown speed by 50%, changes auto attacks to deal splash damage and increases attack and attack speed for 10 seconds.
Guild Adventure
Guild Adventure is a mode where players battle against the mysterious boss encounter Zigret for 9 rounds, and each round increases in difficulty. Players can earn a variety of Rubies, Gold, and Enhanced allies in this mode. Guild Adventure will only be available every Friday for a two-hour period.
Events
There is also a 1+1 ally summon promo and a Limited Package Event Change:
– Adventurer's Package ($29.99 / RM 120.90): 100 Rubies, 3000 Shoes, 3 Million Gold
– Awakened Hero Package ($49.99 / RM 201.60): 200 Rubies, 1 Hero Select, 1 SSS Ally Summon, 20 Hero Essences
– Hero Essence Package ($99.99 / RM 403.10): 400 Rubies, 5 SSS Ally Summon, 50 Hero Essences
* All Limited Packages are only purchasable one time only on event period.
If you'd like to receive more updates on the game, you can visit the Dragon Blaze Official Facebook Page.
[btnsx id="676″]
---
Check This Out Next
---