Dorothy/Greedy Crow Paladin will be making her appearance in SINoALICE later today, together with updated Conquest Events. These new content will go live later today, July 5, 2021 at 7.00 am UTC after the scheduled maintenance.
Dorothy/Greedy Crow Paladin is not your typical polearm user. As one of the new Spirit jobs, she will have increased effectiveness using wind-element polearms, especially in PvE content. However, using fire weapons with her results in 25% less damage.
She will be obtainable in the Raven of Greed Grimoire. To unlock her, players will need to get the featured SR weapon, Spear of Greed (Kageuchi). Other rate up weapons in this banner include Anthroplogy Sword (blade), Book of Beehives (tome) and Expectant Birth (instrument). Unless you are especially keen on getting this version of Dorothy, we recommend saving your Twilight Crystals, since the second part of the Anniversary Event (and Hamelin) will arrive soon.
In addition, several Conquest Events will return to the game.
These redux Conquest Events are Nightmare on the Hill, Venomous Fangs, and Wings of Fate. Wings of Fate will also include Hard mode and new shell weapons.
Finally, be sure to log in to the game daily as the 1st Anniversary: Daily Free Grimoire x11 banner is still ongoing.
For more game-related updates, follow SINoALICE's Twitter account.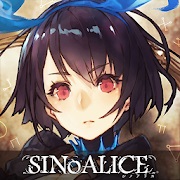 SINoALICE
Android, iOS
Fairy tale characters fight to "revive their author". Enter the dark world of SINoALICE as imagined by Yoko Taro (Drakengard, NieR).
---
Check This Out Next
---