Dissidia Final Fantasy: Opera Omnia is a Square Enix upcoming RPG series. The game showed really good prospects on the graphics and story line with unique battle system which we have reviewed in our previous article here. On recent news, Dissidia Final Fantasy: Opera Omnia that was planned to release this year has been delayed by Square Enix to early 2017. It was said that they needed more time to fix the game bugs that were found.
However there is good news that came with it. Square Enix has confirmed an addition of characters set to appear in the game:
Galuf Halm Baldesion (Final Fantasy V)
Sephiroth (Final Fantasy VII)
Squall (Final Fantasy VIII)
Eiko (Final Fantasy IX)
Shantotto (Final Fantasy XI)
Vanille (Final Fantasy XIII)
Ace (Final Fantasy Type-0)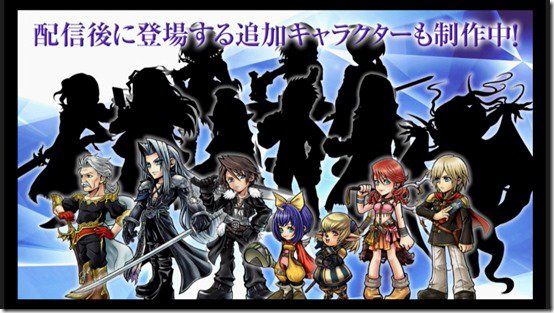 While there are also other character silhouettes that were bound to appear, they are however unconfirmed:
Faris Scherwiz (Final Fantasy V)
Setzer Gabbiani (Final Fantasy VI)
Prishe (Final Fantasy XI)
Balthier (Final Fantasy XII)
Snow (Final Fantasy XIII)
Cloud of Darkness (Final Fantasy III)
Tidus (Final Fantasy X)
Lightning (Final Fantasy XIII)
Ramza (Final Fantasy Tactics)
If you'd like to know more, you can check out their official webpage here!
Sources: siliconera, gematsu
Hey guys! Please check out
our survey
, we will be giving out limited edition GamerBraves T-Shirt for the activity!