Disney Mirrorverse reminds me of early 2010s BuzzFeed- where almost every content was "look at this artist draw Disney Characters as X". It's not a bad thing- those articles did well for a reason, and it's a cool concept. Combined with gacha game mechanics and Kabam's expertise at making child-friendly action games, it's a potential recipe for a smashing success.
That being said, it's a dangerous line to tread- gacha games have their own pits to fall into, and redesigning characters always brings up a horrible chance of people not liking designs. Is Snow White with a 7-shooter revolver technically true to the character? You may find audiences split down the middle. (For the curious, Disney Mirrorverse does not, in fact feature Snow White with a 7-bullet revolver. Instead she has a giant pickaxe that looks like a scythe).
Still, with a massive library of characters and years of established gacha game tropes, Disney Mirrorverse has the legs to be Disney's premier free-to-play experience. How does it all hold up? Read on and find out.
An Action Game Worth Writing Home About
Admittedly, it feels like there was some kind of disconnect in what kind of game Kabam wanted Disney Mirrorverse to be. It's a pretty decent action game- the dodge feels good, and each character's split between ranged, tank, DPS and support ensures that you know what kind of playstyle you want. Better yet, each character's skill can be activated even if you're not currently controlling them- allowing for some cool setups.
But where it tends to fall apart for gameplay lies in its simplicity. Those active skills I mentioned will auto target the nearest enemy, so you rarely want to actually use these skills until you're down to your last enemy. In fact, just having your AI teammates running around the field itself is a bother- I'd much rather a Honkai-styled swapping out of each character, but I guess that would throw the class system out the window.
There's also the problem of the game's perspective. Having this isometric view with hack-n-slash controls just feels, well, weird. Your characters are fighting from left to right, which, while I applaud the inventiveness, doesn't really feel natural for an action game.
Still, in short bursts, it's pretty fun. As someone medically incapable of not trying to inject fighting games into everything, I found out it's actually possible to do oki setups with Merida and Hercules- simply have Herc knock targets down and Merida's skill can hit them while they're getting back up. Does this affect anything? No. Is it fun to do? Yes.
Plenty Of Reasons For Tron To Beat Up Jack Sparrow
The game's action is set against a pretty just-there kind of story. The game has no ties to actual Disney movies, instead being an alternate universe where Mickey Mouse guards the Stellar Mirror- and employs other characters as Guardians of it. Maleficent, contractually obliged to always be the villain in crossover games, has her own "fractured" evil versions of characters, and you run the game's story trying to stop her machinations.
From there it's pretty much your standard wave-based fights. Between waves you'll sometimes get power-ups courtesy of everyone's favorite mouse, which does help shake away some of the tedium. There's also additional non-story modes as well, such as a dungeon-crawling mode featuring random rewards which can be a good way to pass the time if you're looking for something to pass the time.
Honestly, it's not like there's anything particularly pressing in any of the game's content- you'll need it to upgrade your characters, yes, but on the casual level it's just more ways to interact with your toybox of characters. That's not necessarily bad, but there's not anything particularly standards-defying here.
Just Me, The Rock, And The Rock
One thing you'd actually have to praise Disney Mirrorverse for is its authentically Disney yet also expansive roster of playable characters. Call me a cynic but I'm actually glad Disney isn't shoving Marvel and Star Wars into every single cross-IP product they have with this. The roster is purely Disney characters- from classics like Donald Duck to Pixar pulls like Sulley from Monsters Inc to even the live action based-on-rides characters like Jack Sparrow.
One point of contention I have with these, though, is their designs. I suspect I'm in the minority but while I'm generally cool with the idea of redesigning classic characters, a lot of the new designs for Disney Mirrorverse just feel boring. It's not that they dared to change Belle, it's that their idea of changing her seems to make her look just like Jaina Proudmoore.
It's not like Disney are afraid of drastic changes to their characters- just look at Twisted Wonderland. Sure, Hades looks nothing like his cartoon counterpart but people praise it for exactly how wild it can get. With Disney Mirrorverse, it feels more like every character was assigned a MOBA archetype and redesigned to fit it. And it's a shame because so many of Disney's more iconic characters are that way because of their looks.
That being said, there are some absolute winners in the designs. Donald Duck is literally a Final Fantasy Dragoon for some reason, Gaston has a bone crossbow so sick you'd swear Visceral Games was behind it, and Tron is largely unchanged from his design in Tron: Legacy. Which is great because that design rules.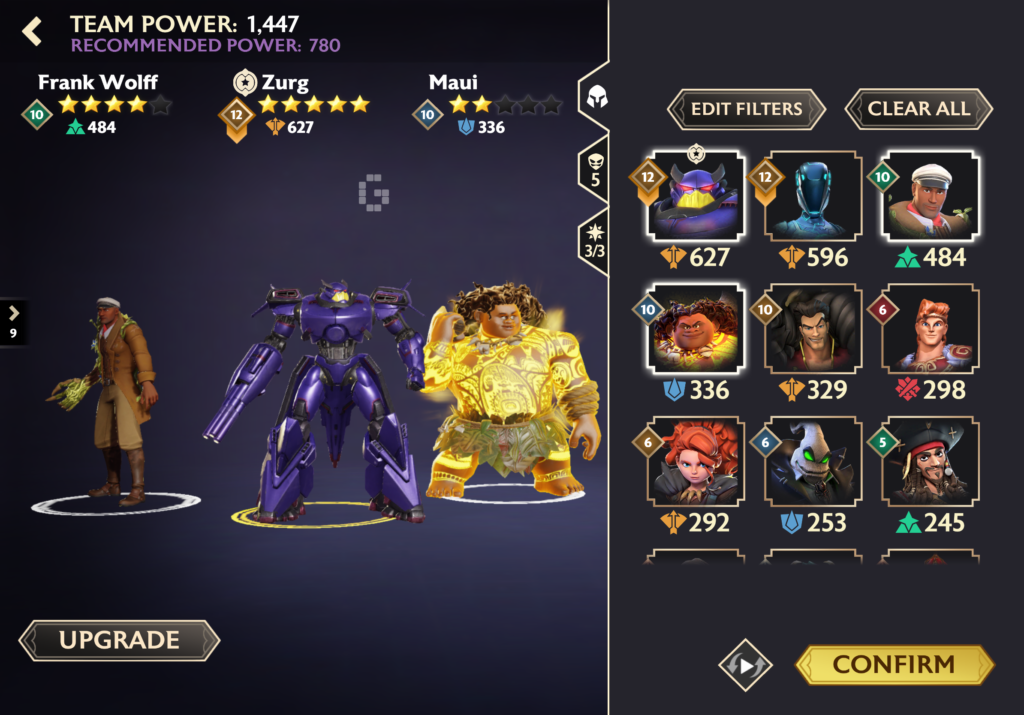 There's also something to be said about the polish in the game's animations. Look, one thing Japanese games get right is knowing where the money shots of their games are. Love Live sports extremely polished music videos, while D4DJ's card art is always immaculate. Yet with Disney Mirrorverse, the ultimate abilities so often just feel short of that extra coat of polish to make them feel great. It goes doubly bad if the character has a face- you really start to notice the dead eyes and pantomimed acting in all of them.
It sounds nitpicky but when it's a series as identifiable as Disney, it's hard to not be. Just like how Star Wars fans are weirdly sensitive about how lightsabers look in every spinoff series, Disney fans would be sensitive to things like animation quality, even in a mobile game. Heck, the game doesn't have any voice lines either, which only adds on to the uncanny feeling of everything.
An Inspired Gacha Mechanic
From a gacha perspective, I'm kind of in two minds over Disney Mirrorverse. On one hand, the rates are pretty bad- 1% for a featured character and 1.5% for any 5-star. Worse still, it's commited something I mainly see in western gacha games in having multiple versions of the same character. 5-stars can come in 3-star flavors as well, so it definitely feels like optimal players are being squeezed a little tightly.
The game's also quite stingy with its premium currency- one pull costs 280 gems, and at no point in my gameplay did I earn enough gems to do any single pulls despite clearing two chapters of the game's story.
That being said, I do like that you're only pulling for characters. Things like upgrade materials are simply farmed via the game's Supply Run missions, so it's a nice break from other titles that want to see just how many different banners you're willing to put up with for your character.
On the other hand, it also handles monetization in an interesting way. You can actually buy some characters- though they won't be their maxed out selves, it's a nice way to cap out spending for people who just want the cool looking character and don't care about being optimal. I kind of wish this was extended to more characters, but the fact featured 5-stars like the current limited time Zurg banner are on it is a good sign for the future.
It does come with its own caveats though- 5-star characters, even though they're not maxed out *to* 5 stars, are over RM100. That's way too much, especially considering the people most likely to buy this package are children who just want their favorite characters.
Closing Thoughts
Ultimately, Disney Mirrorverse is a game I would describe as just fine. Considering the push for this game I'd kind of hoped for more, at least from a polish standpoint. But the good controls and surprisingly reasonable gacha is nice enough to earn it a notable spot, though we'd have to see how well the game handles its future characters as well.
Still, I have a sneaking suspicion that the general Disney-loving crowd might have more love for the artstyle than I have- there's a reason the Blizzard design language has stuck around as long as it has, and like I said, some of those designs are genuinely sick enough to make you forget the less impressive ones.
If you're keen on trying out the game, why not give our tier list a read?
Disney Mirrorverse Review
| | |
| --- | --- |
| Pros | Cons |
| Gameplay can be pretty fun | Animations could definitely use some polish |
| Getting to buy characters is neat... | ...But goodness does the pricing need to be looked at |
| | Lack of voicelines just make the game feel like it needs more flavor |
---
Early access provided by Kabam Games. Game reviewed on 2019 iPad Pro
Disney Mirrorverse
Android, iOS
Come face-to-face with high stakes action adventure in the Disney Mirrorverse! Unite teams of Disney and Pixar guardians – evolved and empowered like you've never seen before – to defend against an unrelenting dark threat in this new, team-based action RPG. Malevolent forces are rising in this reimagined universe, requiring champions mighty enough to meet the challenge. Sulley, Baymax, Scar, Captain Jack Sparrow, the Genie, Merida, Belle, Oogie Boogie and more stand ready, and amplified in dynamic and unexpected ways. Prepare to stand against the oncoming hordes of darkness seeking to fracture the Mirrorverse worlds of Agrabah Merchant's Alley, Scarefloor F, and Port Royal Queen's Landing.
---
Check This Out Next
---