Like Digimon: Encounter before it, Digimon: New Century [ 数码宝贝:新世纪 ] is a new Digimon mobile game in China. It is an officially licensed title, developed by Qixia Interactive Entertainment alongside Bandai Namco Shanghai. The title has apparently taken two years of research and development to "understand the core of the IP" to provide a "brand new worldview".
Humans and Digimon have learnt to coexist within the same world, with the digital space being the main hub for player activities. A peaceful, high-tech yet mysterious world will be opening up. What adventures awaits? What kind of crisis will befall this place?
The game promises to have many callbacks and elements from the original animation series that players would presumably be able to check out for themselves.
Some of the features of Digimon: New Century include:
The "first mobile game in China" that allows you to experience the original Digimon animation plot
An immersive plot that takes you back to your childhood
Strategic battle combinations in choice of partners, "gorgeous" special attacks
A unique virtual space to meet up with others
At present, there is a testing period planned, though the exact date isn't known yet. Let's go through the video.
---
There are log in bonuses, with what appears to provide credits, gift items, cubes, EXP tickets and Digimon shards.
The main screen has your Digidestined with their Digimon partner. There's a chat system, the usual deluge of missions, and Associations which should be the game's guild system.
As for the Digimon themselves, they are categorized into:
From there, there are a eight (!) elements that they may have. Units are showcased in their 3D models, and what appears to be the highest rarity Digimon (coloured Purple) have four skills. You can evolve them, and even check their evolution line. It looks like after some point you'd be locked into a certain evolution. We can't be sure if they can be reverted, or if Digimon can raise their rarity by Digivolving.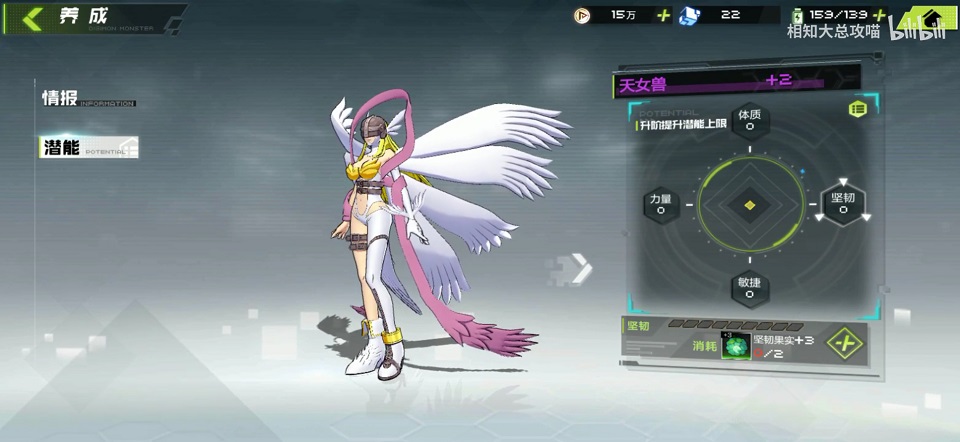 Your Digidestined can be swapped out, with their own skills. It looks like raising their bond will unlock more skills, which are what the gifts are for.
The gacha uses 10 currency for a full 10 pull. The rates weren't shown, with at least one blue Digimon (Rare) guaranteed. Going by the party screen, you can store dupes, but what you can do with them isn't shown, or if you can have multiple of the same Digimon in your party.
You can freely roam on the overworld, the above likely to be the main hub. Whether you can explore the other areas isn't shown, as battles are instanced. The Digidestined skills weren't shown, but they might work similarly to the Master skills in Fate/Grand Order. The player character isn't present in the battle itself.
There's also a bar below the Digimon, which may correspond to the player character's skills, or maybe a team ultimate skill.
Right now, we only know that Digimon: New Century will be exclusive to China, so we'll have to see when, if ever, it gets brought over to a worldwide audience. The official website may not be fully set up yet, but you could try it over time and see if there's any updates.
---
Check This Out Next
---