After a good two years, Blizzard have finally shed some light on the upcoming Diablo Immortal, the mobile experience of the iconic Diablo franchise.
In this deep dive, Wyatt Cheng, Lead Game Designer and Caleb Arseneaux, Lead Game Producer talk everything about Diablo Immortal, from its gameplay systems to even their commitment to making sure it's not just a Diablo-flavored pachinko machine.
Is it a gacha game? Does it take place in an alternate universe? Is there a cow level? Stay awhile, listen, and read on to find out. We've also got our own First Impressions here, for you to check out.

Return to Sanctuary
Immortal takes place in between Diablo II and Diablo III. So while you're still dealing with the fallout of the Worldstone being destroyed in Diablo II, you're also living in a world where Diablo hasn't absorbed the souls of the other prime evils in III, or the rest of the mess that follows that up in Reaper of Souls.
Instead, you're dealing with Skarn, the Herald of Terror. As you can guess by the name he's super jazzed about bringing Diablo back, and it's up to you and the other players of Westmarch to stop him.
Since knowing the timeline of Diablo means we probably won't be seeing the Lord of Terror, it does make for a cool setting. Knowing that Diablo is out there, and that the world is still healing from its last cataclysmic event is great since it creates a foreboding sense of tension.
Wyatt Cheng, Lead Game Designer on Diablo Immortal says that this breathing room between the two major world events was the perfect place to tell Immortal's story.
"It's a 20 year period, and we never really talk about what happened during that 20 years. Players can infer, but there's a lot of mystery still", he says. "At the end of Diablo 2, Tyrael is presumed dead. At the beginning of Diablo 3, the opening scene, is this comet falling from the sky, bam, into a church. And we don't talk about what happens in between, so this is our chance to".
One of the ways this will tie into previous Diablo entries is the Countess, who will be one of the dungeon bosses in the game. Previously, players would remember farming the Countess in Diablo II, where even Lead Producer Caleb Arseneaux admits she was a really good source of Runes.
"We advanced the canon of Sanctuary in a lot of ways in Diablo Immortal and we're excited that our dungeons represent these climaxes in our story", says Arseneaux.
Technical Features
Of course, those who are excited for the game would be upset if we didn't mention some of the technical details for the game. According to the team, while the game won't feature aspect ratio changes for playing it on tablets, the device will indeed still be supported.
"We have tablet support. You can definitely play the game on a tablet and it looks great. The tablet is both supported on iOs like the iPad and iPad mini as well as Android. We don't adjust the field of view/ aspect ratio. But the game is very high fidelity and so when you put it on a tablet, it still looks fantastic", Cheng says. 
There's also the case of the game's UI, which pretty conveniently marks all the important information of the game without looking overly cluttered. Cheng says he's especially proud of the game's UI, detailing the efforts he made to get it the best it could be.
" One of the guys on our team, his name's Mike, he's probably one of the best UI designers that I know", Cheng says. 
"When we started working on DIablo Immortal, I immediately got to work asking him to help up. Because making an MMO on a mobile device is challenging.", he continues. "When you get your hands on the game, you'll see it's a breath of fresh air. It's clean, it's open, the UI elements have to be there to a certain degree so that the game can play well".
"But I think the UI is something that Blizzard has always been passionate about, and it's a constant challenge. But I'm proud of where we've landed".
That being said, it's not all good news. According to Cheng, there's currently no plans for external controller support, so those hoping to get fancy additional peripherals may want to hold off until the team changes their minds on the issue.
Classic Diablo Gameplay
You'll be playing as multiple classes any Diablo III Player should be familiar with. The base four characters for Diablo III are all here, with the Barbarian, Demon Hunter, Wizard and Monk. They won't be the same "characters" as their Diablo III counterparts, since those fours stories started as they arrived in Tristram for the first time in Diablo III.
Just like Diablo III, these classes are all gender-customizable, being able to play as the male or female versions of each character. These even have their own Overwatch-style screen select animations, with slight differences between each character.
The characters can be further customized, with different faces for each class, too. One detail I really like is that although Diablo has always been very archetypal with their characters and features, Immortal has shaken things up a bit.
For example, the Barbarian in Diablo III has always been more Nordic in their appearance, playing into all the tropes of Viking berserkers. Immortals' one has slightly more Asian features, looking more Mongolian despite still retaining all the same key features of the D3 Barbarian.
Of course, just like Diablo III, these four are far from the only classes planned. The team was very open to discussing the prospect of future content, including new classes.
The gist of it was that we would continue the trend of Diablo III classes being represented, with future updates adding story as well as the Crusader and Necromancer. As per the game's monetization philosophy, these would all be free to make sure you were leveling your characters without de-leveling your bank account.
"So there are couple different way to progress your character", says Cheng. "For the skills, there are 14 skills that are available. 12 of those are available for classes in technical alpha because the level cap is 45, the final game will have level cap at 60, that's where you'll pick up the extra two skill. But for technical alpha you will have 12. So the skill you available you can pick any 5 you want to equip at a time".
Of course, the game doesn't stop just because you hit level cap. Similar to Diablo III, the game will have a Paragon system, where levels gained after hitting cap can be invested into several trees. These all focus on different playstyles, allowing you to focus on further boosting damage, or even keeping your character alive for longer.
"You can invest your points in different trees, you can either put all the point in one tree or you can divide all the point into different tree", says Cheng. "Every tree have specialization that really focus around in term of playstyle. Any time you are not in combat, you can switch which tree is active in a given time".
An MMO and A Classic Diablo, All In One
One of the biggest draws of Diablo: Immortal will be how it merges MMO and regular Diablo gameplay. It does this by having large open-world zones, which can be populated by all the players on the server. However, dungeons will still be party-based,
This way, fighting roaming hordes of demons can be a group effort, as you walk out and see the glorious sight of scores of Barbarians doing their AoE skills in tandem. Once you wade through the bedlam and get to the next dungeon though, it's up to you and your party to see that through.
Towns also count as open world zones, meaning you'll be able to see other players running around Westmarch as you restock on items or look for the bounty board.
World(stone) of Diablo
The best part about these open worlds is that they allow for new content never before seen in a Diablo game. One of these will be World Bosses, which will require much more than a party of 4 to take down. World bosses are a great addition to the world of Diablo, limited only by the fact that no Diablo game had the player capacity for it prior to this.
One of these examples was a Zone Event in the cemetery area, which Cheng describes here.
"Every hour or every two hours, there's a carriage, a ghostly carriage that comes through the area. Then all the players in the zone can gather and attack the carriage. And as you deal damage to it, loot comes out. If you manage to take down the carriage and destroy it and all of its guards before it reaches the other end of the zone then you can get a big shower of loot at the end", he says.
"There are all sorts of zone events like that in the different zones. That's a great moment for players to come together", he says.
There's also the addition of guilds, for players to join and support each other as they adventure through Sanctuary. While some may scoff at the idea of it being added to Diablo, it's a necessary way to manage large groups of players since parties can only have so many people at once.
Hitting All The Social Checkpoints
"We want to enhance the social experience and game are going engaging when you feel like you are the part of the community. There is a number of ways to make you feel like a part of the community, and we want to hit them all in Diablo Immortal", Cheng says. 
"So you can see other people walking by you in the outdoor world so that is cool. You can join a guild, that's awesome, And then you can also participate in the market and you know that depending on what popular about the other players, prices are changing", he adds.
"It is not a price that been complete determine by designer somewhere, it's based on what the player is looking for," he adds. 
Of course, the team are trying to avoid a situation common in Diablo III, namely over-reliance on the auction house. 
"In the market, you can't get gear. That guarantees that player will want to play the game. If you want to make your character more powerful, you go to play the game like playing dungeons, complete some quests, you don't go to the market in the first place"
"Another lesson is that we putting some protection against bots, it is something that's in consideration in the design for Diablo Immortal", he notes. They're doing this by making the markets anonymous- you won't be able to see who's selling what, so you can prevent players from filling up the market as a means of moving content between characters. 
Returning from Diablo III is the idea of Elder Rifts and Challenge Rifts, which will allow you to just go forth and kill things. These challenge rooms will have you and your party fighting off enemies to fill up a boss bar. As the bar is filled, a boss monster will appear, allowing you to get valuable loot off it's corpse.
Even if you're done with the game's story, or just looking for a quick way to get your Diablo Fix, these Elder Rifts will probably be your go-to.
You'll also have Challenge Rifts, which adds random mutations to the rifts. There'll also be leaderboards for these, meaning you'll be able to compare your score against all the other players on your server.
Stay Awhile, If You Can
It wouldn't be an MMO without the opportunity to use your hard-earned loot to beat the tar out of other players. Thankfully, Diablo Immortal is ticking that checkbox with Bilefen, the new PvP area.
Rather than do pistols (or in this case, staves) at dawn, Bilefen is approaching the matter a little differently.
"Bilefen is a free for all PvP. You can go there every few hours a chest spawn and everyone in the area can fight each other who ever last standing after the PVP can claim the chest", says Wyatt.  
Itemization And All That Good Stuff
Of course, it's not a Diablo game if you don't know how the mechanics are going to work. As a mobile title, it's not going to be anywhere near as complex as the main Diablo team has set out for Diablo IV,
One of the things that's gone from the mainline Diablo games is the concept of resource management. In Diablo III, all the classes had secondary resource meters to manage their abilities, like the Demon Hunter's Hate or the Wizard's Mana. These are all gone in Immortal, with skills instead being tied to cooldowns.
Of course, the big question would be how Legendaries work. In Immortal, Legendary affixes will directly buff skills, meaning you'll want to make sure you're using the right Legendaries for your build.
This works out thanks to the Reforge feature, taken from Diablo 3. Here, you can use your salvage to reroll affixes on your items, meaning you'll be able to keep trying until that shiny new spear buffs the skills you want to use.
While rerolling can be dangerous, Diablo Immortal plans to help you make better bets with the use of Family Rune Stones. These will limit the number of skills you can pull from for your skills, meaning you'll have a better chance of getting the affixes you want.
Of course, sometimes not even rerolling can save you from the scrap pile if the next legendary is just that much better. However, Diablo Immortal is being quite kind about resources used, and has a way to make sure that every weapon plays a role in making your next one stronger.
"So what's really cool is if you then decide that I ranked up an item, but I don't want to use it anymore, when you salvage it you actually get all the materials that you used back. And you can use that to feed the next item that you have. And so in that way, none of the items that you've ever found or progressed or collected along the way are lost, they're all ultimately rolling up or feeding into whatever items you're using now", Cheng says.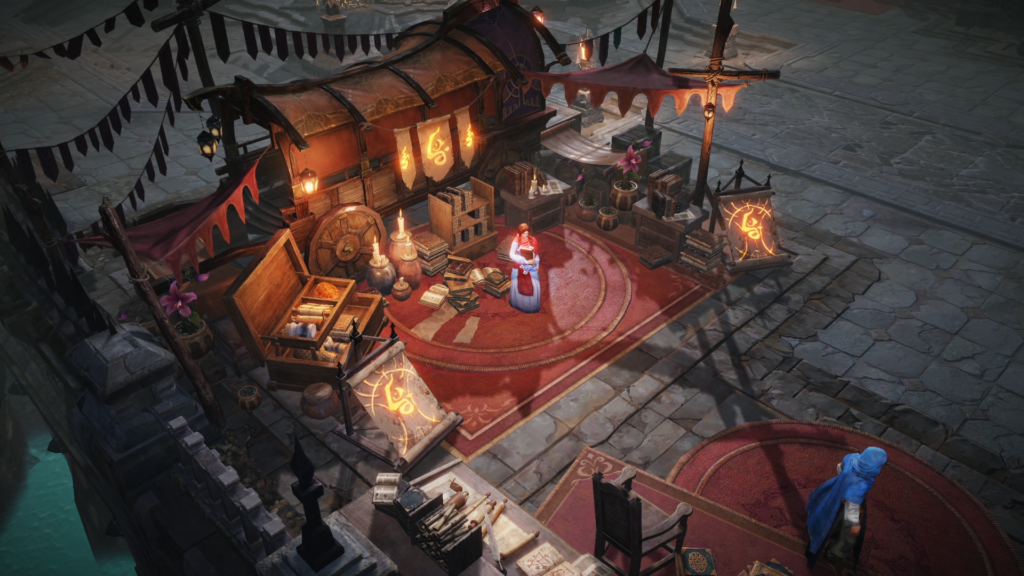 Monetization In Diablo Immortal
Of course, another point of anxiety for fans is how Diablo Immortal would handle monetization. The lights in the studios need to stay on, and there's equal merit for worrying if the game would go free-to-play or if it would be a premium title.
While Diablo Immortal is a free-to-play game, the team says they want to do their best to make sure it's more than just a predatory jab at your wallet. All the character classes are free to play from the get go, with no pay walls stopping you from levelling up.
"First and foremost, all of our gameplay systems and core mechanics are designed to be fun first", says Wyatt Cheng, Lead Game Designer for Diablo Immortal.
Cheng says the game will not skimp on Diablo's key gameplay just to make a quick buck.
"The game is about killing monsters and getting gear. At Blizzard, gameplay comes first", he says.
Of course, while playing the game is free, that doesn't mean the developers won't charge you for shortcuts. The previously mentioned Family Rune Stones are an example of this, where improving the odds of reforging is ultimately going to cost you if you're impatient.
There's also the game's Battle Pass, another staple of the free-to-play genre. Buying into the Battle Pass will get you various rewards, but only if you're diligent in completing everything the game has to offer. They hadn't mentioned pricing structures for these, but clearly they've found a way to make sure to preserve the spirit of the game while still making sure the game has money coming in to support its planned updates.

The Business End
Speaking of, the game is developed in tandem between Blizzard Entertainment and NetEase Games. According to Cheng, the partnership with NetEase has a lot to do with their expertise in crafting good mobile games.
"For our partnership with NetEase, we felt like they brought a richness and great experience to mobile games. And we, of course have Diablo and values that we put into every one of our titles and putting those two together is very powerful", he says.
"There are hundreds of developers working on Diablo Immortal and this is a true triple-A mobile game. We are very collaborative between Blizzard and Netease teams. We have a mantra: that we're one team. What this means is our designers and engineers, and producers' work is all very collaborative, and cooperating both to one another. And it's been great, and I think that the technical alpha is gonna show that". 
---
While Diablo Immortal might have had a rough start thanks to its faux pas at Blizzcon 2018, there's a lot to look forward to with this game. From it's fully-voiced cutscenes to its very Diablo-esque approach to gameplay, this looks like a great Diablo MMO that just so happens to also be on your phone.
A huge thanks to Blizzard for letting us try out the game's technical alpha, as well as Wyatt Cheng and Caleb Arseneaoux for their deep dive into this exciting new mobile game.