One of the best things about calling games art is that they can be anything. They can be incredibly poignant statements about life, or violent tragedy porn pretending to be deep because it's got a muted color palette. And yet, above all, games can be, well, fun. It can be a joy-bringing experience that increases the joy the more you interact with it.
That's certainly the case with Destruction Allstars, the new arcadey vehicular combat game out free now on PlayStation Plus on the PS5. It's a game about driving around in cool cars and smashing them into each other, only to call down even bigger cars and smash *many cars* before, ultimately, you get smashed. Truly, poetry in motion.
Smashing Cars Into Other Cars Is What We've Been Doing Since We Were Kids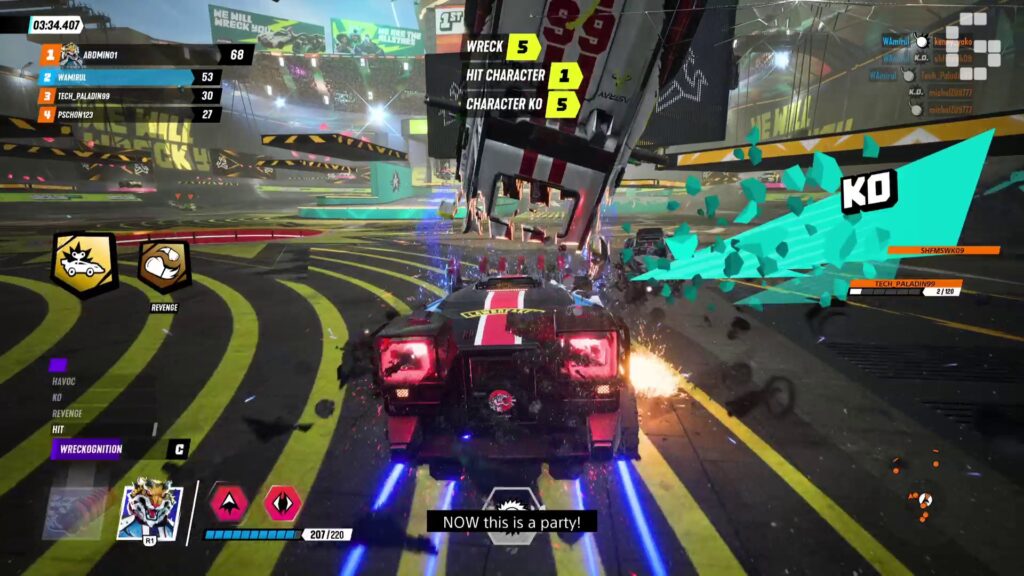 The core gameplay loop for Destruction Allstars is incredibly fun. You pick one of 16 All-Stars, each with their own unique Breaker ability, as well as a summonable "Hero Vehicle". Of course, these function more like Ults, and for the rest of the game you'll be choosing between different classes of generic vehicle.
These vehicles run the usual gamut of "glass cannon but high damage", "jack of all trades" and "big beefy lad who can take a beating". Damage in this game is tied to speed, so it's really fun getting in a fancy sports car and ramming it into a group of enemies at top speed, all while the game praises you for the mayhem you're causing.
Speaking of, it should be mentioned that in most of the game's gamemodes, you're scored for damage, not kills. Kills are a rare occurrence, made even more difficult by the difficulty of getting two moving objects to collide twice in a row. This is a really great element of game design, because it stops obsessive pursuit that a lot of FPS games have, and let you focus on the game's driving instead of chasing down any one target.
And just as well too, because the driving in this game is really good. In our interview with the game's developers, they discussed that Lucid Games, the game's developers has a team with people who worked on various car-based games like WipeOut and Motorstorm, and it shows. The game feels like a great arcade racer, letting you dash around the stage and turn on a dime.
On top of that, the game has a nudge feature, letting you nudge your car to the sides to damage cars to your left or right. It makes every fight way more intense, since rear-ending and T-Bones aren't the only way to do damage. You also have a boost, launching your car forwards at top speed. On a faster car these are insanely powerful, making short work of the right enemies.
Admittedly, I don't have much of a driving pedigree to compare, but the combat feels really good. It feels like dogfighting, except instead of guns, you had a knife taped to the tip of your jet.
On the human side, your Allstar has a far more evasive toolkit, having a spider-sense-like warning to let you know when you're about to be roadkill, which you can use to then dodge. You also have the powers of parkour, and your Breaker ability always gives you a double jump and speed boost, on top of character-specific abilities.
You can also attempt to hijack vehicles, taking part in a laughably unbalanced minigame where hijackers will need to hit buttons as they appear on screen, while the hijackee can wriggle a stick furiously to shake them off. Once you figure out the trick, it's almost impossible to hijack a car, so i'm curious if the developers will look towards fixing it once the game has a more experienced playerbase.
As is I don't mind it too much, it'd be more frustrating if every hijack was always successful, and it makes the rewards for completing the hijack feel better. Completing the minigame lets you either take the car for yourself, or perform a Wreckover- destroying the car in the process. Points rewards aside the Wreckover gives off big spite vibes, and it's always fun imagining frustrated other players watching their new rides reduced to scrap metal.
Players have melee attacks too called Barges, which act like light dashes forward. These are almost entirely useless on their own, since they move with a weird timing that makes it so you're unlikely to ever hit anyone paying attention. Many characters Breakers also modify the Barge attacks, making them slightly more useful but personally I've found there's very little reason to ever attempt to engage someone in melee unless you're desperate for the points.
Calling down your hero vehicle is one of the most fun parts of the game, getting you an almost Titanfall-esque sequence as your car drops from the sky. These vehicles can't be stolen or hijacked, so you won't have to worry about someone running off with your ride. From a visual standpoint, I love these vehicles. Many of them are so bizarre that it's hard to not think you were playing one of the old HotWheels games as you tear through a crowd in an SUV with buzzsaws down the front.
Rings Around The Royal Rumbles
Of course, while the base gameplay in Destruction Allstars is fun, the actual gametypes are more of a mixed bag. At present there are four gametypes, from the Free-for-all Deathmatch mode Mayhem, to the milquetoast Stockpile that has you capturing points. There's also the creative but poorly executed Gridfall, and the very fun Headhunter mode Carnado.
Personally, I feel like outside of Mayhem and Carnado, the other game types really take a dip in fun. Considering how much of the fun in Destruction Allstars is ramming into things at top speeds, the fact that Stockpile has you getting out of your car to stand still and capture a point really has a compounding level of un-fun to it. Sure, you have to first generate points to capture the stockpiles by doing vehicle-based violence, but the fact that once you get any number of points you now have to play it safe really makes the general effort feel less fun.
Meanwhile Gridfall is a pretty clever concept, wherein each player has finite respawns, with the ability to get more by killing other players. On paper, this is a pretty brilliant mode. The problem is the arena features dropping floors, which once again just get in the way of your ability to speed since you have a high chance of just dropping to your death and being eliminated.
I get that every mode should be distinct from each other but in Gridfall's case it really does feel like a case of over-design with the death pits. Just the threat of finite lives would keep players on their toes, sudden death simply makes it more rage inducing.
Carnado is a much better use of Destruction Allstar's strengths, as it has you collecting gears by damaging enemy vehicles, similar to headhunter modes from games like Halo and Call of Duty. This team game requires you to cash in your gears though, by driving into the Carnado at the center of the map. This gives you a pyrrhic victory not unlike Griffball, where you sacrifice your car to cash in your points. It encourages hyper aggressive play, and best of all the team-based stint means it's different enough from Mayhem. The only downside here is that your Allstar is relatively useless in this mode, since allstars have an upper limit to how many gears they can carry. Until someone discovers
As I mentioned earlier, Mayhem is literally just Deathmatch. It's definitely the mode Destruction Allstars was built for, as it makes use of every feature in the game. There's even different maps to load into, each with their own hazards to use. It's fast, fun and incredibly skill based, as you'll need to learn the ins and outs of the maps if you want to secure the number one spot against all your fellow Allstars.
An Allstar Cast
Now that we've gotten over how fun driving into things is, I can't stop commending the strong visual feel in Destruction Allstars. the 16 Allstars have a diverse roster of ages, genders and Nationalities. Even Southeast Asia gets some love with Ratu, the Indonesian Allstar. The characters all have a very bold unique style to them, but in a way that's not archetypal, the way games like Overwatch tend to do it.
What I like about this is that characters nationalities are a part of their identities, but not their primary feature. While Ratu has strong Indonesian motifs going on, it's not like she's dressed in traditional clothes and has a persona built around the culture.
It's also further strengthened by the fact the game is surprisingly void of cowardice when it comes to their characters. Many character types are present here that I'm pretty sure are within the single digits for how well they're represented, such as with Hana, who is clearly an older Black woman. Speaking of the older characters, Tw!inkleR10T is the local kawaii character, but she's also very clearly a much older character.
It won't matter to a lot of people, it's not like the game fixes grand issues in the industry. But it's cool seeing these characters, and I like calling out cool things cool games do.
Also, because of Destruction Allstars being an in-universe sporting event, all the characters have a strong wrestler-like persona where they clearly play up their character with cool poses. Some characters are more clearly personas than others, such as the absolutely charming Boxtop, the "Working class warrior" who dresses like a poorly made superhero wearing a cardboard box on his head and driving a mail truck.
They also have laughably dumb levels of theatrics, such as with Fuego's flaming Hero vehicle. There's a lot to love because the game's just so silly, but it never feels like the levels of "oh my god im so teh randomz" that games like Battleborn and Fortnite constantly have. It's silly, but it's in-universe levels of silly.
You can also customize these characters with skins and emotes, tied to the game's premium and free currencies. As a live service, I didn't mind the inclusion of these- developers need to eat too, after all. If anything, my one gripe is that I almost feel no need to buy the cosmetics, since the base character designs are so strong that the other palette swaps just feel wrong in comparison.
The fact that the game doesn't even lock them behind lootboxes that's extra nice too, it's hard to give the game flak when it feels like it's riding on so much good will.
Built For The PS5
Ultimately, one of the biggest hindrances to Destruction Allstars is that it's locked as a PS5 exclusive. Considering the console is still sold out in most places, the playerbase of this game is in danger if too many people drop off from the game .
Still, it's hard to disagree with the reasonings for keeping the experience on PS5- there's minimal loading, the game looks amazing and the Dualsense feels really good as the triggers rattle to signal your car's about to become a piece of decorative scenery.
All in all though, Destruction Allstars is an incredibly fun game that can really be something special if it stays supported long enough. The developers have said they want to expand the roster of Allstars, and more game modes certainly wouldn't hurt.
The game may not be a treatise on the human condition or a powerful statement about unity, but it's fun as heck and that's what matters. That and the satisfaction of watching a smug driver's car get wrecked by your Breaker. That's pretty important too.
| | |
| --- | --- |
| Pros: | Cons: |
| Great gameplay | Multiplayer modes are a mixed bag |
| Incredibly strong visual design | Matchmaking woes due to bugs and limited player base |
| Great showcase of the PS5's features | |
Final Score:
8/10
---
Game reviewed on PS5, review copy was our own retail copy.
Destruction Allstars
PlayStation 5
Stars and cars collide. Dominate the glittering global phenomenon of Destruction AllStars – the spectacular prime-time sport for dangerous drivers! Master the art of intense vehicle-based combat through timing, tactics and skills to cause colossal amounts of damage, destruction and devastation in vibrant arenas across the globe. Pile-on the destruction from behind the wheel or leap into the arena with a breathtaking reel of parkour action by dodging attacks, taking over vehicles or using abilities to disrupt the onslaught of incoming vehicles. Cause enough mayhem to power up your AllStars game-changing hero vehicle fuelled with special abilities. A roster of 16 blockbuster Destruction AllStars are revved up and ready to compete in the name of entertainment and demolition. So, strap in for intense, explosive and unpredictable levels of free-flowing action and fight to be crowned the Global Destruction Federation Champion. It's time to run, ram and slam. See you in the arena
---
Check This Out Next
---