It's no surprise that Demon's Souls is a challenging game. Back during its original release in 2009, this was the game that would later set off the "Soulsborne" genre with other titles like Dark Souls and Bloodborne all giving players a taste of learn-by-dying gameplay.
While many people think that means this game's a series for the super hardcore a la Super Meatboy, they'd be wrong. At it's core, Demon's Souls is fairly approachable, it's just not speaking the same language as many other games.
For many games, the definition of "getting good" is fairly straightforward: in Call of Duty, being able to hit objects with your gun is by definition playing the game well. The game's logic is "here is a bunch of shootable objects, shoot them". However, Demon's Souls presents things in a slightly more complex manner.
The root of Demon's Souls is more akin to level-specific problems, and you're allowed to choose which tools to use to solve them. Because sure, you're whacking enemies with a big sword or magic, but that strategy's not going to work forever. Imagine instead if, by the Call of Duty analogy, different soldiers had different weakpoints, and you had no ammo pickups outside of pre-bought ammo from the start of the mission. And better yet? The game never told you this.
Perhaps we can rephrase to: "While the game may not communicate these things openly and clearly (perhaps that's the intention from the studio and hope players to learn as they play), your ol' friend GamerBraves is here to do so with a guide that will make sure you'll be a top-class Slayer of Demons in no time. The aim here is more than just telling you what to kill- you'll understand how the game wants to be played, so you'll be able for any challenge thrown your way.
Choose Your Starter
One of the hardest decisions you'll make at the start of Demon's Souls is choosing one of its starting classes. While a big decision for the start of the game they ultimately don't matter- the game has an open build system, letting you use any weapon and gear as long as you have the stats for it.
Still, it's important to have a class that fits your preferred playstyle, or better yet, puts you in a position to learn the game better. From the myriad of classes, here's our recommendations.
It's Good To Be Royalty
Hands down, Royalty is one of the best starting classes in the game. It has three main advantages, 2 of them are pretty obvious and one of them not so.
The first is that as the Sorcerer, you start with spellcasting. Your character has a wand, as well as the spell Soul Arrow. A lot of enemies aren't good at defending against magic, and Soul Arrow's long range puts you in a great position to just snipe enemies before they can even dream of getting close to you.
The second advantage is that that's not the only starting equipment the Royalty starts with. You also get a Buckler and Rapier, aka one of the best parry shields and one of the best counter-weapons. The Rapier is especially good because of its lack of sweep attacks, meaning you'll never have to worry about it getting caught in the hallways.
The combination of starting gear is really good, because parrying is a great high-skill technique you have to physically learn. With the Rapiers high damage and the Buckler's good parry windows, you can easily use the Dreglings at the start of Boletarian Gate to bake the parry timings into your soul. Once things get sour you can also fall back and just start hurling bolts to do damage from afar. In other words, you'll have all the tools to learn a playstyle, one way or another.
The third advantage is that unlike many of the classes, the Royalty starts at Soul Level 1. What this means is that in the long run, levels will be much cheaper, since the soul cost of levelling up increases per level. It may not seem like much, but this means even if you decide spellcasting or counter-ripostes aren't for you, you can switch to other builds fairly easily since you'll overall be paying less for levels.
One downside of Royalty though is that you will struggle with crowds, of which the Boletarian Gate has many. The rapier is a strictly one-on-one weapon, with no sweep attacks to speak of. Soul Arrow also doesn't provide splash damage, so you'll need to be light on your feet if you want to handle crowds.
The Guy On The Box
The other class that tops the recommendation list is the Knight class. Look, Boletaria is scary. Dreglings come at you swinging wildly, there's big glowy knights, it's all a bit much.
Thankfully, the Knight comes with a 100% block shield, meaning that unlike smaller shields like the buckler, hitting the block button means you take no damage from physical attacks at all. It's also light enough to have a parry, so you can still learn one of the best counter attacks.
Unlike the Royalty, the Knight's starting weapon is a longsword, which has both thrust attacks as well as wide sweeps, meaning it's good for both crowds and narrow spaces. This means this is one of the best classes to learn the melee playstyle, as you'll have access to most tricks in the book right out the box.
One flaw with The Knight though is that you're going to learn about Equip Load the hard way. the Knight's armor is one of the best starting gear in the game, offering high defense. This comes at the cost of its weight, making your roll downright unusable. You'll either need to go at it naked or spend a lot of Souls leveling Endurance if you want to push this back down to a tenable weight.
Still, it's also the character on the box art, and there's a certain satisfaction to that. The Fluted Armor set is one of the cooler armors in the game, even in the Demon's Souls remake, so there's some satisfaction knowing how cool you look here.
You Died Does Not Mean You Lose
One of the biggest turn-offs from Demon's Souls might be the famous "You Died" screen that has persisted through the genre. Admittedly, it can be frustrating. After all, when you die, you lose all your souls and get pushed back to the last Archstone. Worse still, dying before picking up your dropped souls gets rid of them forever, which can be even more demoralizing.
The most important thing to remember is that unlike other games, dying is not a fail state in Demon's Souls. Sure, you take a bump on the chin, but it's not like the Slayer of Demons has limited lives. You simply get knocked back to the last checkpoint, free to start again.
Instead, approach dying as a way for the game to tell you "what you just did isn't working". Maybe you're too attached to your items, or maybe you were being too aggressive. Whatever it was, it didn't work, and now you get another shot to try again knowing that.
Sure, it can be rough with the consumable healing items. But an important thing to remember is that Demon's Souls never takes from you anything you can't get back. Healing items are fairly easy to come by (Boletarian Blue-Eyed Knights are especially a good source of these), as are souls. Once you clear Phalanx, the first boss of the game, you can even hit up a farming area to make sure you never fear a Souls shortage ever again.
Plus, unique to Demon's Souls (2020) is the lightning fast load times of the PS5. You pop back at the Archstones relatively fast, so you won't have to worry about forgetting your big lesson because it took too long to load in.
Basically, there's a reason why No Death runs are considered great feats. Dying to find out you can't parry certain attacks is simply part of the game, and the faster you accept that the more fun you'll have with the game.
Don't Give Up, Skeleton!
Of course, it's easy to lose hope if you're hitting a wall with a particular area. Another of the big takeaways from Demon's Souls is that you're the only thing that changes. Every enemy in the game has a predetermined set of actions they can do, as well as fixed locations. But not you.
You can decide to run or fight, to come at them with magic, arrows or a big sword- it's all in your hands. Demon's Souls has a pretty open class system, letting you level any stats you want to use any build so as long as you've got the time to grind out Souls to level your character.
It's especially true of the bosses- they may feel daunting at first, but many of them have easy solutions. Phalanx, the game's first boss is especially easy to overcome- it's incredibly weak to the many fire items dropped by Dreglings around the Boletarian Palace. You'll also get plenty of experience breaking shields if you don't skip the Blue-Eyed Knights- they're a great way to remember two-handing your weapons (by pressing the triangle button) does more stamina damage, getting enemies to drop their shields easier.
Realizing that you're free to experiment and find out these things is key to doing well in Demon's Souls. Even if you're not going to try it out for yourself, just look down at the floor- there's plenty of messages from other players who might give you hints on how to handle challenges ahead of you.
Patience Required Ahead
Sadly, the only stat you can't level up in Demon's Souls is patience. When it comes down to it, that's all this genre is about- patience to learn the game, then patience to get your execution right.
Once you take a step back and watch, there's you can clearly see how the game wants you to play the game. Enemies have pre-set patterns, and you'll find they rarely ever go over three hits before needing to recoup their stamina (Dreglings mad flailing counts as one very annoying attack). Personally I find picking one of the ranged playstyles like spellcasting really gets you into the habit of watching enemies, since enemies like the Blue-Eyed Knight can tank through magic with their shields.
Of course, there's no better teacher of patience than the game itself, which has several "Speed-bump" bosses installed to punish you for wailing without a plan.
The Armored Spider in the mines is a particularly good example of this, because on paper it should be easy- it's got a big ol weakspot that always hangs around there. Yet, if you don't treat the boss like a turn-based RPG, you'll find yourself out of stamina when the Spider decides that it's its turn to attack.
There's also the Adjudicator at the Shrine of Storms, who needs you to really think about how to deal with it. Unlike the other bosses this one is straight up invulnerable, unless you target the injured part of its body. You need to pay attention to the blood effects to see if your attack is connecting- if it does, down goes the Adjudicator and you get your window for big damage.
It's not advice people particularly like to hear, but it's what works- sometimes you just need to take a step back and let the enemies reveal their own weakpoints to you, and you'll be feasting on their souls in no time.
The Parable of The Red Dragon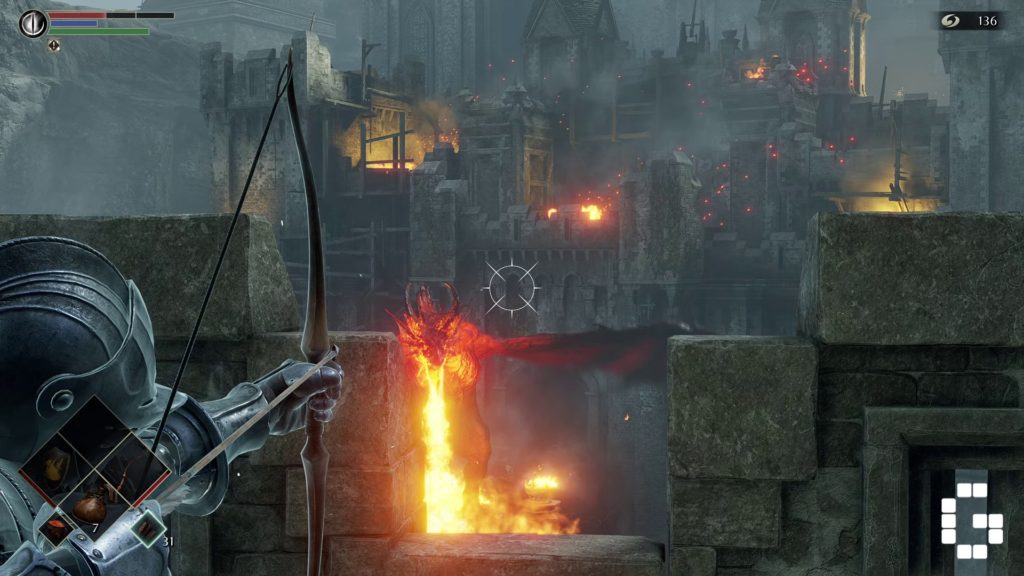 I think my favorite reward for patience in Demon's Souls has to be the secret enemies. An important rule in these games is that most things can eventually be killed. The Red Dragon in The Lord's Path for example, is one of the only difficult things in that area. It chases you down the length of the bridge, breathing fire on you if you so much as think about stopping to pick up loot.
However, holing up at one of the watchtowers will make you realize the dragon never overtakes you, only attacking the bridge you're currently on. Better yet, it won't attack the actual tower, and can be shot while it loops its attack animation. Unlike everything else in the world, this dragon's death is also permanent, meaning even if you rest at the Archstone you have a clear path to the Tower Knight.
Slight catch, though. It took me approximately 150 arrows (thanks, Shrine of Storms) and about an hour to whittle down its health before it died. On the plus side, it drops 7000 souls, along with its own soul that can be popped for another 10,000.
Of course, for those who like to explore, you can also revisit the Boletarian Gate, where another area previously guarded by the dragon will now be safe to loot, netting you some sweet items like a Fire Resist Shield.
It sounds like dull work., and for the most part it is, but let it not be said that the reward isn't incredibly worth it. On top of the scores of levels you can buy with these souls, you also get a free path to the boss, meaning you won't have to feel cheated by sudden fire death just as you were having a good feeling about killing the Tower Knight.
Curiosity Ahead
Another very important thing is to remember to explore! There are five whole archstones with five different areas, each with their own quirks and traits to them. Sure, it's very tempting to go through all three acts of an area, but you'll find the difficulty spike quite unforgiving if you do.
Instead, it's best to do the first act of each area, then slowly move through the second, et cetera. The game even tells you as much if you happen to beat the Tower Knight by hard-stopping you from progressing the Boletarian Palace until you've cleared another of the areas.
When I mentioned each area having its own quirks, I meant it. The Smithing Grounds, for example, have enemies that give a terrible Soul payout- considering how hard it can be to kill them, you'd think they'd be worth more. Instead, however, they pay really well in upgrade materials, often dropping large quantities of them at a time instead.
The Mines are also home to an NPC who sells materials too, letting you get well-upgraded gear to tear through bosses and walk through a lot of the game.
Of course, these upgrades cost money. The Shrine of Storms skeletons give some frankly, disappointing drops, but pay really well out of all the starting areas. It's also the most straightforward, with the first six skeletons being pretty easy to handle (just remember to bring a Club). Thanks to the PS5's fast checkpoint resetting, you can easily grind out 6k souls in mere minutes- which is a small fortune at the start of the game.
There's also the game's shortcuts, which are all cleverly designed to let you skip past early parts of a level once you've progressed enough. These take more patience to find, but I'm sure you'll agree they're ultimately worth it in the end.
Of Tendency And Body Form
One slightly more advanced tip we have to get into is the idea of World Tendency. Unique among the Souls Genre, Demon's Souls' world reacts to how you play the game, with certain actions scoring you points to push your World Tendency between Black and White.
While you'll probably need a spreadsheet to precisely list down every event and its consequences, the gist is simple- if it's a boss or optional boss, or a Black Phantom NPC, you'll want it dead to push Tendency towards white. If it's dying in soul form or killing "innocent" NPCs, you're going to be pushing Tendency towards black.
You won't have to fret too much about it if you're a total beginner- but if you're constantly shifting over into Body Form to use co-op features, or you like killing NPCs, know that these actions have consequences.
At Black tendency enemies will deal way more damage, and take less in return. You'll also have less health in Soul Form, but there's an upside- enemies will be more likely to drop rare items, so look into this if you're after rare drops from enemies.
Meanwhile in White Tendency, the game is less of a challenge as enemies will have less health, take more damage, and even drop more healing items. The downside is pretty much that you will have a harder time getting rare drops, so you'll want to control these settings if you've a preference to how you like your World.
---
While it may seem a daunting task at first, Demon's Souls is more like a game speaking a different language than one constantly trying to bully you. A lot of its lessons require you to accept the fact you're going to die learning them.
Once you look beyond the bruised ego of a "You Died" screen, you'll find Demon's Souls one of the most rewarding games, giving you great highs for the teensy lows of pouting because you failed a parry.
If it all gets too much, don't forget- there's nothing wrong with the occasional break, especially since clearing your head will get you prepped for Round 2.
Good luck, Slayer of Demons!
Demon's Souls
PlayStation 5
From PlayStation Studios and Bluepoint Games comes a remake of the PlayStation classic, Demon's Souls. Entirely rebuilt from the ground up and masterfully enhanced, this remake introduces the horrors of a fog-laden, dark fantasy land to a whole new generation of gamers. Those who've faced its trials and tribulations before, can once again challenge the darkness in stunning visual quality and incredible performance.
In his quest for power, the 12th King of Boletaria, King Allant channelled the ancient Soul Arts, awakening a demon from the dawn of time itself, The Old One. With the summoning of The Old One, a colorless fog swept across the land, unleashing nightmarish creatures that hungered for human souls. Those whose souls were stripped from them, lost their minds – left only with the desire to attack the sane that remained. Now, Boletaria is cut off from the outside world, and the knights who dare penetrate the deep fog to free the land from its plight, are never seen again. As a lone warrior who has braved the baneful fog, you must face the hardest of challenges to earn the title "Slayer of Demons" and send The Old One back to its slumber.
---
Check This Out Next
---