Shortly after announcing the first Monster Hunter Collab, Capcom and Bushiroad are already expanding on it with the D4DJ Monster Hunter 2nd Collab event
This event is available now in D4DJ Groovy Mix, and will run for more than a week before ending on February 2nd, 2021. You'll be able to gacha for the new Peaky P-Key girls in a special event banner, as well.
It's not currently known if the previous Photon Maiden cards will be returning for the gacha, given how it's not been very long since the last event.
While the previous event featured the space-age likes of Photon Maiden getting their New World on, this second go at the D4DJ Monster Hunter 2nd collab will see the girls of Peaky P-Key instead in hunting gear.
Similar to the first event, this one will allow players to take part in "rhythm battles", four-man raids to take down powerful monsters.
It will also feature a host of songs from Monster Hunter World, remixed by big names such as TeddyLoid.
This second event was teased with the promotional material for the first one. Kyoko Yamate, frontman for the unit Peaky P-Key is the mysterious silhouette character we previously reported on, using a Teostra set with a Longsword.
Sadly, this event is still only exclusive to the Japanese version, although it's still possible the event will come to the English version once that's been released.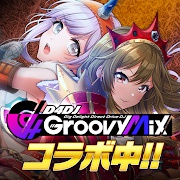 D4DJ Groovy Mix
Android, iOS
From original songs with the theme of DJ, anime, special effects, J-POP cover songs, More than 130 songs including famous drama songs, game instrumental songs, and original songs by artists have been implemented! The new rhythm game "D4DJ Groovy Mix" is here!