Sports games are a contentious bunch. Despite being one of the most niche genres, they also have one of the most passionate fanbases. As an outsider, it can be hard to get into the genre, especially with new titles every year. Captain Tsubasa: Rise of New Champions, whether by design or accident, fixes this problem.
The game based on the popular anime and manga allows you to play your own legend, or be the titular Captain Tsubasa as you forge a path for your team. Does it do this well? Or does it miss the goal entirely? Read on to find out.
---
Anime As Anime Gets
Visually, the game looks amazing. The retro-shonen art style of Captain Tsubasa translates really well into 3D, especially with the cool poses. The developers definitely took care to make sure these characters carry all the coolness from the manga with them.
This also translates to the game's style as well, with super moves and goal saves all having cool looking cutscenes. While they can be frustrating in the heat of the moment, watching the goalie pull down his cap as he glares at you for even coming near his goal is a cool scene, every time.
Even the less important characters, like in the other teams, are given the same level of style and care. If there's one thing you can say about this game, it definitely looks good in screenshots.
Make Your Own Legend
The game's story follows the events of the Captain Tsubasa manga. You play through several iconic matches from the Captain Tsubasa canon. Alternatively, you can also choose to go with your own custom character, whereby the game will give you your own legend, so to speak.
The story can be pretty great for fans of the original Captain Tsubasa. However, it's not simply enough to win your games: the game will have several conditions for you to meet, such as Tsubasa scoring the finishing goal. This feels like artificial difficulty on the game's part, as it severely limits your options in dealing with the AI.
When playing as the create-a-character, however, the game gives you the option of bonding with your teammates to acquire this skill. As someone who wasn't really into Captain Tsubasa, this mode seems a lot more fun since it's essentially a template to make your own sports anime. Your character's field position is absolutely important, though, and you should make sure whatever skills you pick up are for that position.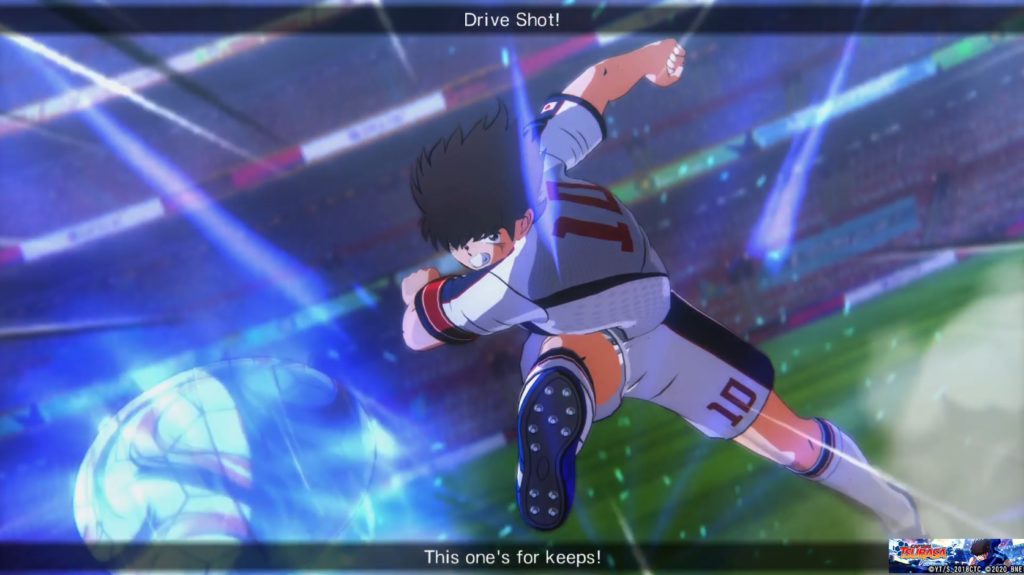 The Wonderful Game
Off the bat, the important thing to remember about Captain Tsubasa is that it's not a football simulator. While it may look like one superficially, this is an anime game first and foremost.
One of the most important ways this manifests is the game's Spirit meter. Spirit meter is required to do things like dribbling, as well as the characters' super moves. Similarly, the goalkeeper's spirit bar is spent keeping their goal safe. As long as the goalkeeper has a spirit bar, the ball isn't going in.
This does make the game tend to favor overly agressive plays, but like I said: it's not a realistic sports game, it's anime. Charging the enemy's goal looks cool in anime, and this game will naturally reward you for it.
Similarly, the game lacks any kind of referee. While sports sims fans may find this stressful, this is probably the most freeing part of the game. No longer are you bound by the laws of mortal football, and you are free to tackle with extreme prejudice. This especially gets fun in the game's multiplayer mode, as aggressively hounding the enemy team becomes an effective form of mindgames.
However, while the game is fun when it's being anime, it does tend to fall apart at regular football. Between the big hype moments, your characters jog at a weird pace. They don't really have anywhere to be, after all. You can sprint to make them go faster, but should watch your meters appropriately to make sure your enemy doesn't catch you off-guard.
Even as a non FIFA player, the lack of fine control does get a bit bothersome. Clearly the game was targeted at non-sim fans, but it can get more frustrating when it feels like the game is working against you.
Multiplayer Riot
Even though characters can have different stats, non-protagonist characters can be hard to tell apart in the thick of it. There's a serious case of Protagonist Syndrome going on, with the side teams often looking like a copy/paste job at first glance compared to the glorious individuality of the Japanese team.
When playing the game's Vs mode, you start to notice the game's other flaw- it's balancing. The Japanese team clearly overpowers the other teams, so much so that having them as the AI team can be incredibly problematic. Tsubasa himself is a beast, and being on the receiving end of a Drive Shot just isn't fun.
The game allows for 2v2 multiplayer, which is probably the most fun this game gets. By being simpler than football sims like FIFA or PES, it's actually more appealing to someone with no actual interest in sports. The anime aesthetic helps too, giving it a less serious feel. Instead of a hardcore football sim, the game's couch multiplayer is a much more fun afternoon jaunt.
Additionally, the game also comes with collectible football cards, attainable through a gacha system. This isn't a paid gacha, and the cards have no effect on gameplay other than being something to collect.
Final Thoughts
As the whistle blows, is Captain Tsubasa a good game? It's definitely not great, but it's not exactly bad, either. At it's core, it's a good low-barrier-to-entry sports game. It's also great for fans of the Captain Tsubasa manga, considering the lengths it goes to to make this game look good.
While the game is certainly a fun junk food game, it only really appeals to the venn diagram of people who would play a sports game, but don't play sports games. If you happen to fall in that category though, you could probably squeeze some fun out of this.
| | |
| --- | --- |
| Pros | Cons |
| When this game's anime, it's super anime. | Story mode can be unappealing if you're not a fan of the anime |
| Simple controls | Low skill ceiling can be frustrating for sim fans |
| 4-player mode is legitimately fun | Multiplayer teams have poor balancing |
| Aggressive-favored playstyle makes it good for junk food play. | Not much gameplay variety |
Final Score:
6/10
---
Review copy for this game provided by Bandai Namco Entertainment. Game reviewed on PS4. 
Captain Tsubasa: Rise of New Champions
Microsoft Windows, Nintendo Switch, PlayStation 4
The CAPTAIN TSUBASA franchise's long-standing global popularity is still going strong. Experience blitzing soccer action with slick anime graphics and over-the-top signature shots anyone can pull off.
---
Check This Out Next
---