The SINoALICE x DC collab, which was announced last week, has now confirmed that Batman will be a Gunner in the mobile gacha game. The collab will arrive in the Japanese version of the game on September 16, 2021.
Check out the new promotional video for the collab below:
Batman is voiced by Koichi Yamadera. Yamadera also voiced Batman in the Batman Ninja animated film.
Batman's official art depicts him wielding his grappling hook like a firearm. While it does seem strange that Batman is of the Gunner class, none of the other in-game classes can fit him considering that he fights unarmed most of the time. Batman/Gunner will be a free login reward for all players during the duration of the collab.
The collab also adds new versions of Pinocchio and Snow White. According to the event story, Pinocchio is being groomed to be the new Joker, while Snow White will be donning the batsuit. You can see their silhouette's in the promotional video above. Their official designs are not yet revealed.
Besides Batman, other DC characters who will appear in SINoALICE includes Joker, Harley Quinn and Catwoman.
For more details about this event, follow the Twitter account for SINoALICE JP.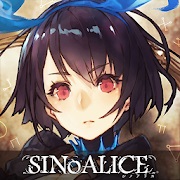 SINoALICE
Android, iOS
Fairy tale characters fight to "revive their author". Enter the dark world of SINoALICE as imagined by Yoko Taro (Drakengard, NieR).
---
Check This Out Next
---