A brand new character system, dubbed Awakening, is now available in Black Desert Mobile. The most experienced of Adventurers can work to unlock a new set of skills and weapons to open up a whole new playstyle with their characters.
All classes except the Striker will be able to undergo Awakening to try out a completely new combat style on the battlefield! Adventurers will not only gain a new combat style, they'll also get new weapons and skills to give a fresh look to their characters, besides increasing their maximum HP and CP. For Black Desert Mobile Adventurers, they need to be level 60 or higher to experience this new system along with completing a special quest from the Black Spirit.
Besides characters, accessories can also be awakened. The Awakened Enchantment system will further boost AP and DP provided by their accessories. In order to help Adventurers become stronger and accessing the new Awakening system, the Mega Growth Boost is available so that they can grow their characters faster with increased EXP gain and higher drop rates for lower-levelled characters.
The update includes a Wardrobe system, for the fashion conscious to combine their stats with appearances of their gear.
The Awakening update comes with a variety events for old and returning players, so check out the full details on the official website.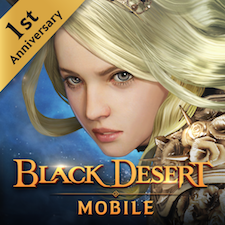 Black Desert Mobile
Android, iOS
Play the popular MMORPG now on the mobile and in English, German, Spanish, French, Russian, Thai, and Indonesian! Go and embark the journey you choose!
---
Check This Out Next
---