With Assassin's Creed Mirage set to release on 5th October, we got to try out an early preview of the game prior to its launch. Moving away from Greece and Norway, we now set our sights back to the Middle East.
Story
In Assassin's Creed Mirage, we play as Basim Ibn Ishaq, a cunning street thief with terrifying visions who is looking for justice and answers.
After carrying out an act of vengeance, Basim leaves Baghdad an joins an ancient group called The Hidden Ones (now called the Assassin Brotherhood). Under the mentorship of a Persian woman named Roshan, Basim is now tasked with finding members of the Order of the Ancients (now called the Templar Order).
This entry will be shedding more light on Basim, a character that we don't know a lot about, and the historical setting of the Assassins before they were defeated by The Templars.
You can't choose between two playable characters in Mirage, as comparison to more recent Assassin's Creed games, and there are no dialogue options available at any point in the narrative.
More Stealth, Less Head-On Combat
In contrast to the first few games in the Assassin's Creed franchise, the series evolved into a more action role-playing game over time with vast maps and numerous tasks which takes a lot of time to complete. But with Mirage, it seems like Ubisoft is going back to its roots with a more compact game.
It is crucial to realise that Assassin's Creed Mirage will not feature the expansive settings that Origins, Odyssey, and Valhalla had given to us. Instead, Mirage will be divided into different distinct smaller areas. Baghdad will serve as its primary setting, though I did get to explore Anbar and Alamut during my time with the hands-on.
In addition to being more compact, Mirage will place a stronger emphasis on social stealth and parkour skills rather than heads-on combat. The Black Box missions will also make a reappearance, and Basim will be able to look around and discover new ways to approach and kill his targets.
Basim, in contrast to Bayek, Kassandra, and Elvor, is not a warrior who can openly engage against numerous enemies while safely taking hits. When attempting to assassinate a target, you need to be strategic with your approach, setting traps covertly and hiding in plain sight by blending in with crowds.
It's not advised to face foes head on considering they're oftentimes a lot bulkier than you are, so it's best to flee and try again later when you get found out. To help out with this, new stealth tactics have been added to the game, which is also one of Mirage's most important upgrades.
You now have more options for being a silent assassin in addition to hiding behind walls or blending in with crowds to evade detection. The most practical among the new tactics is the Assassin Focus, which enables you to quickly mark and kill your targets.
You also have access to Chained Assassination when you have multiple targets to eliminate them all while, ideally remaining undetected. Knowing when to use the Chained Assassination and other tools in your arsenal is important; such as the blowpipe to put enemies to sleep or the trap to poison enemies if they get too close, all encourage the players to think strategically and place focus on stealth.
Your eagle named Enkidu, can be of great assistance through scouting and checking waypoints without you needing to go there by yourselves. However, due to improved enemy AI, the eagle is now vulnerable to enemy archer attacks.
We also got a good look at the game's Wanted System. The developers have worked to make combat the last option by forcing the player to understand the repercussions of completing a contract while not in stealth.
If your Wanted Rating is too high, civilians will start to call guards to catch the player, which would have us be detected much easier, in turn making the game a bit more challenging. To lower the Wanted level, we can either take down our Wanted posters or bribe a guard to forgive our misdeeds.
While it doesn't appear to have a very broad scope unlike other Assassin's Creed titles, there's a skill tree that you can fill with points as you progress through the game. The skill tree is divided into three paths: Phantom (Focused on Stealth), Trickster (Focused on Item Usage), and Predator (Focused on Combat).
Parkour
As one of the series' swiftest protagonists, Basim possesses a variety of abilities that allow him to move through Baghdad quickly. Compared to the earlier games, parkour moves at a much faster pace.
Since the corner swing is now in the back, you can simply dive quickly, turn around, and proceed in a different direction while the pole vault enables him to quickly cross gaps while running. It combines both old and new mechanics, but it's not particularly innovative.
The city is designed specifically to encourage parkour, considering how the entire area is covered in balconies and poles which seem to exist for no other reason than to help assassins.
The game's level design heavily emphasizes on vertical buildings. This means that while the streets have become more lively, the developers have made sure you can go up as well as scaling rooftops, and exploring the heights that Baghdad has to offer.
Assassin Bureaus
You have a number of Assassin Bureaus which are safe houses in the city where you can stop by to meet allies, obtain new tools, weapons, and equipment, or upgrades what you already have. These locations also have a contracts board where you can select your subsequent primary or secondary mission. There are a number of additional challenges in each mission that must be overcome with greater accuracy and focus.
While accepting a contract does not advance the story, it does put you in a good position to reap in rewards.
Environment
Mirage promises to take players to take players on an exciting journey through the vibrant middle eastern culture. The story takes place in the ninth century, which is a period of the Abbasid Empire.
In terms of graphics and visuals, this game is a visual feast. The environments in the game are created to be vivid and intricate with stunning graphics and enticing sound design. If you enjoyed the original AC game and its Middle Eastern setting, you will definitely enjoy this one because the attention to detail in its architecture, clothing, and cultural elements are top notch.
Additionally, the game also pays a lot of attention for its accurate depiction of the Muslim religion and culture. Examples being proper attire at the time such as hijabs and taqiyah, the Azan which is the Islamic call to prayer, the language spoken with proper greetings.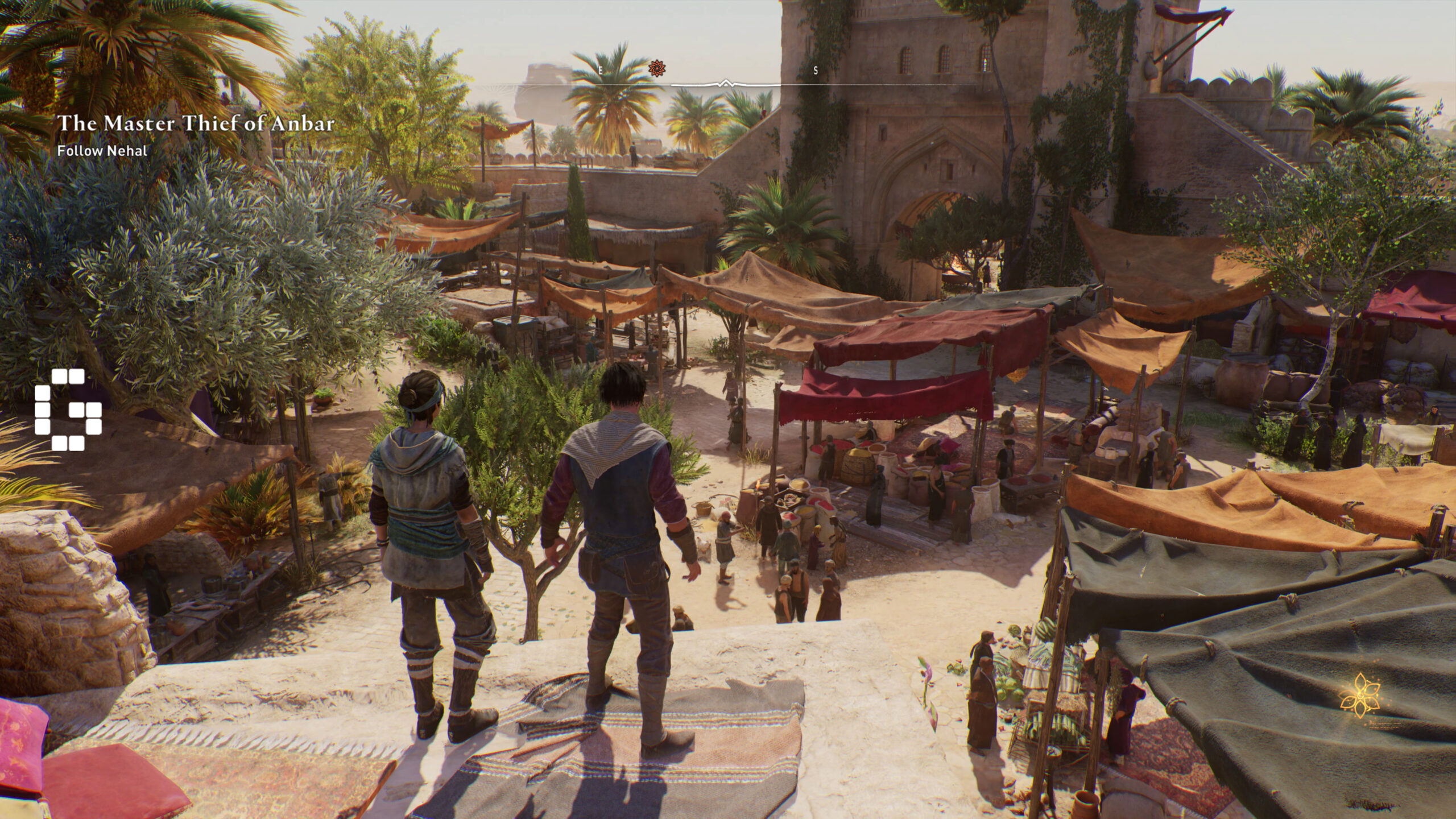 This might actually be the first Assassin's Creed game where I see Muslim culture be accurately depicted, so it's pretty impressive. MIrage will also be the first title in the series to be fully localised in Arabic across the board, which pretty much improves immersion.
But like all Assassin's Creed games, this one will not be made with complete historical accuracy. Although, the team has not completely changed the history and culture of the era, they have tweaked some aspect of it where some history buffs can spot out.
Verdict
I thoroughly enjoyed the time I had with the hands-on of Assassin's Creed Mirage. The game manages to incorporates various elements from several previous Assassin's Creed titles, but ultimately it resembles the design and atmosphere of the first two titles of the series.
Mirage looks promising, as well as being a distinctive and fascinating addition to the Assassin's Creed series thanks to the game's new stealth systems, intricate open-world setting, as well as paying homage to the series' origin.
---
Assassin's Creed Mirage will release on 12th October 2023 for PlayStation 5, PlayStation 4, Xbox Series X|S, Xbox One, and PC.
Assassin's Creed Mirage
Microsoft Windows, PlayStation 4, PlayStation 5, Xbox One, Xbox Series X|S
Assassin's Creed Mirage is an upcoming action-adventure game developed by Ubisoft Bordeaux and published by Ubisoft. The game will be the thirteenth major installment in the Assassin's Creed series and the successor to 2020's Assassin's Creed Valhalla.
---
Check This Out Next
---