The Double Kickstarter campaign for upcoming JRPGs Armed Fantasia and Penny Blood is quickly approaching its final stretch, ending at 9:50 AM PST / 12:50 AM MYT on September 30th, 2022. 
The two games, made to be spiritual successors to the Wild Arms and Shadow Hearts series raised over ¥260,000,00 with the support of more than 13,000 backers at the time of this article
The campaign has allowed backers to purchase combo packs of both games, with additional digital and physical rewards, allowing them to receive two highly anticipated JRPGs at a good price.
Both games will feature music by composers who are no strangers to the RPG genre, with Armed Fantasia's huge 100+ track soundtrack set to capture the essence of 'Westernpunk' by Elements Garden (Wild Arms series) and Michiko Naruke (Wild Arms series). Meanwhile, Penny Blood's soundtrack incorporates the sound of various international locales in the 1920s from Yoshitaka Hirota (Shadow Hearts series) and Akari Kaida (Breath of Fire series).
Famed Final Fantasy series composer, Nobuo Uematsu, has also officially joined the project and will assist with research and insight into authentic Irish music for Penny Blood's American locales. 
In addition, SaGa series legend, Kenji Ito, is now officially on board to help create the authentic sounds of Japanese locales in Penny Blood. Uematsu, Ito, and Hirota share roots at Squaresoft (currently Square Enix), and Hirota is the bassist in Uematsu's band "Earthbound Papas," where he often arranges songs from SaGa series composed by Mr. Ito.
The Kickstarter projects have also announced new backers rewards. A special "Composer's Dream" CD featuring special arrangements, remixes, and original music from the two games' key music collaborators, along with additional collaborations by Persona series composer, Shoji Meguro, and Lufia series composer, Yasunori Shiono, will be available to donators to the campaign. Only 500 copies will be produced and there are no current plans to release the album after the campaign. Since it is an add-on item, only backers qualify for purchase.
In order to celebrate the campaign's closing hours, a special closing stream will be held live in Tokyo featuring a variety of interviews, special guests, creator challenges, and new music. The stream will be publicly viewable and is scheduled to air before the campaign closes on September 30th at 22:00 JST and 21:00 PM MYT.
During the closing stream, extremely rare signed editions of the "Composer's Dream" CD will be made available via the double Kickstarter campaign page at 30-minute intervals. Only 10 signed copies will be made in total. Backers will have to turn into the stream to catch the details.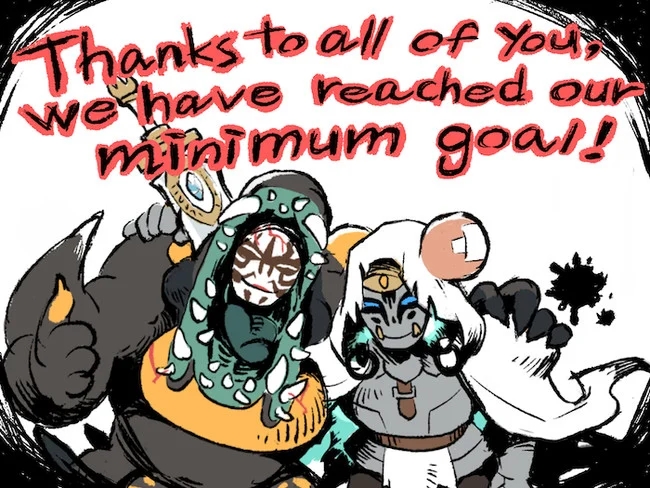 Further, as a show of gratitude to backers who have supported the campaign, a special "Golden Ticket" concert will be held on October 1st at 19:00 PM JST/ 18:00 MYT. 
The Golden Ticket concert will feature a special band by Yoshitaka Hirota and Akari Kaita, a performance by Shoji Meguro, a surprise special guest, and even more creator challenges. This event is backer-exclusive and can only be viewed by people who have backed the campaign by the time the campaign ends. Details regarding how to watch the stream will be provided in a backer-only update prior to the event.
Finally, both Armed Fantasia and Penny Blood creative teams have continued development on their games during the campaign and will be revealing new work-in-progress videos in the final World-Building Wednesday update, which is live now. 
If you'd like to gain access to any of these backers' rewards, it's still not too late to donate to the campaign. You can find the Armed Fantasia and Penny Blood Kickstarter page here.
---
Check This Out Next
---