As expected, the Arknights global servers for Japan, Korea and worldwide has revealed the details for the 1.5 anniversary celebrations. After some event recap, the "Who Is Real" event is confirmed, alongside its animated PV:
Who Is Real will begin 30 July, and comes with a new story event and associated limited Headhunting banner, Hidden Moon. New Operators arriving with the event are:
6-star: Caster Dusk (LIMITED), Vanguard Saga
5-star: Specialist Mr Nothing, Caster Lava the Purgatory (event)
6-star Limited Defender, Nian, will also be available in the pool
Lava the Purgatory is the game's first "alternate" character version. She cannot be deployed or in the base simultaneously with her 3-star variant.
New outfits will be released with the event:
18 OP: Nian, Aak
15 OP: Hung
Free: Whisperain
Other bits of news include:
Angelina, Warfarin, Gitano and Lava Operator Records
Free 10-Headhunting Ticket for Hidden Moon
Free single Headhunting daily during Hidden Moon's banner duration
Log in rewards, including Orundum, Sanity Potions, Headhunting Tickets
Lungmen Lucky Strips, for 200 to 800 Orundum daily
New Furniture Set, Tan-Ch'ing Court
New Annihilation map, Abandoned Mine
Paid special packs for resources
Last but not least, the Rainbow Six Siege collaboration event is also confirmed, for 18 August.
There will be new Operators to obtain:
6-star: Sniper Ash
5-star: Defender Blitz, Specialist Frost, Guard Tachanka (event)
A free 10-Headhunting Ticket will be claimable when logging in during the event period. There will be a story event, a new furniture set, and outfits too.
18 OP: Liskarm, Ash, Schwarz
15 OP: Tachanka
In celebration of the Arknights global 1.5 anniversary, new merchandise was also announced. A giveaway event will commence 26 July to 30 July, so stay tuned for that too.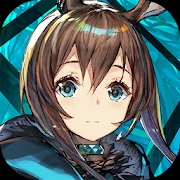 Arknights Global
Android, iOS
Take on the role of a key member of Rhodes Island, a pharmaceutical company that fights both a deadly infection and the unrest it leaves in its wake. Together with your leader Amiya, you'll recruit Operators, train them, then assign them to various operations to protect the innocent and resist those who would thrust the world into turmoil. Your tactics will determine the future of Rhodes Island. Fight for the Dawn!
---
Check This Out Next
---