So when I was a young journalist going to Journalist School in uni, we would learn a lot about advertising and primarily that advertisers do not sell you on a product, they sell you on an experience. The key example of this they would always use was Nike. Nike's shoes sold the experience of feeling like a winner so it's interesting to learn that Nike themselves were struggling in the early 80s and essentially took an all-or-nothing risk to sign on upcoming talent Michael Jordan, creating the Air Jordans and changing the sports industry as a whole in the process. That's the plot of Ben Affleck's latest movie, the business drama Air.
Air is a classic underdog movie (well as underdog as a million-dollar company can be). It sees one salesman attempt to risk his entire division breaking a number of policies and business etiquette for a seemingly impossible goal. It's gripping and the all-star cast gives it their all to bring these characters to life. It may be a little cliched and the lack of Michael Jordan in the movie is a little strange but overall, it jumps high.
The Impossible Deal
Set in 1984, Sonny Vaccaro (Matt Damon) is a shoe salesman at Nike Basketball which is currently falling in profits. While the company initially wants to sign three somewhat good basketball players, Sonny sees potential in a successful rookie player named Michael Jordan.
Jordan doesn't come cheap however, he costs far more than Nike can afford, competitors like Convers and Adidas also want him and he personally doesn't even like Nike. This is the story of Sonny convincing Nike CEO Phil Knight (Ben Affleck) to spend their entire budget attempting to court Jordan into signing and how they came up with the idea of building a brand around one athlete. 
The Rise of Nike
Air follows a tried-and-true rise-to-fame structure, some might even say a little cliched. If you've seen Ford vs Farrai, it's pretty similar. A struggling company formulating a plan to overcome a more powerful competitor. That being said I do find it interesting learning more about how Nike evolved as a brand and how they learned to use big-name athletes to endorse their products, even when it involved bending the rules of the sport. It, of course, takes liberties with the source material but from what I've gathered it's not too far off the real events. 
The film truly conveys what a dangerous and absurd proposal Sonny was making. He wanted the company to blow its entire 25K budget on one athlete and initially, no one wants to do it. If Jordan does not agree to sign with Nike, the basketball division could very well be shut down and everyone would be out of a job. The film perfectly captures the weight of this potential failure and it hangs over the characters throughout the film. This has to go through for them, it's all or nothing.
I also enjoyed watching Sonny's more underhanded tactics. He bypasses Jordan's agent and drives to his parent's house to ask his mother (Viola Davis) for a meeting. You see slowly win over the other company members bringing everyone together to beat the odds. It's very uplifting, and a little cheezy but satisfying to see through to the end. 
In The 80s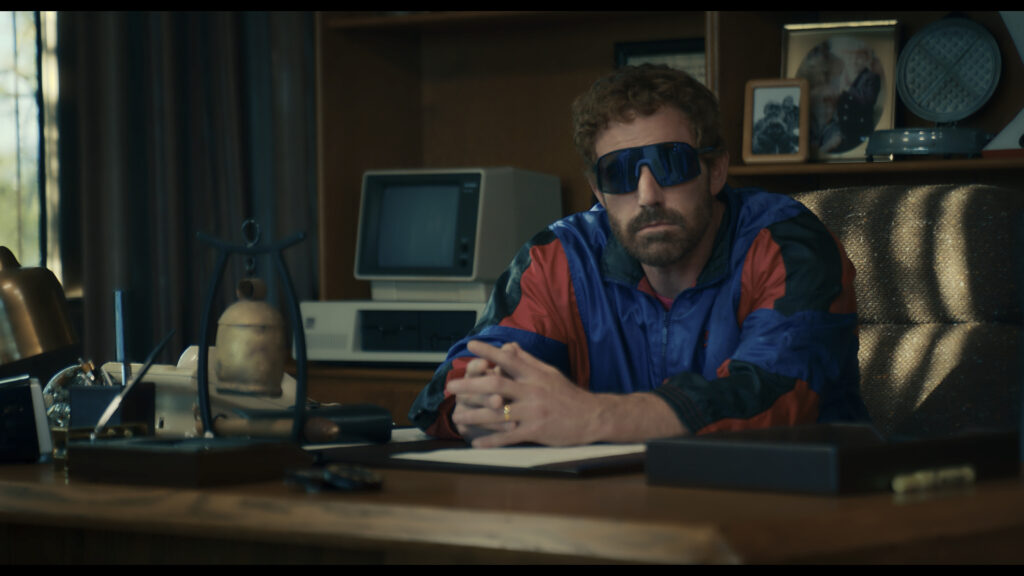 As a movie, Air is also pretty interesting in terms of its setting. Movies set in the 80s or based on 80s nostalgia are dime a dozen and it does indulge a little in the nostalgia with scene transitions involving stock footage from 80s ads or brands but there is some cool stuff.
For one I love the soundtrack. When a film opens with Dire Straits' Money For Nothing playing on full blast you just know you're in for a good time. I also really like the cinematography, the film attempts to replicate the darker grainy feel of 80s movies and makes the setting feel just a little more authentic to the time period.
The Sneaker Crowd
At this point, I really need to mention just how downright funny this movie is. The snarky back and forth between the different businessmen are often hilarious and humanizing, very reminiscent of shows like The Office or The IT Crowd. That all comes down to very excellent performances from each actor to bring these quirky colleagues to life. 
Matt Damon does wonders as the pudgy, quick-witted basketball enthusiast Sonny. He's an overly determined smooth talker who's willing to break the rules to get what he wants but he's also got a softer side. You can tell he truly loves basketball and wants only the best of the best for Nike. There's a scene near the end of the film where he looks around the office at all the workers and it dawns on him how they could all lose their jobs if this fails. You can see how much that weighs on him despite how adamant he is about going forward with it. 
The highlights of the rest of the cast include the stressed-out CEO Phil Knight with Ben Affleck showing his range as both a stressed boss that needs to toe the line yet also feels the need to rebel based on gut instincts. Matthew Maher is the eccentric shoe designer Peter Moor who plays the role with a sweet and funny obsession with making cool sneakers. Finally, there's Jordan's mother Deloris Jordan played by Viola Davis, who truly excels as the loving but firm mother that doesn't take any bullshit from these business types. Overall they brought in the cast of all-stars and it paid off, each gave a powerful performance as these dysfunctional but fun office workers.
Where's Michael Jordan
There is one other aspect of the movie that's bound to be divisive, however. Air is a movie about Michael Jordan, and it has little to no Michael Jordan in it. I don't just mean the actual person either, Jordan is kept out of the majority of the film, and even in scenes where he's present, he's kept off the camera. The only time we see his face is in stock footage of basketball games with the real Michael Jordan. It's almost silly at times like when the Jordan family is in a meeting, his parents will be talking to the business people while Michael is walking off camera staring at something on the wall. 
I don't know if there was a behind-the-scenes issue or if this was an intentional decision but it is noticeable. At the same time, however, this is a story less about Jordan and more about Nike, and in that vein, I can see what they're trying to do. 
Everyone around the world knows Michael Jordan. We know that he's one of the greatest athletes of all time. He's a legend and withholding him from sight, makes him feel like one. Everyone talks about Jordan, how great he is, and how far they know he'll go even though he hasn't played in the NBA at this point. It builds up just how important he is and how much this deal made history with him. The absence of Jordan is noticeable but it also creates an impact as the team gets closer to signing him.
You're Gonna Fly
Air is a delightful underdog movie that teaches some interesting history of the Nike and Jordan partnership. I have little to no interest in basketball or footwear and even I found it interesting just hearing about the history of the brand with the film succinctly explaining why this deal was so important. You may not see much of Michael but it explains why he matters and how the legacy he created affected the entire world.
Aside from that the movie is just well put together. Damon, Affleck, Davis, and the rest of the cast make these characters feel alive and far more than just suited in meetings that make you route for them through their struggles. Air is a good time overall with an uplifting mix of comedy and drama that is bound to put a smile on your face.
Air: Courting A Legend will start screening in cinemas across Malaysia on the 6th of April 2023.
---
Check This Out Next
---
The Review
PROS
Excellent performances all around from the cast
Brilliant underdog story that is intense yet meaningful
Funny office-style comedy
CONS
Not having Michael Jordan present does work for the film but still feels a little odd