Sometimes a blend of many genres can result in something beautifully original, and Affogato is one such concoction, mixing JPRG elements with café and daily life management while also having a unique reverse tower defense combat topping.
Published by Spiral Up Games, Affogato is the creation of developers Befun Studio and a JRPG that features a unique strategic reverse tower defense gameplay while also offering players the experience of running a café as a barista and socializing with various characters in your typical visual novel fashion.
Welcome to Café Witchery 
Affogato has you playing a Sorceress running her new café in Arorua City where she has to manage her debts with her Archdemon partner, Mephista. As the coffee aroma attracts customers to her shop, Affogato will meet various people of different backgrounds and she will have to help them overcome their inner demons through witchcraft, resulting in a reverse tower defense combat sequence.
The quirky character dynamic is undoubtedly a highlight of the game, playing off with a lighthearted tone with its humor such as Affogato's repeated objection to other characters mislabeling her magenta hair as red or the various banters with Mephista. Each character feels multi-dimensional, especially with the amazing job of the voice actors defining their personalities.
Progression-wise, Affogato clearly takes inspiration from the Persona series with its day-to-day life simulation where players have to decide how to spend their time and fulfill objectives on a given date, whether through serving cups of coffee to customers or out socializing in the night city.
Espresso Yourself Through Art
As the title may suggest, coffee is a core theme in Affogato and the coffee-brewing simulator is arguably one of the best features. A rather simple mode that breaks up the game for a tranquil moment for you to brew cups of coffee without time restrictions, guided by clearly written recipe instructions to serve well-illustrated pieces of beverage art.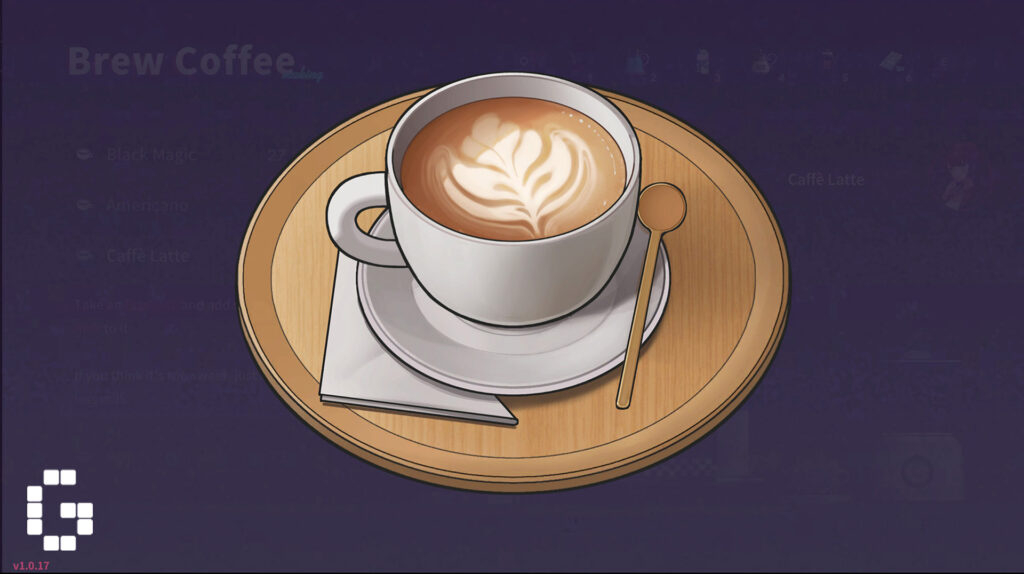 Speaking of illustrations, like a well-presented cup of latte art, the visual direction of Affogato is played to perfection, from its anime-style character art to the user interface. Despite having a variety of aesthetic choices, each art style falls into place to define various aspects of the game's visuals, blending both 2D and 3D without feeling jarring.
Its auditory design also complements the overall experience, enchanting the mood of each moment, ranging from the coziness of Affogato's café to the upbeat main menu melody. Each piece of music is composed to elevate the atmosphere, combining with the visual art to craft an artistic experience.
Tower Defense But In Reverse
The game wears its key feature with pride, having an innovative take on the tower defense genre whereby instead of being the ones to defend, you are the aggressor trying to dismantle the enemies' formation. Combined with strategic deck-building elements, you summon Tarot cards like The Chariot, Tower, and so on in the form of chibi characters onto a point using a resource known as Penta.
Once deployed, your units will then automatically stroll along a given path and interact with any enemies they get close to. As your units slowly scuttle their way through the arena, you can alter their routes and like any good tower defense game, your decisions are critical to your success.
On your first few attempts, the tower defense gameplay may feel daunting, especially when the tutorial does not guide you clearly on the combat basics. Fortunately, after a few struggles, you will eventually get used to the taste of its uniqueness.
While as cool as the concept is, the gameplay can get frustrating because aside from route alterations and deployments, everything else is automated. That means you have no control over what your units do and they have no way to evade attacks. Your Tarot cards also have no active abilities, resulting in dull moments where you just sit, watch, and hope they gained enough charges to activate skills automatically at the right time.
Furthermore, Affogato is also not generous with its Penta resources so one wrong deployment can result in an immediate game over and a forced restart of the level. While there is a key to closely follow your units as they move, I do wish that it was an automated camera toggle rather than having the need to hold the button.
Ambitious Blend 
Like a witch's cauldron, Affogato stands its ground as a unique JRPG, bringing originality and creative twists to various genres, especially the tower defense mode, and blending them up into one ambitious game. As you follow Affogato's adventure, you are greeted with delightful fun character moments, a soothing soundtrack, and eye-catching visuals.
That said, while the game handled many of its ambitious aspects with finesse, it does have its fair share of hiccups that leave a bitter taste that taints the overall experience. Despite placing its reverse tower defense gameplay on its marketing podium, you will not get back into the mode for a while after the initial prologue and its repetitive level elements leave very little to be desired. There is also a nitpick of mine in which you have no access to the menus during dialogues, thus you have no power to save and quit the game during specific moments.
All in all, like an aromatic cup of morning coffee, Affogato is a good pick-up for a relaxing day of playthrough. If you can overlook some of its rough edges and approach the game with patience, Affogato will provide a truly unique experience that you cannot find anywhere else.
Affogato
Microsoft Windows
Affogato is a RPG revolving around a sorceress juggling with the running of her new café, managing her debts, meeting customers from all walks of life, and ultimately helping them overcome their greatest fears and secrets by burrowing deep into their minds. Enjoy a story-rich RPG featuring an innovative 'reverse tower defense' mechanic and beautiful anime graphics.
---
Check This Out Next
---
The Review
Affogato
PROS
Fun dynamic character interactions and delightful humor
Relaxing coffee-making game mode
A visual splendor where every art style blends well together
Excellent soundtrack that complements the game well
One-of-a-kind reverse tower defense gameplay
CONS
Unclear tutorials
Reverse tower defense combat can feel frustrating due to the lack of controls
Repetitive tower defense combat elements
Not able to quit or save at specific dialogue moments