Xiaomi announced that its latest 13T Series smartphones will be launching in Malaysia and pre-orders will be available soon.
As revealed, the Xiaomi 13T Series will be available for pre-order starting on 27 September 2023 at a starting price of RM 1799.
The Xiaomi 13T Series is said to be equipped with optimized performance architecture and features a lasting battery life and Leica's camera technology.
Technical Specifications
Xiaomi 13T
Xiaomi 13T Pro
Processor
MediaTek Dimensity 8200U
MediaTek Dimensity 9200+
Display
6.67inch Display with 144Hz AMOLED Dynamic CrystalRes Refresh Rate
Storage
From 8GB LPDDR5 RAM / 256GB Internal storage
Rear Camera
50MP+50MP+12MP Rear Leica Co-Engineered camera with OIS
Front Camera
20MP Front Selfie Camera
Battery
5000MaH Battery + 67W/120W Fast Charging
Design
IP68 Certified for Water & Dust Resistant
The Xiaomi 13T Pro comes powered by a MediaTek Dimensity 9200+ chipset with an Octa-core CPU, up to 3.35GHz, and has a built-in Arm Immortalis-G715 GPU.
Meanwhile, the Xiaomi 13T is equipped with a MediaTek Dimensity 8200-Ultra, built for power efficiency utilizing the TSMC 4nm process enabling CPU and GPU performance.
Thermal dissipation on the 13T Series is improved with a 5000mm2 VC stainless steel soaking plate, keeping the phones cool.
Additionally, both devices have fast-charging capabilities with the 13T Pro supporting Xiaomi 120W HyperCharge.
Developed with ISP (Internal Shortage Precaution), SOA (Safety Operating Area), and DTPT (Dynamic Turbo Power Technology) technologies, the 13T Series ensures safe usage of the large 5000mAh (typ) battery.
Design
Both the Xiaomi 13T Pro and Xiaomi 13T are available in 3 color options, Alpine Blue, Meadow Green, and Black.
The back panel of the Alpine Blue model features premium Xiaomi BioComfort vegan leather with a soft and delicate texture, contrasting the glossy glass back panel of the Meadow Green and Black models. 
Both smartphones have an IP68 rating, providing water and dust resistance.
Furthermore, the Xiaomi 13T Series will come include 4 generations of Android OS upgrades, as well as 5 years of security patches.
Leica Camera Technology
Co-engineered with camera manufacturer Leica, the 13T Series will incorporate a triple camera setup featuring Summicron lenses.
The lenses include a 50MP wide-angle camera with a 24mm equivalent focal length and a 7P aspherical lens that is designed to capture more light supporting high dynamic range shooting, as well as a 50MP telephoto lens with a 50mm equivalent focal length.
Furthermore, the phones will feature a 12MP ultra-wide-angle camera with a 15mm equivalent focal length that is ideal for taking panoramic shots and landscape photography.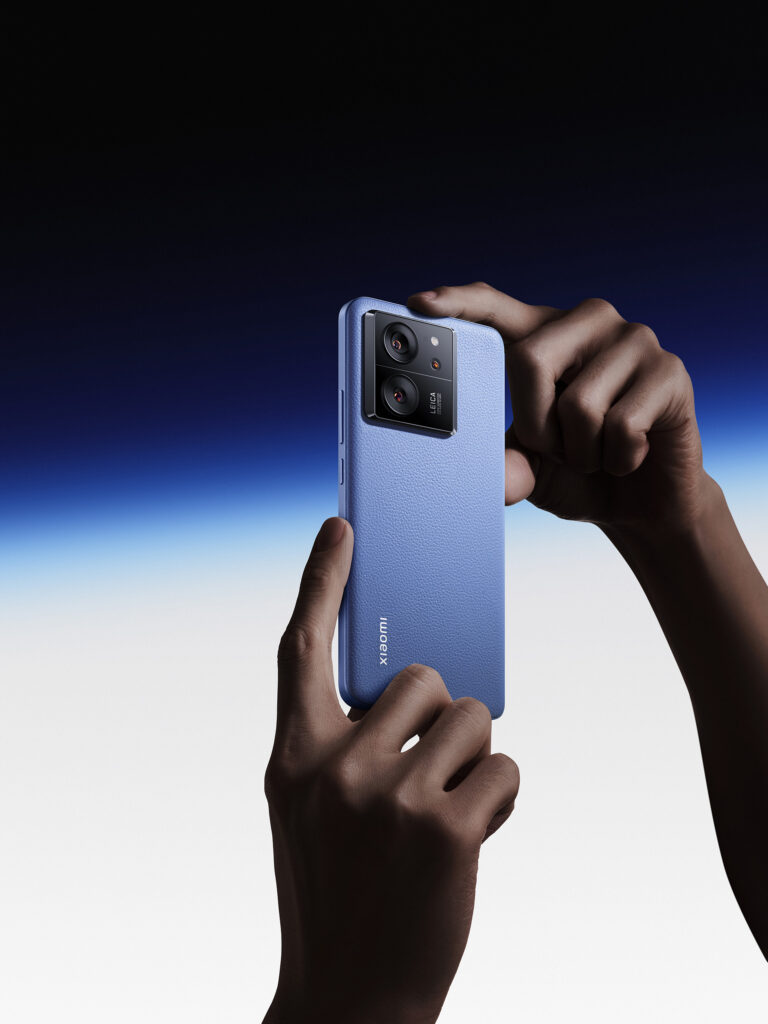 According to Xiaomi, both the 13T Pro and 13T cameras are powered by a 100% DCI-P3 wide color range.
The 13T Series aims to deliver 2 original photographic styles, Leica Authentic Look and Leica Vibrant Look, both claimed to provide images with natural color reproduction, strong contrast, and shadow definition.
The camera will also feature up to 6 Leica filters that pay homage to the brand's imagery, including Leica Sepia and the Leica Blue adapted from LeicaM-Typ240 Film Mode.
On top of that, the 13T Series will also offer 4 new Leica watermarks for more choices of photo compositions and frame sizes.
Additionally, the 13T Series also features Custom photographic style functions under Pro mode, providing options for users to adjust Tone, Tonality, and Texture at the preset stage while retaining details and colors for post-processing.
Featuring Xiaomi ProFocus technology, the smartphone is said to allow photographers to capture action with a high level of detail, from close-up shots of fast-moving subjects to images of people and locations.
Videography 
Aside from photography, the camera offers a 10-bit LOG 4:2:0 H.265 video recording, as well as the pre-installed Rec.709 LUT that is said to render film in more accurate color.
Xiaomi revealed that the 13T Pro is capable of 8K video shooting and equipped with a 50MP wide-angle camera that supports both OIS and EIS, stabilizing footage in the midst of movement.
On the other hand, the Xiaomi 13T rear cameras support 4K video recording at all focal lengths, along with editing tools through the use of the Xiaomi Gallery application.
The Pro mode of the Video editor feature in the Xiaomi Gallery application has the ability to edit soundtracks and captions as separate tracks, ideal for users to create short videos for social media platforms or vlogs.
Visual and Audio 
For viewing experience, the 13T Series comes with a 6.67″ CrystalRes Display that supports up to 144Hz refresh rate and a 1.5K (2712 x 1220) resolution.
Using a 1200nits high brightness display, the smartphones feature a peak brightness of up to 2600nits.
In addition, the smartphones also offer 100% DCI-P3 coverage with support for 68 billion colors, providing HDR10+ compatibility, which enhances the contrast between dark and bright parts of images.
When it comes to the auditory experience, the 13T smartphones support Dolby Atmos with built-in dual speakers.
Users of the 2 devices are eligible for 100GB of Google One cloud storage for a 6-month trial and 3 months of YouTube Premium, providing ad-free access to YouTube and YouTube Music.
Price and Availability
The Xiaomi 13T Series smartphones will be available for pre-order starting from 27 September 2023.
For a limited time, customers who purchased any Xiaomi 13T Series smartphones from 27 September 2023 to 6 October 2023 will be gifted with a package that includes a free screen replacement (within 6 months upon purchase) worth RM 299, a 100 GB cloud storage on Google One for 6 months, and 1+1 years of extended warranty.

Products
Normal Price
Pre-Order Promotion
Xiaomi 13T Pro (16GB+1TB)
RM 3,499
In-Store Purchase - FREE Xiaomi Smart Band 8 (worth RM 199) + Photography Gift Box (worth 299) | Online Purchase - FREE Redmi Buds 4 Pro (worth RM 369) + Xiaomi Smart Band 8 (wroth RM 199)
Xiaomi 13T Pro (12GB+512GB)
RM 2,699
Xiaomi 13T Pro (12GB+256GB) [exclusively at official Xiaomi stores on Lazada and Shopee]
RM 2,499
Xiaomi 13T (12GB+256GB)
RM 1,999
Xiaomi 13T (8GB+256GB) [exclusively at official Xiaomi stores on Lazada and Shopee]
RM 1,799
Xiaomi 13T Pro and Xiaomi 13T are available for purchase at Authorized Xiaomi Stores and other official retailers in Malaysia and at official Xiaomi stores on Lazada and Shopee.
---
Check This Out Next
---