After the bugfest that was WWE 2K20, the yearly wrestling game series took a 1-year break and returns with WWE 2K22 — here's our review.
Developed by a new studio, Visual Concepts, WWE 2K22 is available on PS5, PS4, Xbox Series X and S, Xbox One and PC Via Steam. Note that this review of WWE 2K22 is based on the PS5 version.
With that out of the way, let's climb into the ring and get into this WWE 2K22 review!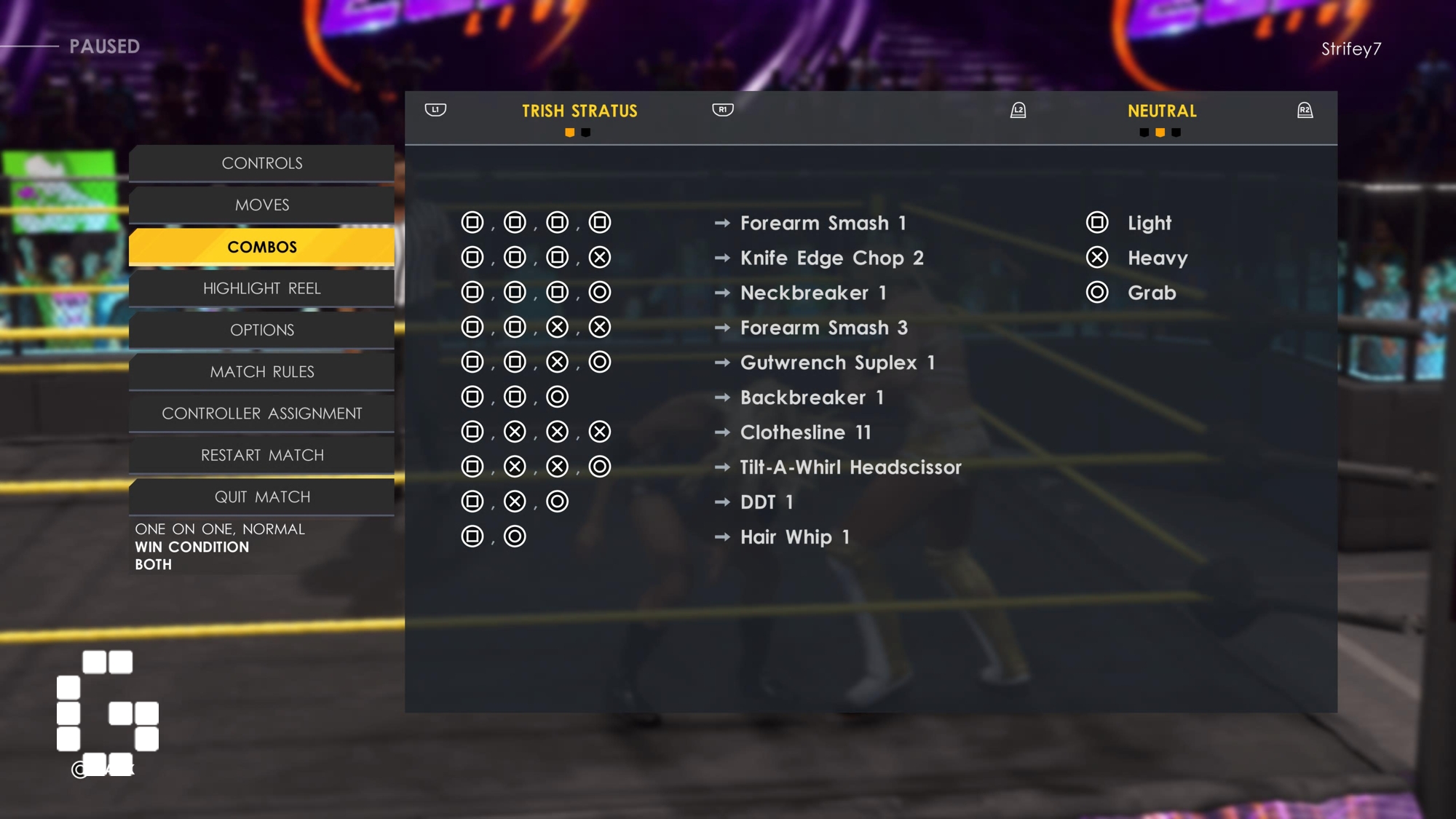 Combat
Setting this wrestling game apart from all its predecessors is its combo system. Combat has been completely overhauled with a fighting system that somewhat resembles that of Street Fighter or Mortal Kombat. Depending on the combination of inputs you use, your wrestler can pull off various combos and techniques.
While WWE 2K22 is still considered a sports game and is definitely not a fighting game like Tekken, the combat fits the wrestling well. Overall, it does feel a lot more beginner-friendly and intuitive. Reversals aren't too hard too pull off, but you can't parry attacks mid-combo, so the combat feels balanced, too.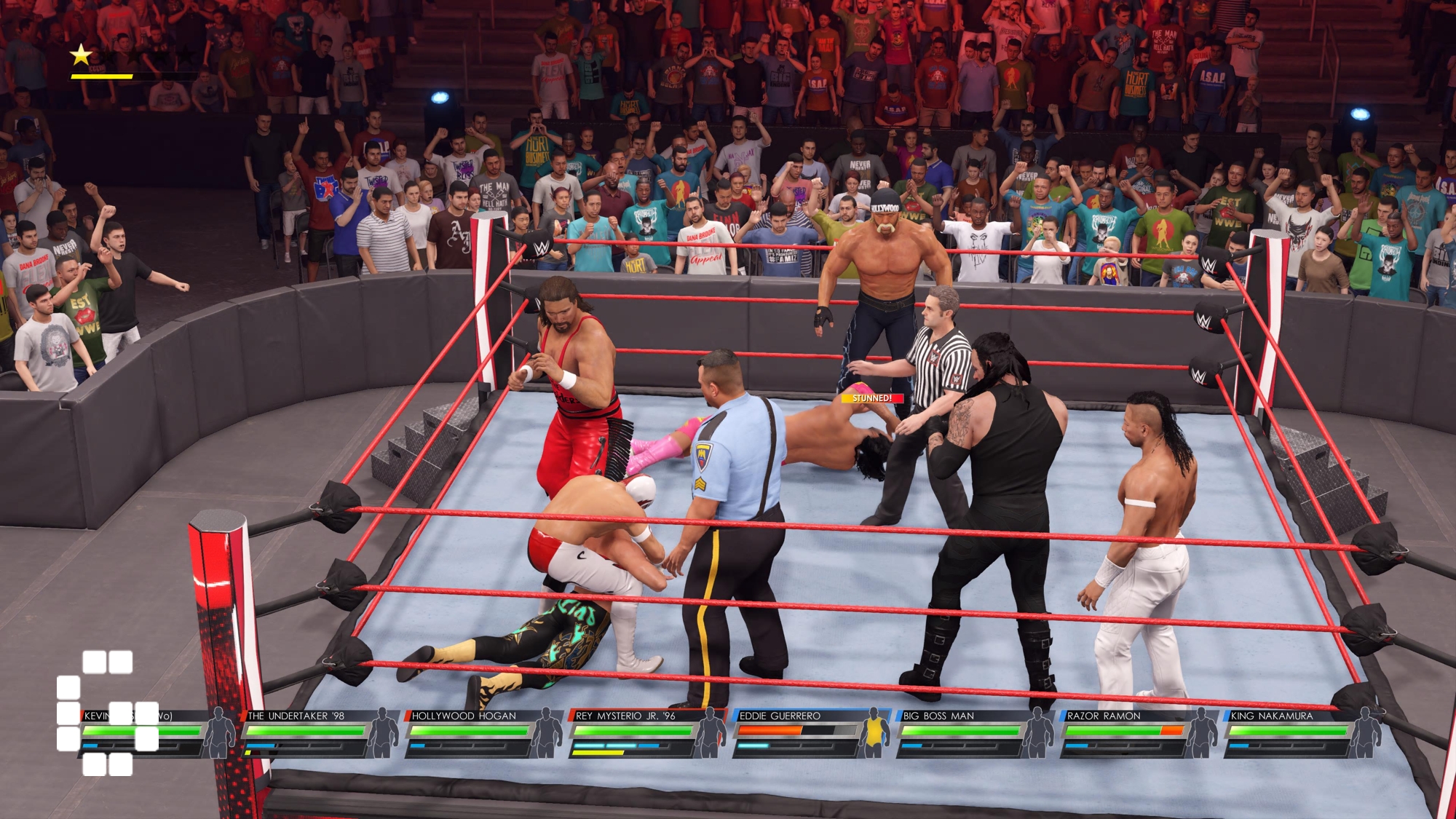 For better or for worse, you can't hit your opponent when he or she is in the process of getting up. This isn't like a fighting game where characters recover from the ground extremely quickly—wrestlers in this game get up slowly. While this is accurate to what we see on TV, I do find it frustrating that our attacks simply phase through the target during the "getting up" animation.
Also, wrestling fans will be disappointed to find out that there are only 172 playable characters, including DLC. This is a lot smaller than WWE 2K20's roster of 238 characters. Understandably, WWE in real life has shrunk as well due to the rise of AEW, but not being able to play as some of your favourite wrestlers is still a bummer.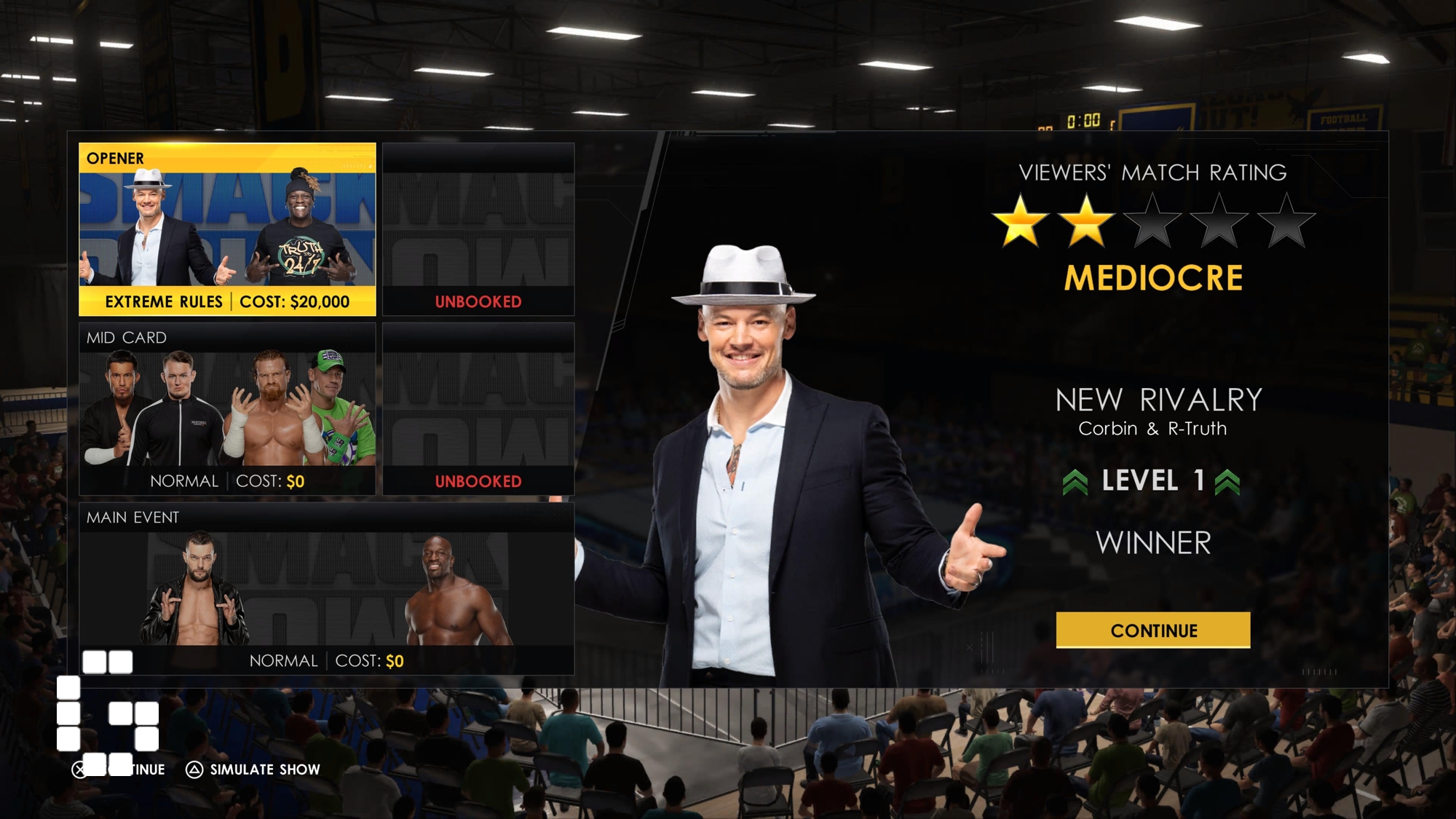 Game Modes
Combat aside, there are new and overhauled game modes in WWE 2K22. There's MyGM, a mode that finally made a return since WWE SmackDown vs. Raw 2008. You play as the General Manager who manages one of three WWE branches like SmackDown, RAW, or NXT. Unlike other similar modes in sports games where you aim to win the league or trophies, the objective of MyGM is to get good TV ratings and rake in the profit. Overall, this mode is great for WWE fans, but for those who don't know anything about the wrestling business, the mode does little to help you understand how it works, which is a shame.
There is also MyRise, previously known as MyCareer in earlier titles. This is the "story mode" of the game where you can create your custom character and rise into wrestling stardom. It's not the most compelling mode in the world, but it does a decent job at capturing the drama and hilarity that arises from WWE. The biggest issue of this mode is it forces you to create a new custom wrestler from scratch. You can't use an existing custom character in this mode, nor can you use your MyRise character in other modes. Honestly, it feels really dumb that such a restriction exists.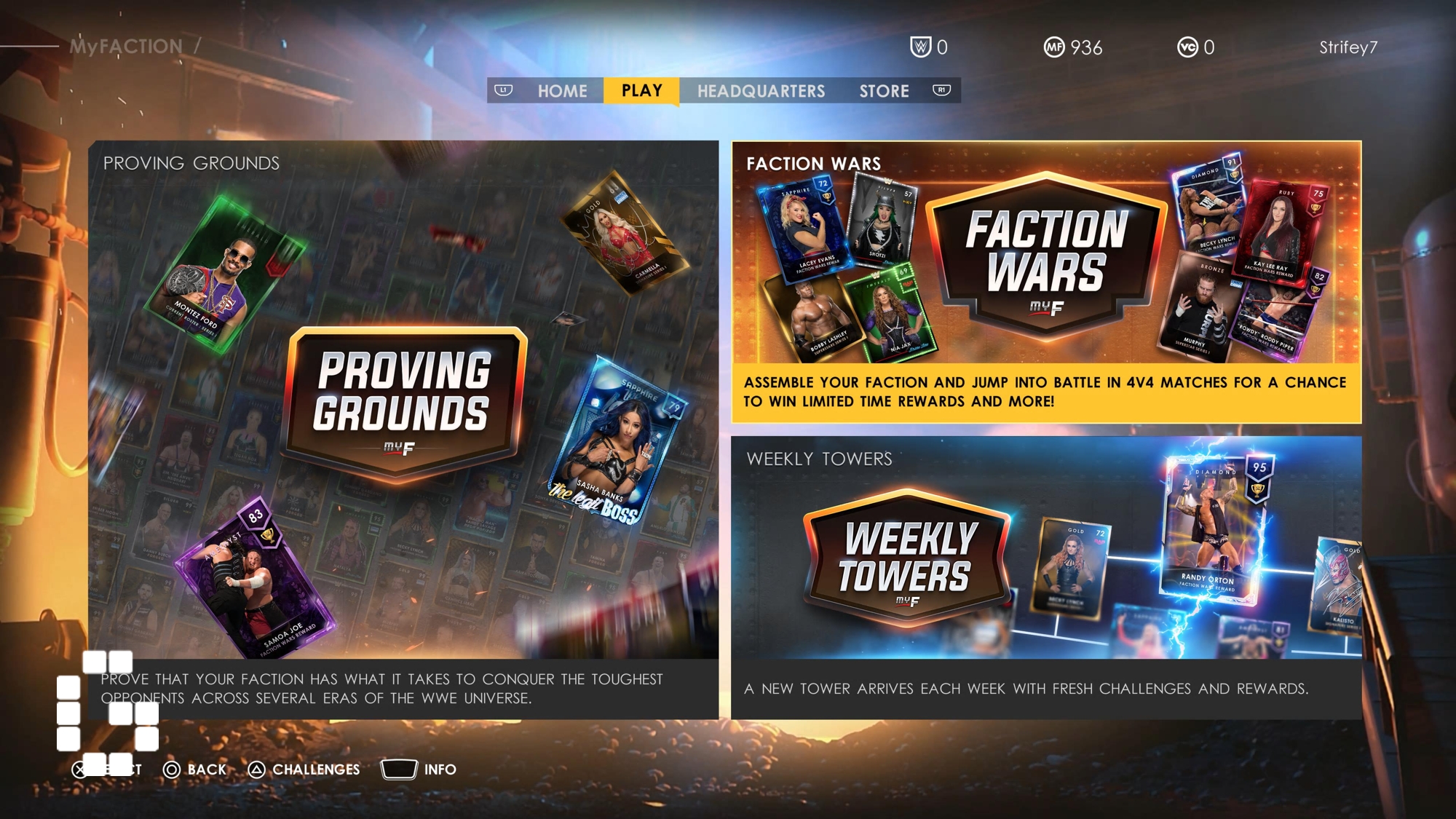 An entirely new mode making an appearance in the game is MyFaction, which is basically WWE 2K22's equivalent to FUT from FIFA. The difference is that instead of competing against players online, you fight against the AI with various challenges. MyFaction has players creating a faction consisting of wrestlers from the Men's Division and Women's Division as they take on various challenges and fights. Even at the highest difficulty, MyFaction is very easy, so there's no real incentive to buy packs or to use rare cards.
While there are other modes like Showcase where you play as Rey Mysterio as well as Universe, my biggest gripe with WWE 2K22 during my time playing it for this review is how self-contained each mode is. You can't import or export custom characters in and out of MyRise, neither can you use the unlockables you got from MyFaction in other modes.
Character Customization
This has always been the highlight of the WWE games. The degree at which you can play around with the character customisation tools have always been incredible. While WWE 2K22 still features a robust character creation engine, there are some changes that make it feel weaker than previous iterations, such as being forced to choose preset body types instead of playing with a slider to select the exact size you want.
However, the biggest issue with customisation is that the game removed the ability to create your own character's entrance. Instead, you have to pick from actual wrestlers' entrances. Also, custom music is also gone. These are some of the most exciting parts of building your unique wrestler and it's really disappointing that WWE 2K22 doesn't have them.
Graphics and Performance
Visually, the game has been overhauled to look better than previous games, which is a step up. However, the graphics aren't amazing by any means. They've been improved, but aren't anything special.
The biggest issue is the animation. Most of the animation in the game looks janky and just flat-out bad. When characters speak, their mouth sometimes does not sync with the words they're saying.
Performance-wise, I didn't experience any noticeable frame rate drops or major issues. The game ran great on PS5, but note that it doesn't utilise DualSense features like Adaptive Trigger or Haptic Feedback.
Closing Thoughts
That's all for this review of WWE 2K22. For every step forward the game takes, it also takes two steps back in terms of the actual execution. I have mixed feelings about WWE 2K22. While it is better than WWE 2K20, it really feels like it could have turned out so much better without the issues plaguing its animations, customisation and just about every mode.
For more details, visit the WWE 2K22 website.
| | |
| --- | --- |
| Pros | Cons |
| Solid combo system | Animation is still bad |
| Plenty of new modes and content | Removing custom entrances and music is a mistake |
| Visual improvements and runs great on PS5 | Gameplay modes are too self-contained and have their own issues |
---
Check This Out Next
---