Pokemon is undoubtedly a juggernaut of a franchise, stemming across countless multimedia projects from the mainline games, anime, movies, card games and more. However, there's one particular project that I don't see people talk much about is the Pokemon Adventures Manga.
Written by Hidenori Kusaka, Pokemon Adventures brings readers into the mythical world of Pokemon; retold across several story arcs which roughly follows the mainline games, with each arc featuring their own cast of characters and the occasional returning ones.
Sure, that sounds neat and all but what exactly does the manga do differently as compared to the mainline games and anime? Let's discuss.
The Generational Shift
As I mentioned previously, each of the story arcs loosely follows the events in the games. However, what differentiates the manga with the games is how it takes the existing stories laid out in the mainline titles and expands upon them, in terms of both story beats and characters.
We all know the story of Pokemon Red and Blue, we set out on our journey to collect the 8 Gym badges and stop Team Rocket from exploiting Pokemon for profit. But what if I told you that Team Rocket are actually conducting illegal experiments on Pokemon that involves genetically fusing the three Legendary birds; and that several gym leaders are actually in cahoots with the evil organisation.
The Pokemon Adventures manga builds upon an existing story by adding genuinely well-written characters that get development throughout the story. In the first story arc, we mainly follow Red, the bright-eyed but slightly cocky trainer. Throughout the chapters, we see Red grow as both a trainer and a person. This is especially apparent in the later chapters where Red faces off against his more serious counterpart – Blue in the Pokemon League, where both of them learned from each other and applying it during battle, ultimately becoming better people and better trainers.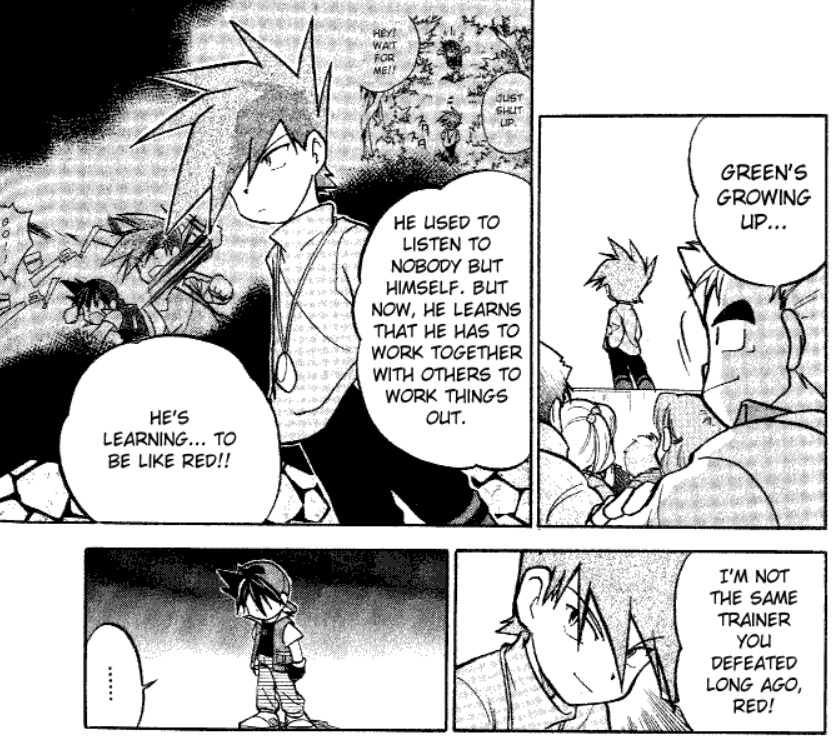 The manga also isn't afraid of telling a story with some more mature tones, despite having a cartoonish artstyle. One example being in the chapter featuring the infamous Lavender Town, we see the corpses of Pokemon being re-animated into twitching zombies from a Gastly's fog.
In another story arc, we learnt that the Cinnabar Island gym leader had used his own DNA to create Mewtwo, which in turn caused a tumor on his arm that would slowly kill him if he doesn't stop Mewtwo.
This all may sound wild at first but the mainline games had always flirted around with these ideas of genetic engineering and psychic powers, the manga manages to expand upon them and filters them in a more kid-friendly version.
The Heat of Battle
Adventures also manages to capture the core appeal of the franchise, the Pokemon themselves. Throughout the series, we can see distinct personalities of the Pokemon of our main characters which makes these monsters feel much more alive. From Red's friendly Poliwhirl, to his shy and playful Bulbasaur, and even a sassy and strong-headed Pikachu that pretty much reflects his trainer's personality.
We can also see this reflected with Blue's party members being the more serious type through rigorous training regiments, and with Green's Pokemon being more on the mischievous type. There's also instances where the Pokemon themselves getting their own character development. An example being during the fight against Lt. Surge, Red's Poliwhirl had evolved into Poliwrath to save his trainer from drowning, which was a similar scenario to an incident back in Red's childhood.
The manga also does an excellent job with showing off Pokemon battles. They go past the conventional turn-based combat we're so accustomed from the mainline series titles and feature more intense fights much like in the anime. Fights feel more involved and shows off more creative and strategic implementations, which makes it feel like a battle you can normally see in Shonen fights where characters need to think of when,where, and how they choose to perform their next move.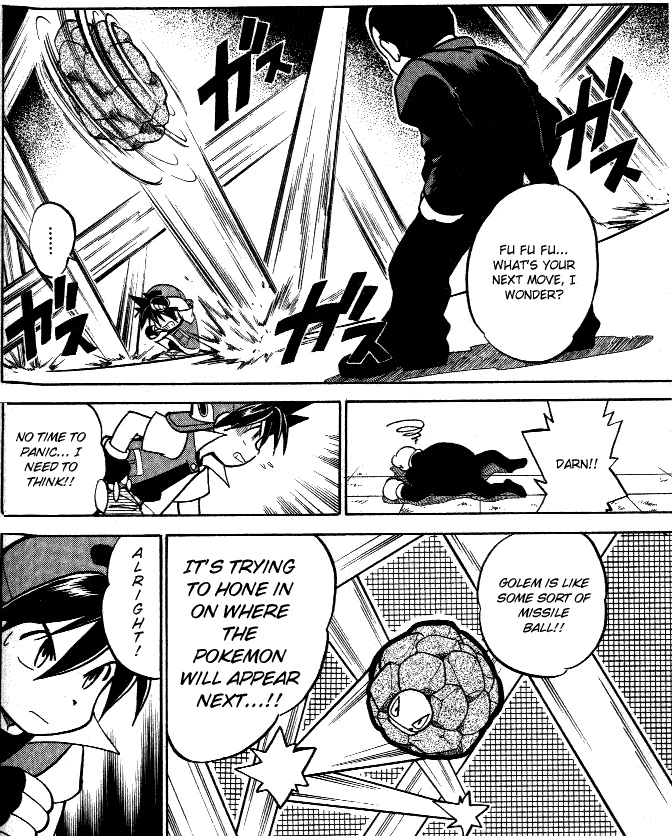 Fights often don't just only put the Pokemon in danger but their trainers as well. Time after time we see Red dancing around danger from his encounters with Team Rocket, so far as to being close to death multiple times.
Join On The Adventure
Pokemon Adventures is still going strong, even after more than 20 years of serialisation. With new volume still being published today, following through the various generations and regions of the mainline games, each story arc makes for a nice starting point for newcomers who might recently be introduced to the franchise, as well as rewarding veteran readers by bringing back past characters as they play the part of a mentor figure to the new trainers.
All in all, if you enjoy the Pokemon franchise even just a little bit, I can guarantee that you'll find enjoyment in the manga. It manages to capture that whimsical feeling of the series and is not afraid to push the character's limit, but still encapsulates that naivety without crossing the borders of being adult fare.
---
Check This Out Next
---