Hori-san to Miyamura-kun or Horimiya is a Japanese Shonen web manga series which will be getting an Anime adaptation which will be set to premiere in January 2021.
Horimiya Web Manga Overview
Written and Illustrated by HERO, the original web manga was initially released on February 2007 on HERO's website Dokkai Ahen as a four-panel (4koma) format.
The plot of Horimiya revolves around the main heroine, Kyoko Hori who is a bright and popular high school girl, and the other main character, the gloomy and apparently nerdy-glasses wearing guy Izumi Miyamura.
Outside of school, Hori is a homebody who dresses down and takes care of the household and her younger brother Souta. She tries to keep this a secret from her classmates. One day when Souta returned home with a nosebleed, he was helped by a guy who has a bunch of earrings and tattoos as well as a punk-styled look. The guy recognizes her and reveals himself to be Miyamura. The two agree to keep their real personas a secret from their schoolmates, but start relating to each other as friends and later as a couple.
Anime Adaptation
Set to be premiered in 2021, the studio behind the adaptation is CloverWorks. CloverWorks had also work on other titles such as Darling in the Franxx, Rascal Does Not Dream of Bunny Senpai and The Promised Neverland.
While there is still very limited information on the anime adaptation, they did reveal the Voice Actor and Voice Actress for Miyamura and Hori which can be found on the official website.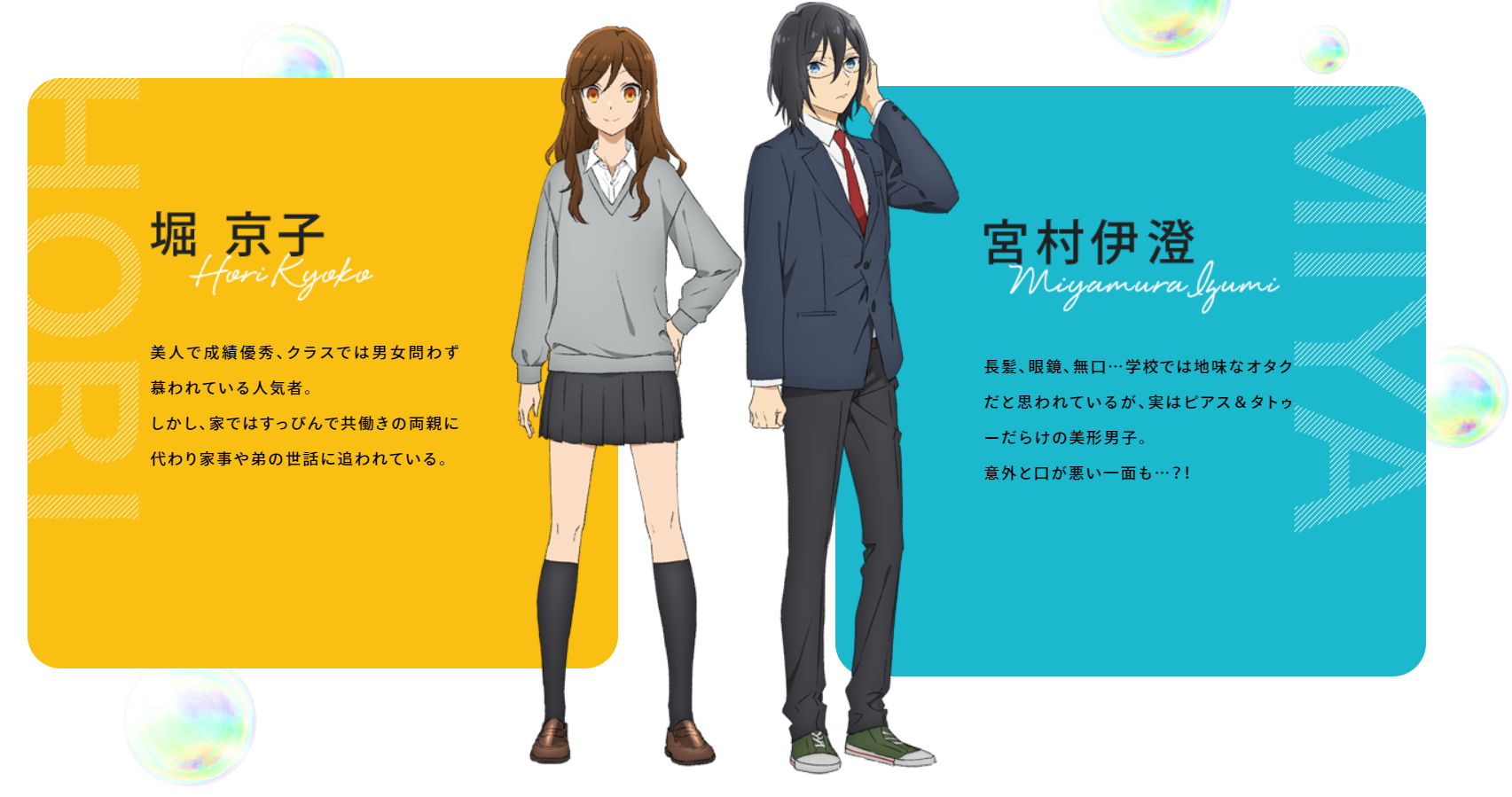 Izumi Miyamura is voiced by Koki Uchiyama who also voiced Raku Ichijou (Nisekoi), Tomura Shigaraki (My Hero Academia) as well as the more recent Khun Hachuling (Tower of God). Meanwhile the voice actress who will be voicing Kyoko Hori is Haruka Tomatsu who also voiced Asuna Yuuki (Sword Art Online), Zero Two (Darling in the Franxx) and Lala Satalin Deviluke (To Love Ru).
---
Check This Out Next
---