Ubisoft has announced a new update for Watch Dogs Legion, which adds zombies as well as performance fixes on all the game's platforms, available today.
Title Update 4.5 features Watch Dogs: Legion of the Dead, a brand-new online PvE mode currently in Alpha phase on PC.
The update brings zombies into Watch Dogs Legion, along with a slight twist to the game's usual gameplay.
Watch Dogs: Legion of the Dead delivers a rogue-lite experience where players will have to "Survive-as-Anyone" against the looming threat of the undead and hostile living roaming the re-imagined fallen city of London.
In solo or up to four friends in co-op, players will need to strategize on how to reach the extraction point for each run and gather as many supplies as possible along the way. Players can use abilities such as the Bee Swarm to decimate enemies, the AR Cloak to escape threats, and a Combat Spider-Bot equipped with a turret for protection.
The update also includes other free content across single-player campaign and online modes:
Online mode:
Tactical Op 2: Project Omni is an intense and challenging mission which will require players to strategize with their team of four to infiltrate a secret project to find out why Londoners' Optik devices are negatively affecting their brains.
Single-player campaign and online modes:
A free download of everyone's favorite gran, Helen (available June 15).
60 FPS on new-gen consoles via Performance Mode.
Cross-gen play.
New Free Reward Track, with outfits, weapon skins, and more.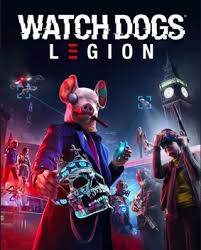 Watch Dogs: Legion
Epic Games Store, Microsoft Windows, PlayStation 4, PlayStation 5, Stadia, Xbox One, Xbox Series X|S
Build a resistance from virtually anyone you see as you hack, infiltrate, and fight to take back a near-future London that is facing its downfall. Welcome to the Resistance.
Recruit and play as anyone in the city. Everyone you see has a unique backstory, personality, and skill set.
Hack armed drones, deploy spider-bots, and take down enemies using an Augmented Reality Cloak.
Explore a massive urban open world featuring London's many iconic landmarks and fun side activities.
Take your recruits online and team up with your friends as you complete missions and challenging endgame content.
---
Check This Out Next
---