Popular game dev engine Unity has come under fire after announcing their partnership with ironSource, with many developers angry at the latter's unsavory reputation.
We're thrilled to announce that we have entered into an agreement to merge with ironSource to accelerate a unique end-to-end platform that powers creators' success! Learn more on our blog. https://t.co/bYpc1WmgFa

— Unity for Games (@unitygames) July 13, 2022
For those not in the know, IronSource is a documented developer of Adware, including the IronCore software which targets Macs.
Based on Unity's description in a blogpost, that ability to put ads might be the direct reason for the merger, as they highlight the company as being an expert of marketing and monetization.
"ironSource's suite of tools and solutions provides the majority of the world's top games and many of the leading non-gaming apps with the monetization, marketing, analytics, and discovery capabilities they need to build and run scalable app-based businesses", Unity says.
It should be noted that their premier product, InstallCore, is actually recognized as malicious- programs like Windows Defender and Malwarebytes will not allow you to run it.
Over on Twitter, game developers have been promoting alternative development software as a sign of protest, with an 828-328 ratio (quote retweets to likes).
"This comes after recent lay-offs and tons of internal mismanagement, things are not looking good for Unity", writes Giuseppe Navarria, Tech Design Director at Splash Damage.
Another indie dev by the username E1ven_Lord also tweeted his frustrations, saying he'd opt to change engines entirely.
"Holy shit. Wow. This is unprecedented and incredibly worrying with what the company Unity is attempting to merge with is like. Guess I have to move to Unreal", he writes.
Many are even taking the opportunity to promote Godot- an open source game development engine.
Finance World Reacts To Unity Buying IronSource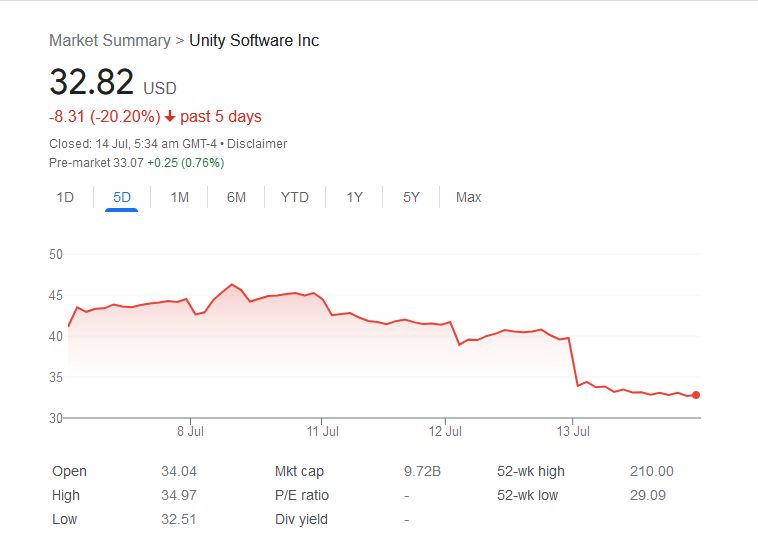 Of course, it's not just people on Twitter unhappy with the decision- Unity's stock has also seen a plummet today, down 6.9 points (17.39%) since the announcement was made this morning, and a total of 8.31 points (20.20%) in the past 5 days.
Considering it's the stock market we're talking about, it might not be a moral objection to IronSource that's tanking the Unity stock- PC Gamer reports that Unity is shelling out 4.4 billion dollars for the developer, and the share price might be indicative of investors thinking the company is being overvalued. Considering the company has faced layoffs after another high-profile purchase, this theory holds water.
---
Check This Out Next
---