With a new banner refresh that will last until 19 November 2021, we have the addition of Tosen Jordan to the Uma Musume: Pretty Derby lineup.
プリティーダービーガチャとサポートカードガチャ開催です!

【新登場の育成ウマ娘】
★3トーセンジョーダン

【サポートカード】
ジャパンカップで勝利したキャラクターからピックアップ!
SSRキタサンブラック
SSRエルコンドルパサーhttps://t.co/BabkLggHjx#ウマ娘 #ゲームウマ娘 pic.twitter.com/rf7Am2Ql9H

— ウマ娘プロジェクト公式アカウント (@uma_musu) November 8, 2021
We return now to more staple offerings in terms of distance and strategy, as Tosen Jordan, on paper, will serve the role of either a leader or betweener. With that in mind, the latter might be preferable due her having the best acceleration ability for that strategy, though some tweaking in terms of inheritance will be required. She is best suited to run in the medium distances, although she can easily do her job for the longer tracks too, if you so choose.  Her unique character ability is fairly straightforward in that it activates during the final corner, granting you a speed boost if you overtake or get overtaken. Overall, Tosen Jordan is not too shabby, although you may wish to use your precious carrots to roll in the support banner instead, as the much sought after Kitasan Black is having a rate up. Of course, if the gyaru aesthetics pleases you, don't let us stop you.
Uma Musume: Pretty Derby is currently available on Android and iOS for mobile, and DMM Games for the PC.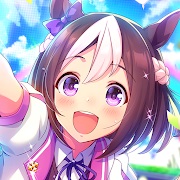 Uma Musume: Pretty Derby
Android, iOS
Horse girls take to the track! Train up these cute horse girls to be the best of the best.