With a new banner refresh that will last until 11 October 2021, we have the addition of the Halloween alts for Rice Shower and Super Creek to the Uma Musume: Pretty Derby lineup.
新しい育成ウマ娘ガチャ・サポートカードガチャ開催です!

【新登場の育成ウマ娘】
★3ライスシャワー
★3スーパークリーク

【新登場のサポートカード】
SSRタマモクロス
SSRゼンノロブロイhttps://t.co/xmNdcCA5Qe#ウマ娘 #ゲームウマ娘 pic.twitter.com/raOwrdW8vW

— ウマ娘プロジェクト公式アカウント (@uma_musu) September 29, 2021
As expected, we are treated to a new round of alts of horse girls, this time with an appropriate Halloween theme. Rice Shower and Super Creek gets the spooky treatment, and they are quite the lookers.
On paper, Halloween Rice trumps her vanilla version in every conceivable fashion, from the good training bonuses and abilities. Spoilt for choice with a heal for unique character skill and a gold option, Rice Shower is going to be the go-to horse for future champion meetings. Furthermore she has an exclusive stamina debuff which should make life difficult for your rivals when you face them.
Halloween Creek meanwhile switches things up from her vanilla version to be somewhat more on the offensive side. She has great speed up abilities, particularly Archline Professor, as well as the leader strategy and distance ones. Not too veer too far away from her vanilla version, Halloween Creek will also be getting a gold stamina debuff for the middle distance as well.
Uma Musume: Pretty Derby is currently available on Android and iOS for mobile, and DMM Games for the PC.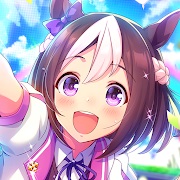 Uma Musume: Pretty Derby
Android, iOS
Horse girls take to the track! Train up these cute horse girls to be the best of the best.