With a new banner refresh that will last until 10 May 2022, we have the addition of the cheerleader alts for Nice Nature and King Halo to the Uma Musume stable.
As the schedule dictates, we are back to having alternate outfits for the existing lineup, this time with the cheerleader theme as mentioned. First up, Nice Nature.
Frankly the design alone should be enough of a justification to roll Nice Nature but as a bonus, she comes with a fairly impressive skillset as well. Ever since it got buffed, Nonstop Girl has been made into a core skill for non-runner builds. Also, she can still be Mean Nature as she still has a golden debuff at her disposal in the form of Mono Poisoner. Of course fielding Nice Nature means you are not going to be able to use her support card to learn Switch-up Pro, although you can still get it from Winning Ticket. Her affinities remain the same of course, and the stamina and power training bonuses will only make it that much easier to train Nice Nature for her intended purpose.
King Halo on the other hand does not look as impressive, at least on paper, but that is highly dependent on how effective her unique character skill is. In any case, she comes with decent assortment of betweener speed up abilities, although they are nothing to write home about. First Breeze of Spring is neat to have as a sure fire skill for tracks that designed as such. Regardless, you are going to have to probably outfit King Halo with the better betweener abilities to make the most out of her.
Uma Musume: Pretty Derby is currently available on Android and iOS for mobile, and DMM Games for the PC.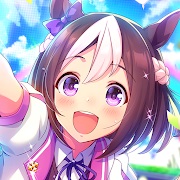 Uma Musume: Pretty Derby
Android, iOS
Horse girls take to the track! Train up these cute horse girls to be the best of the best.