Announced by Bandai Namco last December, One Piece: World Seeker is an upcoming action-adventure video game for PlayStation 4, Xbox One and PC scheduled to be released in 2018. A demo version was prepared in Taipei Game Show 2018 to let the fans try it out and we are lucky to be able to test it too. However due to the publisher's restrictions, we couldn't take any pictures or video of our gameplay so here is a short review of our first experience on One Piece: World Seeker!
---
One Piece: World Seeker is featuring an open-world, the demo version has set its location on the island shown in the official trailer above. There is a prison in the island, the adventure of our main protagonist, Luffy starts there. From the trailer, you may notice that Luffy can perform long jumps by stretching his hand and when we are playing the demo version, Luffy can aim for trees, rooftops or rock for the long jumps (by stretching his hands). You can even jump from place to place continuously (well, it does look like Spider-Man).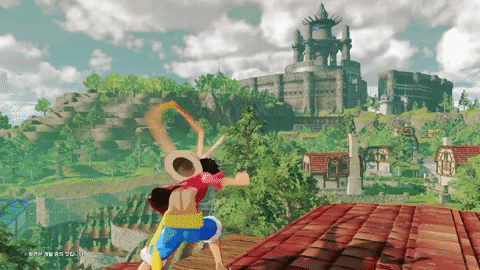 We didn't enter the main quest straight away, but went to explore and interact with the NPCs as well as doing side quests. You can choose the difficulty of the quest from easy to hard (not sure if the actual version has the same feature). After you have selected a quest, the respective icon will show on the map too. The quest we played is a time limit quest where we have to defeat the enemies or survive until the time ends.
Luffy can sneak through the play area by hiding in a wooden box and if enemies detect you, an exclamation mark will appear on top of them (similar to Metal Gear Solid). The attacks are separated into 2 types- melee and ranged. Luffy can lock on a target to attack using the original One Piece series' attack moves. We didn't get to try out the powerful moves such as Gear fourth, but we believe that in the actual version, the powerful moves will be up for players to use. The controls are not complicated, players will probably get the hang of it in no time.
These are all of our first impression on One Piece: World Seeker! In our opinion, One Piece: World Seeker is like a combination of Metal Gear Solid and Spider-Man as players can jump around freely and are able to stealth attack the enemies. It would be more exciting if there is a multiplayer mode! The game will be available on PS4, Xbox One and PC this year, you can visit their official website if you are interested.
Here is an official gameplay demo during TpGS 18 (uploaded by Giuseppe's Gaming):
Special thanks to Plextor who gave us the chance to attend TpGS 2018 live!
Source: Wanuxi
---
Check This Out Next
---