Sometimes, there's nothing quite as fun as smashing big armies into each other. That's certainly the case for Total War Warhammer III, the latest Total War Game set in Warhammer's Old World.
We got to check out some of the new features coming to the game, as well as catch up with Ian Roxborough, Game Director and Oscar Andersson, Senior Game Designer on Total War Warhammer III. The presentation primarily focused on two of the factions, Kislev and Khorne, but the two also talked a lot about the game as a whole, as well as being a part of Games Workshop's monolithic Warhammer IP.
Surviving The Daemonic Hordes In Total War Warhammer III
The main feature of the new preview event was the new Survival Battles. These are their own game mode, in which players will lead their armies into the hearts of the Daemonic realms and fend off waves of Daemons.
These will appear in the game's story as big setpiece moments, showing up as you invade the territories of the four Lords of Chaos. However, the team says you'll be able to do these on your own, as well.
"Think of it essentially as end of level boss battles at key moments in the campaigns story. So that is definitely true. But they are also available on the front end as custom battles that you can just load up and play when you like" , says Ian Roxborough, Game Director.
"And they're also going to be available as a multiplayer option for you to play cooperatively with friends. So that together you can try to survive the waves of enemies. So, yes it vey much is a part of the campaign and narrative , but its also available to be played outside of it as well".
In this mode, players will have to hold and fortify positions, fighting off hordes of Daemons. This all leads up to a showdown with the area's Exalted Greater Daemon, which acts as a sort of bossfight for the area.
Step one to surviving the Daemonic Onslaught is to capture a victory point. At the start of the survival battle you'll have a medium-sized army, which you can lead to the first victory point to try and take it. Once you've conquered it, you'll need to fortify it with up to 4 different types of barricades and missile towers. You'll want to properly route the counterattacking Daemons here, with missile towers picking them off as they try to retake the point.
As you take more victory points you'll be able to improve the units you already have, or call in reinforcements through portals built in to the victory points. You'll also be able to upgrade your Legendary Lords, whose skills will be pivotal in surviving the battle ahead.
The Key Players
This event showed us two of the six currently announced factions for Total War Warhammer III, Kislev and Khorne. Kislev is one half of the two "good-guy" factions in the game, with Khorne being one of four Daemonic lords players can choose to serve.
Warhammer has always been a monolith of lore, which is part of why so many games are set in some form of the Warhammer universe. However with our two "good guy" factions Kislev and Grand Cathay, the team explained that they had a rare opportunity to flesh out a previously-untouched part of the lore.
That's not to say that Kislev and Grand Cathay are Total War's pet factions though. According to Ian, they made sure that Games Workshop were the ones driving the designs of the new features.
"We took the attitude we've always taken even in our history games with Warhammer up til now. We don't want to redefine anything, we want to take the core of what Games Workshops IP is and understand it and interpret it in Total War. So the way that they're playing Total War  is absolutely accurate to the way Games Workshop envisaged them", Ian says. 
That being said, the fact that the details on the factions weren't already set in stone means the team had the opportunity to occasionally give more feedback on making the faction interesting both lore-wise and gameplay wise.
"Because they were creating it as we were developing the game, we had a unique opportunity to give them feedback as to what kind of things might work better in the context of a Total War game as well", Ian says.
"Whilst they're driving the process of what they want their IP to become, we're also saying, 'well this might work well, that might work well', so there's a bit of to and fro and working together that was really exciting for us, because that's not something you really get to do as a developer when you're working with a really popular and established IP like this"
While neither Ian nor Oscar could talk about Grand Cathay yet, they reassured fans that the new human faction would not disappoint.
"It's really exciting to know how much fans are going to really enjoy playing them. And seeing the new Cathay content for the first time, its just been a win-win all around. We just can't wait to talk about the new things coming in more detail because there's incredible stuff coming. When we start talking about Cathay, its gonna turn some heads and we'll be able to bring you more on that as well at a later date", Ian says.
The Cold Never Bothered Her Anyway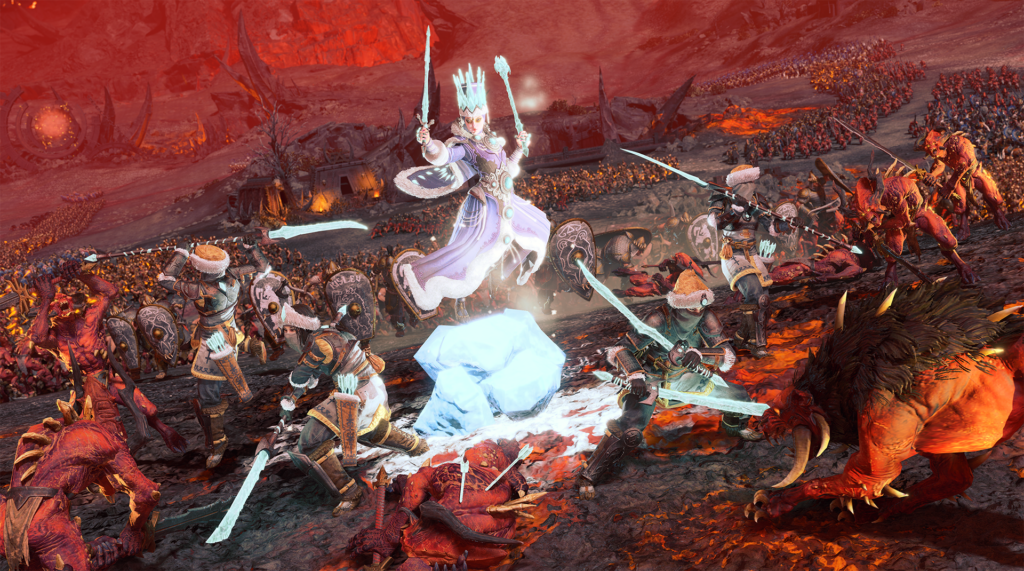 What they did show was a lot of information about Kislev and its legendary Lord, Katarin. She is the most powerful Ice Witch, having the all new crowd-control focused Lore of Ice at her beck and call.
Kislev also has access to a giant frost bear, made in the image of their patron God Ursun. This beast can lay waste to the forces of Khorne, smashing apart their ranks with a powerful icy breath. These can even go toe to toe with Khorne's Exalted Greater Daemon, and will be necessary in the game's Survival Battle mode.
Carrying The Spirit of Warhammer Fantasy
For those who aren't in the loop, Warhammer is an umbrella term spanning several distinct universes. Most people today might be more familiar with Warhammer 40,000 – the space-fantasy flavor of Games Workshops mega-franchise. Total War Warhammer takes place in what's called the Old World- the original setting of Warhammer Fantasy.
Since the Warhammer Fantasy tabletop isn't really supported anymore, Total War Warhammer is now the premier way to build your army of fantasy races with your friends and smash them into each other. That's a pretty heavy mantle to carry, especially considering how beloved The Old World is among fans.
"It's great that we've been able to look into all this incredible content so much and Games Workshop have obviously done many other things since then, but to be able to almost kinda encapsulate the Old World content that had been so popular for so long for so many people, to kind of really pull it together in these 3 Warhammer games, has been absolutely brilliant", Ian reflected.
"Because there's still a lot of love for the Old World out there and even to the point as a result of the success of [Total War] Warhammer 1 and 2, despite our game being able to be so much more ambitious because of the success of those games, its also kind of a bit revived Games Workshop's interest in The Old World again. To the point that they've actually come in and revamped Kislev and developed the IP on Kislev more than they had previously, in order to create this new content with us for this game, which is amazing when you consider that they've actually gone further with an all new race to the level of an army book of detail in Cathay with us".
For those of you not aware what he means with the "Army book" reference, the Warhammer tabletop game has rules for each faction released as "army books". These are the best way to learn about your favorite faction as it not only has rules for the game, but also important lore and plot for any one faction.
"In a way its kind of revitalized the Old World in their eyes as well, and they've been willing to go back and make some new content that fans of Total War Warhammer III will be able to see through Total War Warhammer only so its a really exciting time for us and we played the hell out of Warhammer Fantasy Battles when we first made the deals with Games Workshop, and absolutely fell in love with all the characters, storylines and game systems", Ian says.
"We played it a lot in order to really understand what the lore was and what the game was about and how to make a Total War game out of it. And so it was really nice for us because there's a lot of love for the Old World for us to be able to really realize it in this level of detail and almost enshrine it forever for people who are fans of Warhammer within the context of a Total War game".
Making A Total War Game Out Of It
On their third outing, Ian also shared some of the improvements that would be coming to Total War Warhammer III. Building off of the past two games, he mentioned how he had the opportunity to improve or add features based on fan feedback, a luxury they didn't have when making Total War Warhammer 1.
"So now there's so many things we've done that improve on the base experience. For example, the things that we can talk about today are like minor settlement battles. So now if you play the campaign in Warhammer III and you fight a battle for a minor settlement, you'll have a unique kind of gameplay as well, on top of what we've shown you today with survival battles and fight a battle over a smaller settlement, which is what the fans have been asking for for a while and what we've always been wanting to do from the start", Ian says.
"And also we've really revamped siege battles as well. The fans wanted more depth to the settlements and more gameplay features within them. We've almost kinda to some extent gone back to the drawing board and said 'right ok how are we gonna do these sieges again?' ", he continues. 
"As I said because 1 and  2 were so successful they've given us that ability to have a bigger budget to really dig deeper and dive deep and redo some of these features in a way that the fans really wanted as well. But on top of that we've also been able to design loads and loads of brand new things that will excite players and create new challenges", he says. 
Oscar also jumped in to talk about another mode that was only mentioned briefly, Domination.
"Speaking of new battle modes, we're also introducing a new mode called Domination Battles which center around a new capture point mechanic, and the ability for players to bring on reinforcements into the battle to allow players to react to how the battle is going so if you see the enemy bringing a lot of cavalry, you can react by bringing spearmen", he explains.
"This just allows players to get more opportunities to turn the tide of battle. So this addresses a lot of concern our community has had about the structure of the player battles previously, so we're quite excited to see what the fans think of that", he adds.
Bringing The Daemons To Life
One of the big new features coming to Total War Warhammer 3 is the playability of 4 new chaos factions, all based off of the four lords of Chaos. These characters exist across all the Warhammer IPs, but in many games usually appear as one faction, Chaos Undivided. With Total War Warhammer III though, players would get a chance to command the forces of Khorne, God of Slaughter, Tzeentch, God of Change, Slaanesh, God of Lust or Nurgle, God of Change.
Each of these forces have their own unique look, epitomizing the values each God of Chaos stands for. In the case of Khorne, we got to see his Bloodletters, violent demons with flaming swords who collect Blood for the Blood God. While Games Workshop has updated the looks of some of the designs with their new Age of Sigmar line, Oscar says they weren't necessarily beholden to those new designs when adding units to the game.
"So I think in general like one of the things we kinda have to abide with when we're doing Daemonic factions is that we cant really bring anything across from the Age of Sigmar IP. The Daemonic units that we're doing have to have existed in the Warhammer Fantasy IP before or either in 8th Edition. But in general we've tried to use more modern looking models when possible", Ian says.
He even elaborated more on the Slaanesh models, although without showing how the followers of She Who Thirsts would look in Total War Warhammer III.
"The new Slaanesh models that Games Workshop have given are very exciting so. I can't really go too much into detail, which models will be used to base our units on. Also the other reality is that as Games Workshop keep working, theres also the chance that me might have already modeled something, and then they release the new model, so sometimes we don't really get luck with that kind of timing", he continued. 
Ian also clarified that while they can't use Age of Sigmar models, it's not like they would have to hard swerve off of anything the new models are doing.
"We always know whats coming up on Games Workshops radar but at the same time we do kidna wanna stick to the Old World. But at times as Oscar said you will see the influence of the new designs creeping through from here and there. So throughout the rosters when you see them in more detail at a later date you'll see what we mean. There is some inspiration from the new stuff but ultimately we're still sticking with the 8th Edition IP."
With its new game modes, Daemonic lords and love for Warhammer Fantasy, Total War Warhammer III looks like it's going to be setting the bar for how much love you can throw for the classic Warhammer IP in the game. We don't have a concrete release date for the game yet, but they've promised to show off more of the game when it's available.