Creative Assembly has announced Total War: Pharaoh the latest historical game in the series which will take place in Ancient Egypt. The game will be released later this year.
We were invited to play a preview of the game where the developers told us more about what to expect and even let us play through three battles. For this article, we'll be going into more detail about the game in terms of setting and combat mechanics.
The Land of the Pharaohs
Total War Pharaoh takes place in the New Kingdom following the end of Pharaoh Merneptah's reign, and the beginning of the Bronze Age Collapse which saw the end of many powerful Meditarianian Empires due to political and economic instability. Regardless of who you play as, your task is to prove your legitimacy over the throne, overcome the social turmoil and fight off an invading group known as The Sea Peoples. 
What is interesting here however is that you won't simply take control of Ancient Egypt but can choose between three different factions and eight different faction leaders each with their own playstyles, advantages, and even their own unique playable units:
The Egyptians
The Egyptians of The New Kingdom are lightly armored and expertly trained. They primarily focus on hit-and-run tactics with excellent proficiency in chariots and archers. Their faction leaders include the following:
Seti, the rightful heir to Merneptah's throne. His play style is almost solely based on waging war and expanding into new lands, a good choice if you're someone who wants to focus on battle.
Amenmesse, the Viceroy of Kush and rival to Seti. He was an heir spurned from the throne and will stop at nothing to interfere with Seti's succession.
Tausret is the daughter of Merneptah. She's an intelligent and scheming woman who wishes to rise from the shadows of her older brother and take the throne for herself
Finally for the Egyptians is Ramesses III, a young prodigy who has lesser royal blood but all the hallmarks of a natural leader.
The Hittites
The Hittites of Anatolia (modern-day Turkey) are a rival empire to the Borth. They are experts at metallurgy and creating strong armor for their soldiers to protect their land. They're not as fast but they make up for that with good strength and defensive capabilities making them more tanky than their Egyptian counterparts. Their faction leaders wish to conquer Egypt but also eliminate each other to be the sole ruler:
Kurunta is a power-hungry successionist with psychopathic tendencies. He believes that he is an avatar of a god and is known for being cruel to his enemies.
Suppiluliuma is Kurunta's cousin and the true heir to the Hittite throne. With the kingdom currently in decline, he wishes to restore the Hittite Empire to its former glory and prevent further ruin.
The Canaanites 
The people of Canaan can be seen as the underdogs of the region. During the New Kingdom Period, they were a small collection of Smaller Kingdoms and City States trapped in between the larger Egyptian and Hittite Empires. This has taught them to be more flexible and adaptable in battle, making them a middle ground between the other two factions. Here are their leaders:
Bay is a master manipulator who has ascended through the Egyptian ranks to sow discontent. His playstyle focuses primarily on diplomacy and deception.
Irsu is a more aggressive invader that believes that the only way his people will survive is through conquest.
Desert Warfare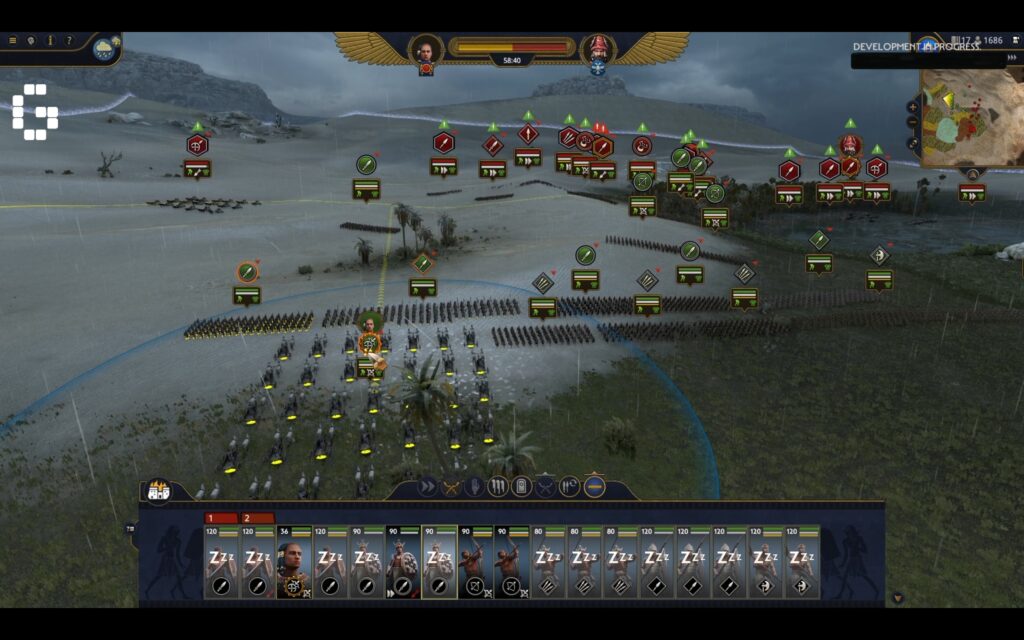 The battle system of Total War: Pharaohs is aimed to immerse the player in the cold, hard reality of bronze-age warfare. Even in the demo, my armies survived by the skin of their teeth against the oncoming hoards, making for tense but exciting battles.
For those who want a change from the more fantastical Total War outings, this is very much a return to the classic historical style gameplay and presentation but with a more updated battle experience. This includes more realistic and detailed character models that really stand out even with multiple characters fighting on screen.
The overall pace of battle is slower which means that there's more opportunity to think through more tactical decisions on the battlefield even as the fighting rages on. You have to keep track of the different units from foot soldiers to archers to more armored warriors, each with different responses to certain terrain as well as the weight and exhaustion that you have to keep in mind. I quickly found out that sending the wrong type of unit into a certain area or enemy could spell a quick defeat or desertion.
To help organize your troops, there are three base stances that you can put units into during battles. The first is Advance which has your units push forward against enemies, the second is Hold where units will attempt to keep in position and finally, there's Give Ground which will have units slowly move back while still facing the enemy. There's are all pretty useful, allowing you to set what a certain squad should do while you attend to other areas of the battle.
More variants of these stands can be further unlocked. For example, hold can be turned into Shield Wall, making its defense stronger at the cost of mobility.
Weather and Terrian
There will also be a new dynamic system with different weather effects that can greatly change the tide of battle. In the demo, I was given a number of highly effective archers at my disposal but when a sandstorm blew through the battlefield and started blocking their vision, I need to greatly rethink my tactics.
Other effects include rain storms which lower the range of missile units and prevent fires from starting, thunderstorms that will lower the morale of the troops, and heat waves that will increase the fatigue for all units doing any activity, preventing fatigue replenishment and increasing the possibility of wildfires.
Speaking of fire, archer units can light up their arrows, and set forest or building areas on fire which can lead to a great amount of damage. This can be further manipulated by the wind to send fire in the direction of enemies.
Pillars of Civilisation
The Creative Assembly team also showcased a new feature of the game called 'Pillars of Civilisation' which is meant to immerse players in the experience of the Bronze Age Collapse and represents the cosmic balance seen by the Ancient Egyptians.
This changes the land and maps of the game to one of three tiers of stability.
Prosperity: The world is peaceful with a brighter and more vibrant landscape. Natural events might occur to boost development and resource growth.
Crisis: As the Bronze Age Decline occurs, the world will appear darker. Natural disasters will become more prevalent and groups like the Sea Peoples will invade more regularly.
Collapse: As the name implies, at this tier, civilization has all but collapsed. Instability throughout the region will be at its peak. There is still hope however as it's possible to prevail against those that threaten your empire.
Crown Collecting
Each leader can further unlock a number of crowns by completing certain objectives. These in turn will grant new skills that will allow you to further shape Egypt and change the rules of governance. This is based on the idea that Pharaohs would have different crowns that they would wear to further enforce their legitimacy as rulers.
There are five powers you can choose from annexing another faction, like forcing a migration of workers or removing building restrictions in a province. It's up to the player to choose what they wish to unlock and specialize in.
Once you've unlocked the title of Pharaoh or King, you can also choose to follow an ancient legacy from a past monarch. This mechanic allows players to further customize how their kingdom will progress. This could involve directing them to focus on war, building, religion, and other aspects of life.
More Options For Sandbox 
"Sandbox gameplay is the core of the Total War formula," says director Todor Nikolov. As such, Total War: Pharaoh will have greater campaign customization options to tailor the experience to your needs.
You can set the starting positions for each faction as well as customize resources, deities, trading, the natural disasters you'll be subject to, how quickly they'll become upset with your rule, and more. You can make yourself the ultimate godlike ruler with little competition or create the most grueling military campaign in the history of Ancient Egypt.
Total War: Pharaoh
As some who's always been interested in Ancient Egypt, I'm pretty excited to see what the Total War series will do with the setting in Pharaoh. The maps and characters look spot on and the choice of the New Kingdom as the time period was interesting, it's one of the most important times in Ancient Egypt but tends to be focused on in a lot of other media.
Total War: Pharaoh will launch on PCs later this year in 2023.
We've also held an interview with the game's Director Todor Nikolov and Battle Designer Hristo Enev who told us more about the game's Bronze Age inspiration.
Total War: Pharaoh
Microsoft Windows
Total War: Pharaoh, the newest entry in the award-winning strategy series, immerses you in ancient Egypt at the zenith of its power. Master dynamic real-time battles, forge a lasting empire, and stand against the collapse of an iconic civilization.
---
Check This Out Next
---