The Nintendo 3DS eShop will be closing down for good on the 27th of March 2023, meaning that players have just under a month to buy the remaining platform exclusives from the store many of which go for stupid amounts of cash secondhand. To understand what we're losing, I've made a quick list of games that are not only worth getting from the store but are pretty hard to find anywhere else (at least without going sailing to get them).
We all know games like Super Mario 3D Land or Fire Emblem Awakening are fantastic but you can also still find them for relativity cheap 2nd hand (or at least for under $50 USD). With the titles listed below, you may not be so lucky.
Important: You can't add funds directly to the 3DS anymore, you need to link your 3DS to your Nintendo Switch and transfer them over. This can be done from the Nintendo Switch e-shop.
Anything Atlus Developed
A funny thing happened after Persona 5 came out. Almost every game Atlus has released before that pretty much all shot up in price, and that included their many, many 3DS exclusives. Seriously Atlus loved this console and made many of its best cult classics. Here's everything that's still exclusive and their average price on American eBay in USD.
Shin Megami Tensei IV – $60-$80
Shin Megami Tensei IV Apocalypse – $60-$90
Shin Megami Tensei Strange Journey Redux – $70-$100
Shin Megami Tensei Devil Summoner Soul Hackers – $60-$80
Shin Megami Tensei Devil Survivor Overclocked – $60-$80
Shin Megami Tensei Devil Survivor 2 Record Breaker – $60-$80
Etrian Odyssey IV: Legends of the Titan – $60-$90
Etrian Odyssey V: Beyond the Myth – $60-$100
Etrian Odyssey Nexus – $100-$170 (seriously)
Etrian Odyssey Untold: The Millennium Girl – $80-$150
Etrian Odyssey 2 Untold: The Fafnir Knight – $70-$120
Persona Q – $20-$60
Persona Q2 – $70-$80
Radiant History: Perfect Chronology – $80-$150
On the 3DS eShop, each of these games is priced at around $20-$40
Shin Megami Tensei
I can't talk about each of these games but I'll summarize. The Shin Megami Tensei games are some of the most original modern RPGs out there with great atmosphere, interesting characters, and challenging gameplay. SMT IV was also never released physically in Europe, so when the 3DS eShop closes, it'll be gone for good.
Etrian Odyssey and Persona Q
Etrian Odyssey is a much more required taste being a strict fantasy dungeon crawler with a little story but for those that want a true challenge in their RPGs, it's worth a shot. It should also be noted that the Persona Q games are basically Etrian Oddysey games with Persona's plot and characters plus more accessible gameplay.
These games can go for absurd prices with Etrian Odyssey Nexus, in particular, going for well over $100. These actually might be less of a worry simply because Atlus did recently announce the DS Etrian Odyssey games are coming to modern consoles with an HD Remaster so there is a chance the 3DS games could get ported as well but with a company like Atlus, you can never be too sure.
Radiant Historia
If there's any game to get from this list, however, it's Radiant Historia: Perfect Chronology. An enhanced port of a DS game (the DS is expensive as well), it deals with a plot of Medieval fantasy politics and time travel woven into a unique turn-based combat system with gorgeous 2D pixel art. More importantly,  I haven't seen it being sold secondhand for less than $80usd so if you wanna try it, you better decide soon.
Dragon Quest VII and VIII
Dragon Quest has made some headway into western markets with Dragon Quest XI but two of the best games in the franchise are currently available for 3DS. These are Dragon Quest VII and Dragon Quest VIII.
Of the two of them Dragon Quest VIII is considered among the best in the series and the 3DS version is often considered the definitive version with new playable characters, dungeons, and a chance to marry the lovely Jessica Albert (best girl).
Physical copies for both games go around the $100 USD mark secondhand, although the PAL region versions go for slightly cheaper at around $50 USD. The 3DS is region-locked though so keep that in mind. On the 3DS eShop, they are both priced at $50.
The original version of DQ VII can still be found on PS1 but it's just as expensive as the 3DS. DQ VIII is a bit better being relatively cheap on PS2 and mobile devices however the former is on an older console you might not have and the latter is considered a weak port with no voice acting and feeling cramped on the verticle mobile touchscreen. As I said, the 3DS version is considered the best way to play the game so look into it while you can.
Yokai Watch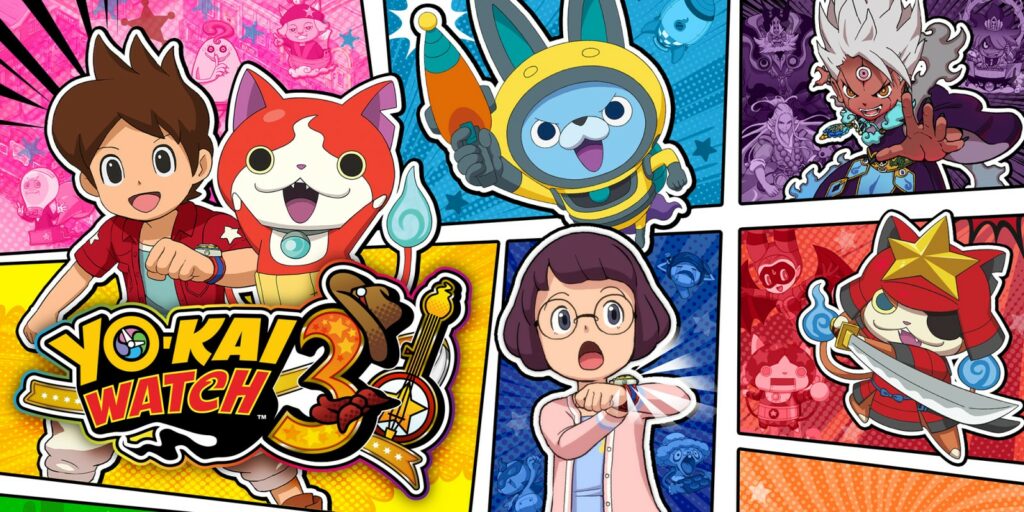 The 3DS is the console that saw the rise of the Yokai Watch, the biggest competitor to Pokemon since Digimon's peak popularity in the early 2000s.
Yokai Watch 1 surprisingly isn't too expensive, but the sequels are another story. There are three versions of Yokai Watch 2, kinda like Pokemon back in the day. These are Bony Spirits, Fleshy Souls, and a third version called Psychic Specters. The former two are around $40-$60 but Psychic Specters is a kidney costing $250ish.
Yokai Watch 3 isn't much better. The few copies being sold online are going for well over $300. You'd have better luck actually summoning an actual spirit than buying these games physically. Meanwhile, all of the games on the 3DS eShop are priced at $40.
Yokai Watch 1 was ported to Switch but only in Japan. Now that Level-5 is actually bringing games over to the global markets again that might change but Yokai Watch 2 and 3 are still only on 3DS.
Professor Layton
Another Level-5 IP, Professor Layton has multiple games exclusive to the 3DS that aren't the easiest to find:
The Miracle Mask – $70-$100
The Azran Legacy – $150-$350
Professor Layton vs. Phoenix Wright: Ace Attorney – $100-$150
As you can see, The Azran Legacy is the big offender hear going for an absurdly high price. Like with Dragon Quest, these are actually a lot cheaper in Europe where Layton is a lot more popular but once again, the 3DS is region locked so you'll need a PAL version 3DS to play them.
On the eShop, Miracle Mask and Azran Legacy are $40, while Professor Layton vs Pheonix Wright is $30.
Kid Icarus Uprising
Pit may not be able to fly on his own, but the price of his game sure can. Kid Icarus Uprising is a beautiful rail shooter made by Masahiro Sakurai, the guy that created Super Smash Bros. Unfortunately it's going for about $100-$150. Sakurai once joked about bringing it to the Switch but it hasn't happened, for now, it's best to get it on the eShop for $35.
Nintendo eShop Exclusives
Let's end this list with a few smaller digital-only games that are currently stuck on the eShop. Once the store goes down, they'll be gone for good legally, until they're ported to a newer console. If that ever happens of course.
Here's a short list of games to look out for. With the exception of Rhythm Heaven, none of these are more than $20. Also, keep in mind the 3DS Ace Attorney games are now on mobile devices and they play fine so I'm not counting them.
Pushmo – A cute puzzle game from the makers of Fire Emblem.
Rhythm Heaven: Megamix – a fantastic first-party Nintendo rhythm game with the quirky art style of WarioWare.
HarmoKnight – Speaking of Rhythm games, here's one from the creators of Pokemon. It's a platformer where you have to jump and fight to the beat of the music.
BoxBoy Trilogy – Three excellent minimalist puzzle games from the developers of the Kirby series.
Crimson Shroud – So RPGs are inspired by Dungeons and Dragons, well this RPG literally plays out in the style of a D&D campaign with characters represented as figures and dice rolling as you go on your quest.
Liberation Maiden – An eccentric shoot 'em up developed by Suda51 of No More Heroes fame. It sees the high school-age president of Japan get in a mech suit to fight an invading country from stealing their energy.
Attack of The Friday Monster – A unique adventure game about a young boy growing up in a rural 1980s Japanese town. A great homage to the golden age of Tokusatsu, probably my most recommended on this list.
Rusty's Real Deal Baseball – A very unique concept. It's a free-to-play baseball game but you have to pay real-world money to buy equipment. The main game however is haggling with the store owner rusty to get the prices as low as possible. I doubt you can play it properly after the eShop shuts down but it's worth a download at least.
Farewell 3DS
There were so many great games on 3DS eShop, this article is only scratching the surface. Hopefully, you'll be able to snag a couple of these before the eShop shuts down (or find them through other means).
The sad thing though as after the store shuts down, there'll likely be even more games that will go up in price as they'll become far more inaccessible for people to purchase. In all seriousness, it may be easy for more hardcore gamers to say "just pirate them" but there are a lot of people that don't have the time, patience, or knowledge on how to do that so they simply won't be able to play these games and that's just sad.
Occurrences like this are part of the reason video game preservation is so important and I hope companies like Nintendo, Atlus, and Level-5 at least make an attempt to do better in the future.
---
Check This Out Next
---