Square Enix's latest RPG, The DioField Chronicle looks to add its own unique flair to the JRPG scene with a mix of real-time strategy gameplay with traditional RPG mechanics and we were able to speak via an email interview with three developers.
These were Square Enix's Producer Shigeyuki Hirata, Square Enix's art director Takahiro Kumagai, and Developer Lancarse's development director and battle designer, Hirofumi Fukui who told us more about the game's development and inspiration from MOBAs and MMO games.
Shigeyuki Hirata previously acted as the producer for Lord of Vermillion IV before joining Square Enix in 2016. Takahiro Kumagai worked on the backgrounds of Legend of Dragoon, Kingdom Hearts, and Final Fantasy: The Crystal Chronicles before acting as the director and art director of Figure Heads. Hirofumi Fukui worked as a battle designer for Disgaea 4 and Mobile Suit Gundam EXTREME VS-FORCE.
Between the three of them, they certainly know their way around RPGs and what can be done to innovate and push the genre forward. In the interview, they made it clear that this is exactly what they were looking to do with The DioField Chronicle. Unlike many Japanese Strategy RPGs, the characters in The DioField Chronicle are controlled in real-time taking elements from Japanese RPGs and Western MOBA games. Here's what they had to say: 
We noticed that DioField is more of a real-time strategy RPG as opposed to using a grid-based system like say, Final Fantasy Tactics. Could you tell us more about the decision to use this kind of battle system and its advantages of it?
Hirata: Since many orthodox strategy RPGs have already been released, I have always been on the lookout for an opportunity to try something new within the genre.
The impetus for the launch of this new project was the idea that we could create a brand-new strategy RPG by combining the real-time elements of MMO or MOBA games with a more classic RPG game system.
The biggest benefit of this battle system would be that fighting in real-time allows the player to feel the thrill of spontaneous action. At the same time, the player also has the option to stop the real-time element if they would like more time to think about their next move. This ensures that the strategic elements inherent to the RPG genre are maintained.
With that, I believe we have achieved a perfect balance between these two genres, and in doing so, we have created a completely unique game.
You've previously said that The DioField Chronicle was not only inspired by older RPGs like Ogre Battle but also by Western games like League of Legends and Diablo. Could you tell us more about how these titles, or any other games, inspired DioField Chronicle?
Hirata: In terms of controls and the linear movement of characters across the game field, MOBA titles like League of Legends and RPG titles such as Final Fantasy XII were our sources of inspiration.
As we wanted to reproduce the use of Skills in strategy RPGs and ensure that the use of Magilumic Orbs provided the players with a truly thrilling experience, we took further inspiration from Final Fantasy Tactics and Fire Emblem for this mechanic.
We found it really exciting that we were able to summon Bahamut as one of the Magilumic Orb special attacks so early in the demo. Could you tell us more about the Magilumic orbs and will we be seeing more classic summons appear through them?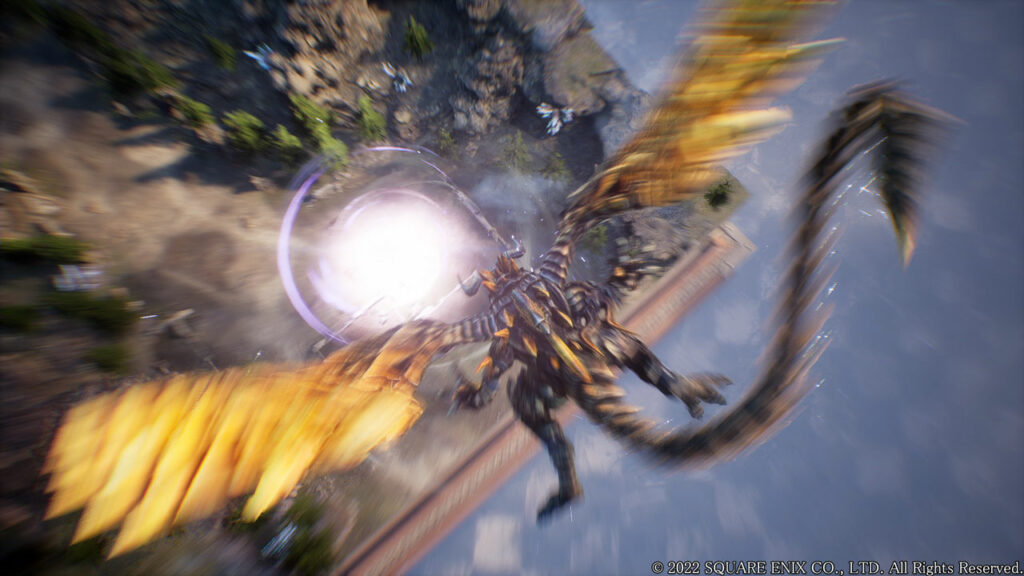 Hirata: The characters that can be summoned using the Magilumic Orbs are based on those from Lord of Vermillion, which is a title I worked on as a producer. Therefore, fans can expect several other characters with connections to Lord of Vermillion to make appearances as magical beasts or as Magilumic Orb summons.
We heard that Game of Thrones composers Ramin Djawadi and Brandon Campbell scored the soundtrack for the game. Could you tell us more about what it was like working with them?
Hirata: As a big fan of Game of Thrones myself, I felt that they were really the only composers who could create music that would also match the atmosphere and themes of this title. As such, I approached them myself!
Even though we mainly corresponded via email, they were very quick to understand the vibe of the title and that made the whole process a smooth one. The unique characteristics of their musical compositions are also evident in the game's scores.
With this game, Triangle Strategy, and Tactics Ogre: Reborn all coming out this year, do you think the Strategy RPG genre has seen a recent resurgence in popularity?
Hirata: I always believed that the genre had tremendous untapped potential, and it has now been realized in recent times. As a genre with universal appeal, it has now been adapted and expanded in many different ways.
Fukui: Recent progress in video game development has allowed us to do so much more than we were once capable of and has also allowed us to revisit traditional genres with an entirely new approach. I feel that the revival of the strategy RPG genre is simply a natural consequence of these revolutionary advances in video game development techniques.
Mr. Fukui certainly isn't wrong with that last statement. As video games become more advanced, it's natural for developers to find new inspirations that allow their games to form new unique mechanics.
The DioField Chronicle was certainly a pleasant surprise when I got my hands on the demo. Releasing so shortly after Square Enix's last SRPG Triangle Strategy, I found it refreshing how different it was from anything I played before. The gameplay reminded me a lot of Warcraft or even Xenoblade with its MMO-style auto battles but still with a definite tinge of traditional JRPG mechanics.
Learning that it was so heavily inspired by Western games makes me even more curious. It's interesting seeing how developers are inspired by games from other cultures and adapt them to their own works. I very much wished to try more.
We're thankful to Mr. Hirata, Mr. Fukui, and Mr. Kumagai for answering our interview questions, and wish them the best of luck as The DioField Chronicle soon unfolds.
The DioField Chronicle will launch on Nintendo Switch, PS5, PS4, Xbox One, Xbox Series X|S, and PC on September 22nd, 2022.
---
Check This Out Next
---