During our time at the Tokyo Game Show 2023, we got to try out SYNDUALITY: Echo of Ada, which is a third-person science-fiction looter shooter where players go on missions together with AI partner Magus while attempting to adapt to the ever-changing environment.
SYNDUALITY: Echo of Ada is part of Bandai Namco's multimedia franchise that extends to other mediums such as anime, manga, and even toys by Tamashii Nations.
The game itself serves as a prequel to the anime, revolving around the concept of bonds between humans and AIs, however, Bandai Namco said that fans do not need any supplementary materials to understand the story.
The art direction of the game is handled by established artists, such as character designs from neco, who has worked on science fiction series such as Heavily Armed High School Girls and even Girls' Frontline, as well as Gundam series designer Ippei Gyoubu, who designed the Craddle Coffin mecha in the game.
Battle Against the Enders 
The preview starts off with browsing through the menu to prepare for Sortie, where many loadout options can be seen such as the mecha components, weapons, consumables, and even the AI companion Magus, who will be accompanying you.
The main mission tasked you to harvest AO Crystals, a value energy resource that players can collect to unlock items and even rare weapons. It is to be noted that SYNDUALITY: Echo of Ada is a third-person PvPvE looter shooter, where repeated grinding for better equipment will be its core gameplay.
In SYNDUALITY, xenomorphic creatures known as the "Enders" can appear in a large horde around areas rich in resources and players will have to battle them. While they may not be difficult to deal with individually, fighting against a horde that swarms in from many different directions can serve to be a challenge especially when your mech lacks mobility.
Despite having the ability to jump and glide around, the movement can feel slow and limited, so further planning on how to escape enemies is needed. While there is an ability to boost your mecha, the mobility is designed to get players from place to place rather than as a tool in combat. The environment to explore is also massive and decorated with gorgeous vistas, allowing rooms for players to get lost and immerse into the world.
Player vs. Player 
As mentioned previously, you can meet other players known as drifters in SYNDUALITY: Echo of Ada and they can be minding their own business, or engage you with either friendly gestures or hostilities.
While battling against other mecha, they can be rather challenging, especially with their capabilities to decimate your health pool with ease. Since mobility is limited, fleeing can be a challenge thus resulting in the moment-to-moment gameplay against other mecha intense all the time.
The AI companion known as Magus plays an important role, assisting the players in various ways such as looting items, scanning the environment for resources or potential threats, as well as repairing your mech. While the role seems important, their potential has yet to be realized due to the limited playtime.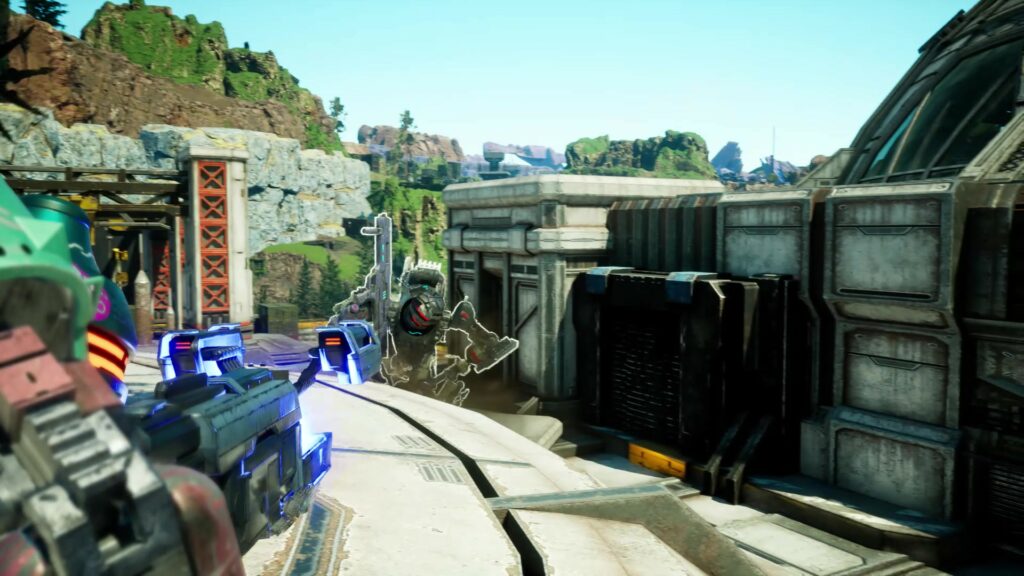 Battery Needs Recharge
The time limit of a mission in SYNDUALITY: Echo of Ada is dictated by the battery of your mech, where you are allowed to carry as many resources as your weight limit permits. When you are done with what you are trying to accomplish such as the main objective completion, you can simply access an elevator to retreat safely.
Of course, it is recommended to retreat whenever the situation becomes dire as having your mech destroyed means losing all items you have collected. The developers also noted that failing your mission in such a way may also affect your Magus companions.
Echo of Ada
From the gist of the short mission run-through, SYNDUALITY has a unique world concept that can seem lawless, giving players the freedom to engage each other as they like while featuring intense mecha battles with AI companions that will support your adventure all the way through.
While it can come as a natural response to immediately compare this game to the other recently released Bandai Namco-published mech-based action game, Armored Core VI: Fires of Rubicon, both titles take different approaches to mecha battles. While Armored Core VI provides players with fast-paced mecha battles, SYNDUALITY takes a slower approach and evokes a sense of weight as players travel.
At Tokyo Game Show 2023, we also got a chance to have an interview with the game's producer, Yosuke Futami as well as director Yohei Kataoka, talking more about the game and the Magus companion system, which you can read here.
The release date of SYNDUALITY: Echo of Ada has yet to be announced, but it is set to launch for the PlayStation 5, Xbox Series X|S, and Windows PC via Steam.
---
Check This Out Next
---